A day of diving in the Channel Islands
One Comment
This past Saturday, I dived one of the most beautiful sites I had seen. Although I had done three trips to the
California Channel Islands
before, I had never gotten into the water there.
Part of the reason was that, being used to diving in warm waters, my only diving experiences in California, near Monterey, were rather unpleasant. I remembered the difficult beach entries, cold water, poor visibility, the feeling of being restricted by the thick suits, hood and gloves, as well as the attendant difficulty to control buoyancy. But now, I had to travel to Thousand Oaks for a photography exhibit opening on Friday night, only half an hour away from the Channel Islands harbor in Ventura, and I knew that October was one of the best times there, with warm and calm waters. The Channel Islands being part of a Marine Preserve, that was an important aspect of the National Park that I had missed.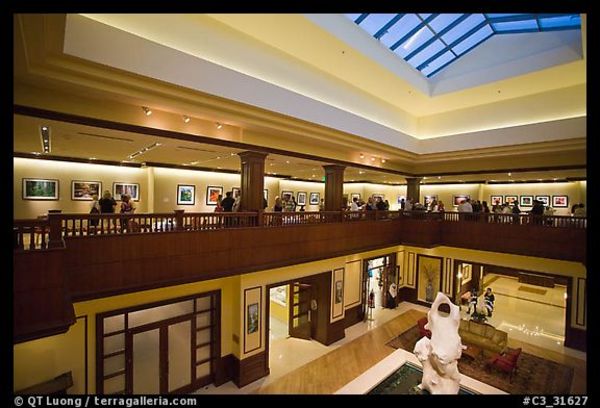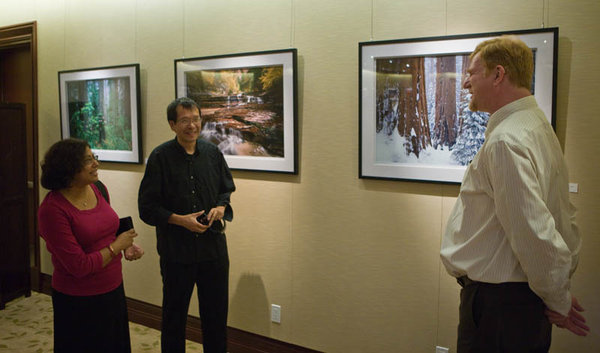 Bottom photo by Patrick Smith who exhibited beautiful seascapes in an instantly recognizable style at the Westlake Village Four Seasons Hotel.
The week before, I had asked master underwater photographer Philip Colla for advice. Philip, who was most generous with his time, recommended that I had my Nikonos serviced, since it hadn't been used in a while. Once the workhorse of underwater photography, the venerable camera seems to be well on its way to extinction. Nobody in Northern California doesn't service it anymore. Since I didn't have time to send it out, I just greased and replaced o-rings, and then hoped that the body wouldn't leak. When I was reloading film on the boat, other divers looked with curiosity. On Friday, just before the exhibit opening, I had spent one hour and half trying to find film in Thousand Oaks (In 100 ASA, I had only expired Sensia in my freezer) without success.
I signed up with the Spectre which turned out to be excellent. After the exhibit opening, I drove to Ventura and slept on the boat. At 6am in the morning, the rented diving gear was already there. The crew was most friendly and helpful. Diving from a boat is the way to go ! It was so much easier than diving from the shore. Yet it had been so long since I last dived (at that time 35mm film cameras were largely superior to digital) that I was exhausted from the first dive. It didn't help that I was missing weights. Fortunately, as the day progressed, I felt more at ease in the water.
The underwater beauty made it all worth it. Diving in the giant kelp forest there was unlike any experience I had before, in its shear three-dimensionality. I had dived kelp before in Monterey, but the visibility was so poor that I couldn't appreciate the size of the underwater forest, while all I could see was the surge motion that made me feel sick. But there, in the Channel Islands, the visibility was probably 50 feet, and the sight of those tall columns of seaweeds rising deep from the ocean floor to the surface was truly wonderful. As many of the dives were in a Marine Reserve, there were also plenty of fish and a few seals.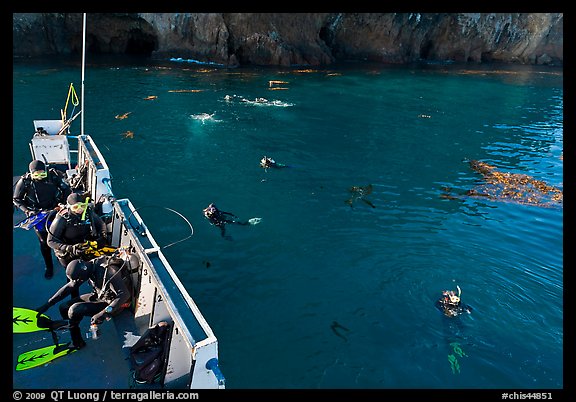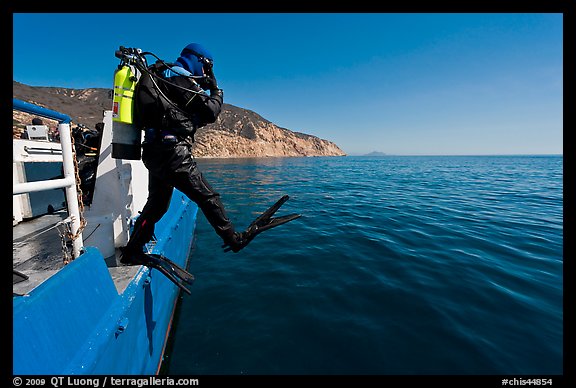 As I didn't have a strobe, my goal that day was just to photograph the kelp forest at shallow depths. My briefing with the divemaster went something like that: "Do you have a buddy ? – No – I can find you one – He might not be happy diving with me, since I want mostly to photograph kelp – When was your last dive ? – It's been years – Do you still remember skills ? – Maybe, not sure – Hmm – I'm gonna dive to less than twenty feet – OK, Tuan, be careful."
Although it was a great day, I won't know if I had been successful until I get my film back. In the while, have a look at Phillip Colla's images of kelp, which anyways are most certainly superior to anything I hoped to do. Even if you do not scuba dive, I would highly recommend that you snorkel the waters of Channel Islands. You won't experience moving inside the kelp forest to the same extent, but it will still be a marvelous sight.