10 who did the 59
4 Comments
While quite a few people have visited all the 59 national parks, fewer have done so with the main goal of sharing their adventures with others. This post features ten fellows I've become aware of, highlighting what makes each of the projects unique.
I am naturally intrigued by national park travel projects in which photography plays a role. A few of the travelers do not describe themselves as photographers nor do they make a living in photography. However, although video is growing in popularity, photography remains such an effective form of communication when it comes to actually sharing the beauty of the national parks, that it is invariably part of those endeavors. Besides checking out how others saw places I had photographed, when the details are available, I enjoy reading about what they've done there, how they reacted to the places, and how they traveled. I hope you will also enjoy traveling vicariously via those sites.
Stan Jorstad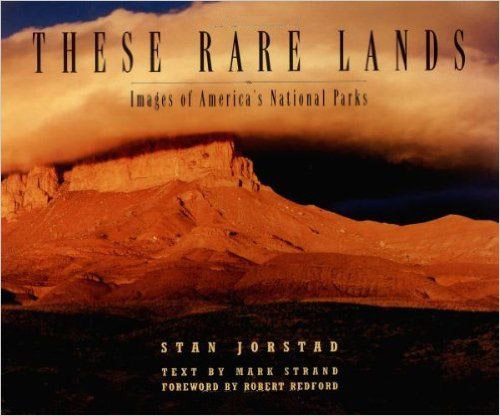 Although he made a living in commercial photography, Stan Jorstad (1922-2013) was possibly the first photographer in the late 20th century who made a goal to photograph all the national parks. He was the first to do so when there were 54 national parks, the subject of his book Those Rare Lands. When there were 57 and 58 national parks it is unclear if he or I was the first – my inquiries were not answered. Completing the project in his late years, his travels were frequently facilitated by the help of his family who also helped circulate a well-traveled exhibit. Although old age prevented him from photographing #59, Pinnacles National Park, he amply deserves a mention in this list, as his son continued his legacy by doing so. Jorstad's photography is distinguished by his masterful use of a 6×17 panoramic camera.
Jerry Ginsberg

Working over an extended period of time, traveling sometimes quite extensively in each of them, Jerry Ginsberg was the first person to photograph the 59 national parks using roll-film medium format cameras. He supported his travels with a technology job like I did for the first part of my own project. Besides the unusually large set of images on his website, he writes a series of articles about national parks for the North American Nature Photography Association.
Andrew Thomas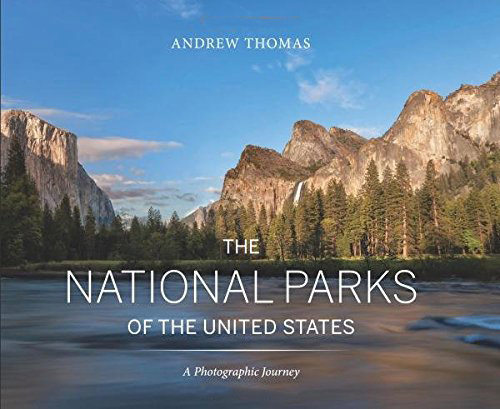 Andrew Thomas, a graphic designer and photographer, came all the way from Australia to run a marathon in Death Valley in 2007, and in the subsequent 8 years would return 16 times to the US, making him likely the first person living on a different continent to photograph the 59 national parks – a feat not accomplished by many leading American landscape photographers. He even included the 3 abolished national parks for good measure in his book The National Parks of the United States: A Photographic Journey, published just in time for the NPS Centennial.
Mark Burns, thenationalparksphotographyproject.com

Mark Burns, a commercial photographer from Texas, drove more than 150,000 miles in a Toyota FJ from 2011 to 2015 to photograph the 59 national parks. Using a medium format digital camera, he rendered the prints in timeless black and white for an exhibit that traveled to museums with a combined attendance in the hundreds of thousands during the NPS Centennial year.
Don and Shelly Hafner, 59nationalparks.com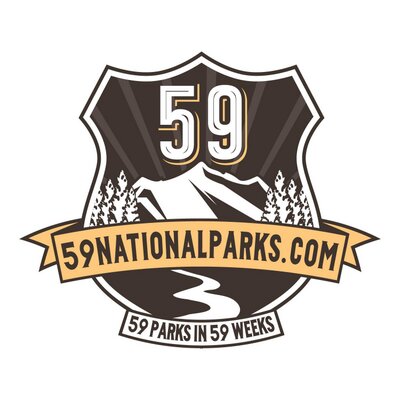 Don and Shelly Hafner, both working professionals in their mid-50s, hit the road with a RV trailer to visit the 59 national parks in 59 weeks from April 2014 to July 2015, proving that it is never too late to follow your dreams. This was the first time such a trip was undertaken, though the idea would gain in popularity for the NPS Centennial as seen in the next entries. They chronicled their trip in a blog, are preparing a memoir, and are now trying to sell photos from the trip.
Goldstein family, 58beforebefore18.com
From 2009 to 2014, the Goldsteins visited the 59 national parks during vacations, their goal being to see all of them as a family before their two boys would turn 18. In the process, they created a blog with photos and a video episode for each visit, and its popularity has made it possible to start a business selling T-shirts. That's the project I am jealous of, since my family visits cause marital problems.
Elizabeth and Cole Donelson, switchbackkids.com

From August 2015 to August 2016 (the NPS Centennial), Elizabeth and Cole Donelson, two married 26-year-olds, left their fledging careers for a year to visit the 59 national parks by engaging in various adventurous outdoor activities in each of them, all on a budget of $20,000 that they saved by working extra side jobs. A main goal of their trip is to share their experiences via their blog with iPhone photos and video to raise awareness of the parks among their generation, the Millenials.
Darius Nabors and Trevor Kemp, 59in59.com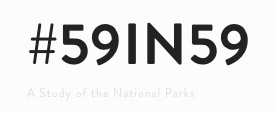 Darius Nabors and Trevor Kemp, both in their early 30s, partnered to visit all 59 national parks in 59 weeks from June 2015 to August 2016, supporting their travels partly by crowdfunding. They traveled deep in the backcountry, often logging an impressive number of trail miles in a day, and even rafting the Grand Canyon on a private trip. The effort is documented in a beautiful and well-structured blog that recounts their adventures day-to-day.
Jonathan Irish and Stephanie Payne, thegreatestroadtrip.com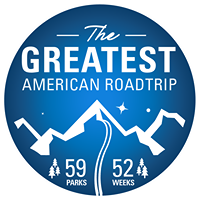 Jonathan Irish, a professional outdoor photographer and Stephanie Payne, a writer, are a husband and wife team on a National Geographic Traveler assignment to visit all 59 national parks during the year 2016. Unlike other NPS Centennial road-tripers, they are media professionals with abundant support (they travel in a Airstream towed by a 4WD SUV) working in the field rather than focusing on having fun experiences. This has resulted in the most content-rich and well-designed website of those projects, with multiple media and stories not only about their travels but also about the parks.
Conor Knighton, On the Trail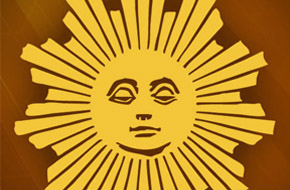 Conor Knighton, CBS Sunday Morning correspondent, produced and reported the series On the Trail consisting of stories about the national parks that aired every other week on CBS Sunday Morning during the year 2016. In the process, he spent the whole year visiting the 59 national parks and sang America the Beautiful in each of them.
Cees and Madison Hofman, ourvie.com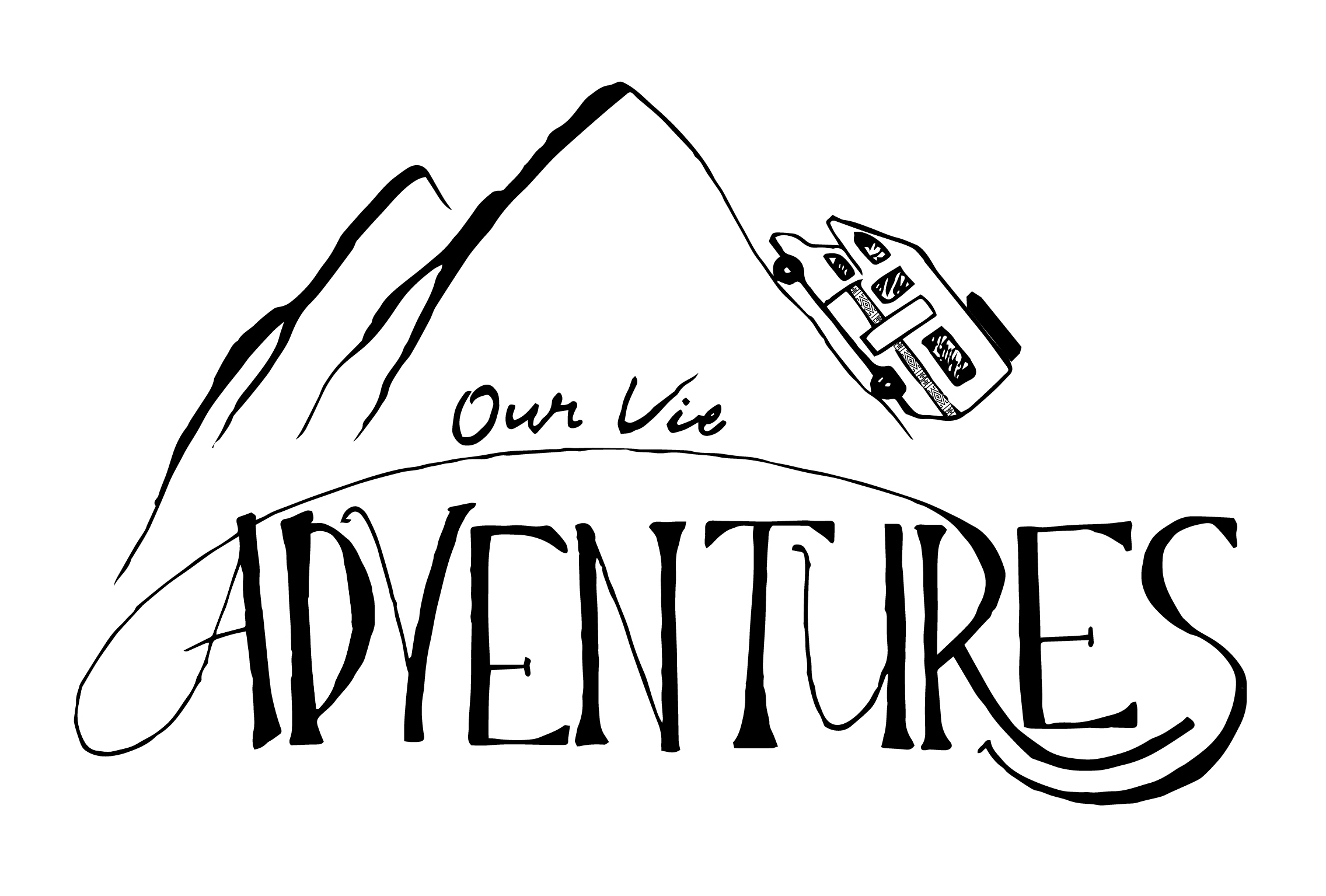 Cees and Madison Hofman, a newly married couple just graduated from school whose story started in a national park, are visiting the 59 national parks in 9 months, starting from April 2016. They drive a 1989 Toyota motorhome named Vie, go everywhere with a leashed kitty named Vladimir Kitten, often carry foldable Oru kayaks to various bodies of water large and small, and set up slacklines in odd locations. Besides the quirky blog with photos and videos, they've developed a following on Instagram and even found sponsors.
Do you know anybody else who shared their travels to the 59 national parks ?