A Gift from Kabetogama, Voyageurs National Park
No Comments
Two weeks ago, on the first day of the trip to the North Woods national parks, I woke up at 5:30am to catch an early flight from San Francisco to Saint-Paul Minneapolis, arriving in the mid-afternoon because of the time difference. This was followed by a five-hour drive, without a stop for groceries nor dinner, to reach Kabetogama on the outskirts of Voyageurs National Park with just half an hour left before sunset.
On my previous trip to Voyageurs National Park, almost two decades ago, I photographed a beautiful sunrise at Kabetogama, near the picnic area of Woodenfrog State Forest Campground, and the resulting image was used as the cover for the slipcase of the limited edition of Treasured Lands. With no time for scouting, I returned to this spot since I knew I would be able to shoot towards a small island (Bittersweet Island) in the western direction. Fortunately, at those northern latitudes, the sun set at 9pm, so I was hoping for something, even though it was mostly a (long) travel day.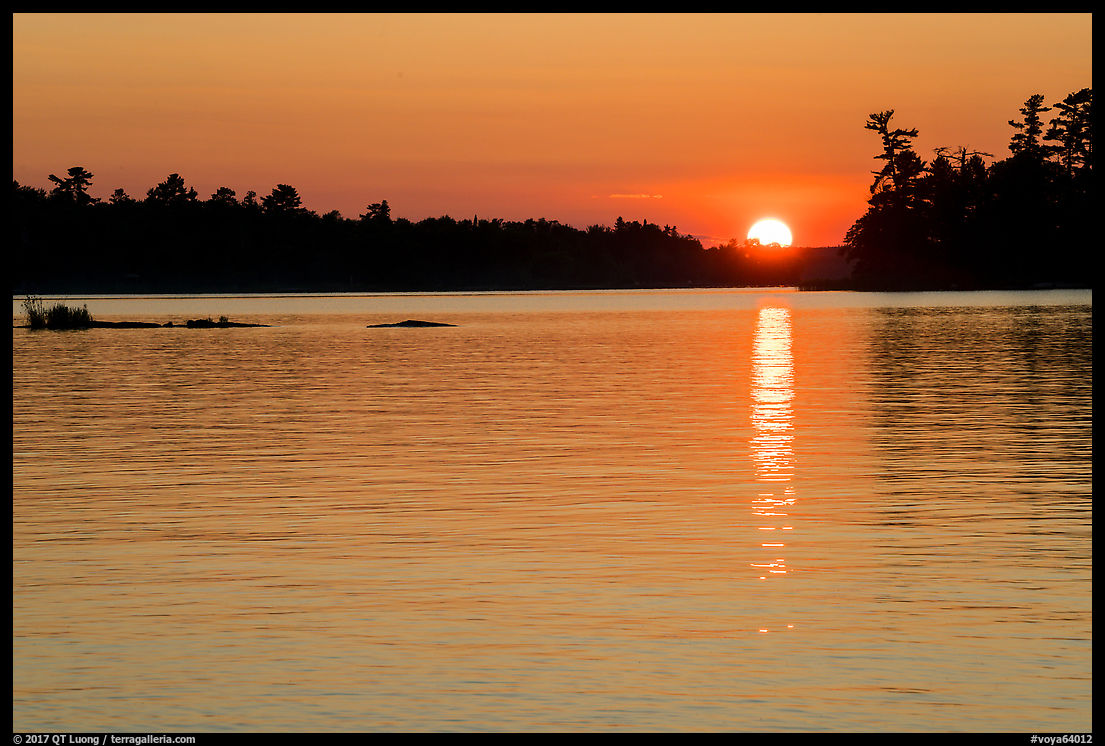 From the picnic area, the island was too elongated, and there was not as much separation as I wished between the island and the background lakeshore, but one way to solve the issue was to make an aerial photograph using a Phantom 4 Pro, which was permissible although drones are banned in national parks, since I was standing on state forest land rather than national park land.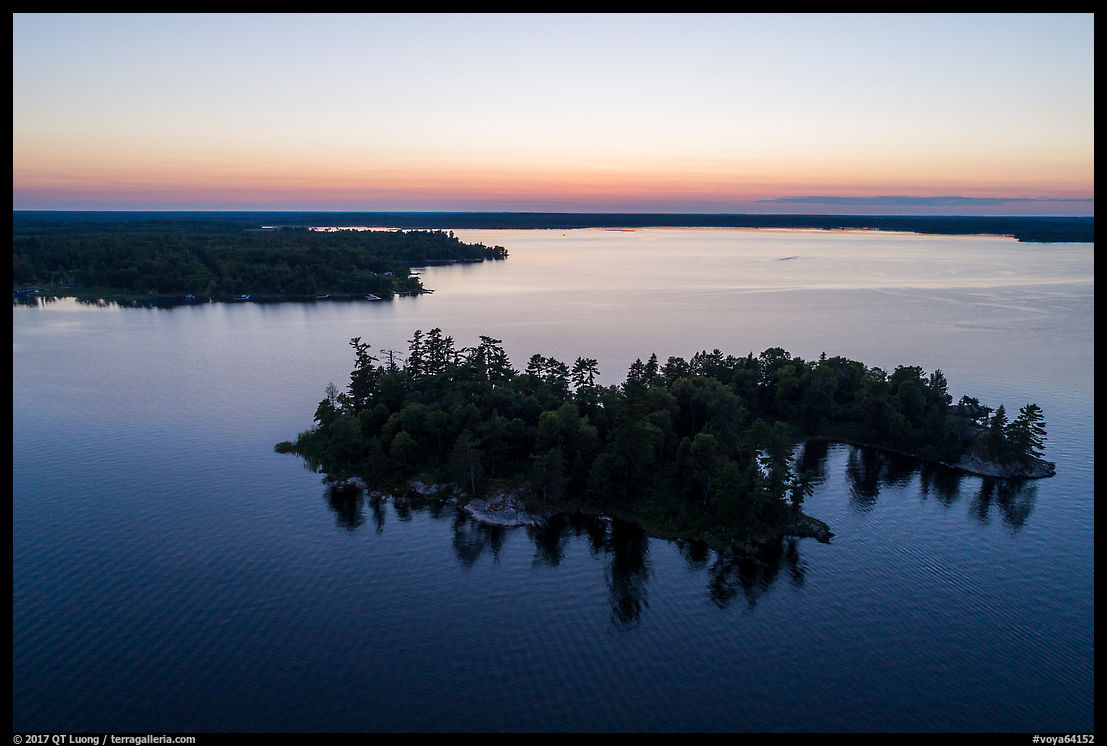 After looking around, I found a better ground viewpoint, which was from the boat launch area within the Woodenfrog Campground, shortly after the beginning of the campground loop, with some aquatic grasses for foreground. From there the island was less elongated and better detached from the much more distant lakeshore. We photographed there until about 10pm. While the mosquitoes were quite reasonable until sunset, after sunset they came in full force, and I was able to continue photographing only thanks to a bug jacket with a built-in insect net.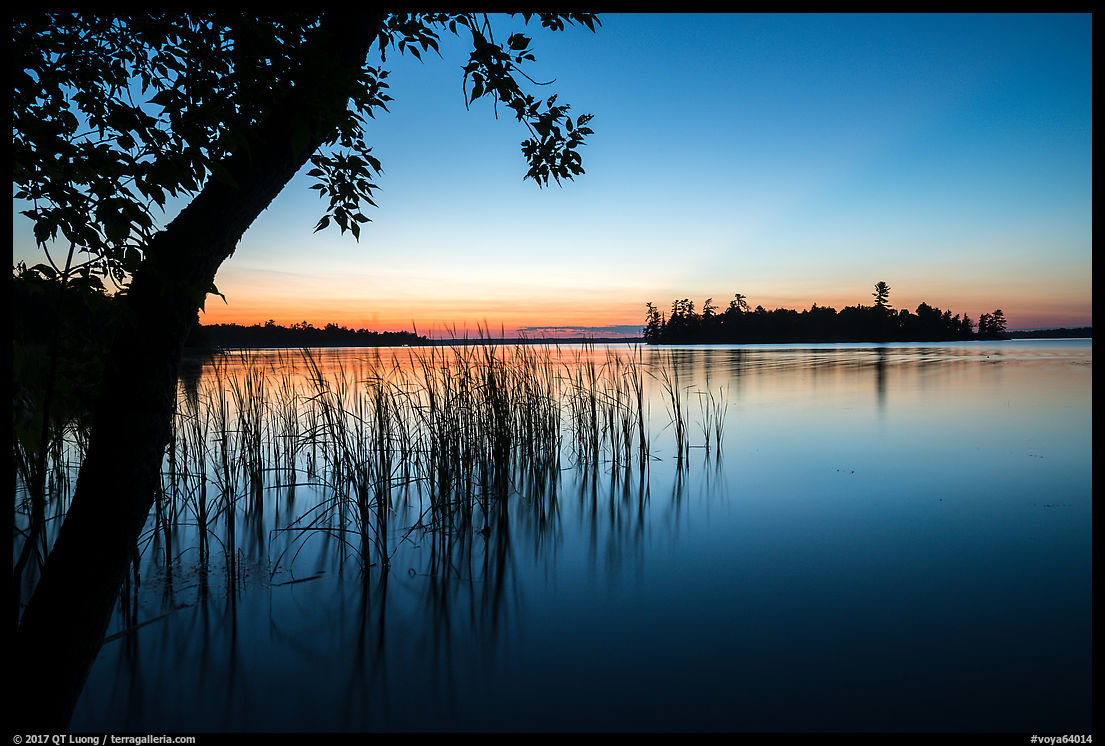 Voyageurs National Park has over 200 designated campsites, but none of them are accessible by road. The largest nearby road-accessible public campground is the Woodenfrog State Forest Campground, which has 61 sites – the other public campground at Ash River has only 8 sites. Used on a first-come first-served basis, the campground was almost full, but we were able to locate a few vacant sites. After pitching our tents while battling the mosquitoes, and eating some food we had packed in our luggage, we came back to the boat ramp to try a bit of night photography around 11.30pm, when the sky got dark. We experimented with my adjustable lantern (the excellent Goal Zero Lighthouse Mini) to find a suitable light level for the foreground.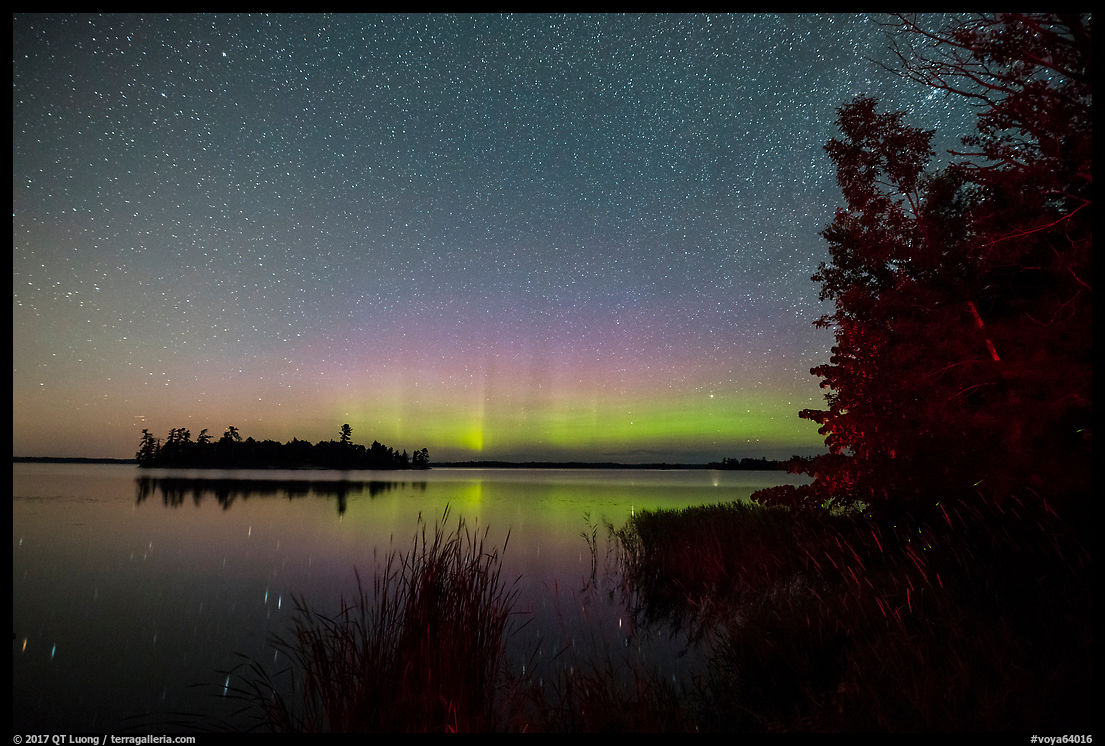 Sony A7R2, Sigma 20mm Art, Metabones EF/FE. 15s, f/2.0, ISO 6400
When my friend Tommy noticed a green color band on a photo he had just taken, which was not visible to the eye, his first reaction was that his camera must be broken. While at the Arctic Circle, the Aurora manifests itself with mostly green curtains high overhead, at more southern locations, it is usually low on the horizon with a few spikes and often takes on purplish colors. Exactly a week before, the Kp index (an indicator of solar activity) was at 6, one of the highest levels, but I had just returned from a trip to Hawaii, and was not prepared to travel. On that night, the Kp was forecast at 2, a low level of activity, so with no expectations of seeing the Aurora, I was much excited and grateful for the unexpected gift. Going beyond the eye, the camera recorded also the afterglow of sunset, the foreground illumination from the lantern, and a few wandering fireflies. I kept the shutter speed at 15s to avoid having the stars become trails instead of points, and confident in the image quality of the Sony A7R2 even at ISO 6400 after Lightroom noise reduction, I stopped down my lens one f/stop from wide open for better sharpness. I set up a time-lapse, but the show lasted just for a few minutes and the Aurora was gone. We would not see it again, even on a Kp 4 night. Although the trip was just beginning, Tommy joked that we could go home. The photograph turned out indeed the favorite from our week in the North Woods (a situation reminiscent of my experience in Glacier Bay) and it was made on a day when I awoke in San Jose. No matter how long your day has been and how late it is, it is worth showing up!
See more images of Voyageurs National Park