Back to Pine Creek Canyon, Zion National Park
No Comments
Because slot canyons have no vegetation and are mostly in the shade all the time, one might think that their appearance doesn't change much. But in fact, the interplay of light with the walls varies much faster than in more open scenery, so much that visual surprises abound and reward multiple visits. Follow me on a repeat visit of a Zion classic, Pine Creek Canyon with much changes.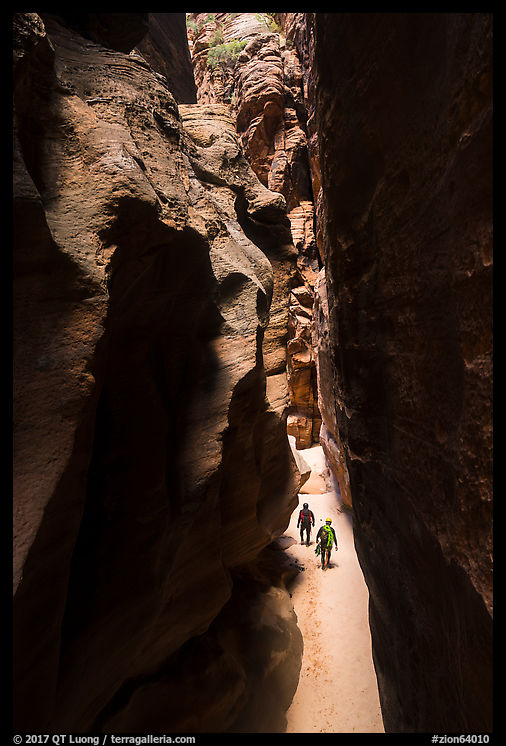 Two years ago, we descended Pine Creek Canyon in Zion National Park. Although I didn't mention it in the post, it was an unnecessarily trying experience because we were stuck behind a very slow and ill-prepared group, and starting at midday, we exited the canyon in the dark. This time, the canyon was clear of slow parties, and we completed it in less than three hours.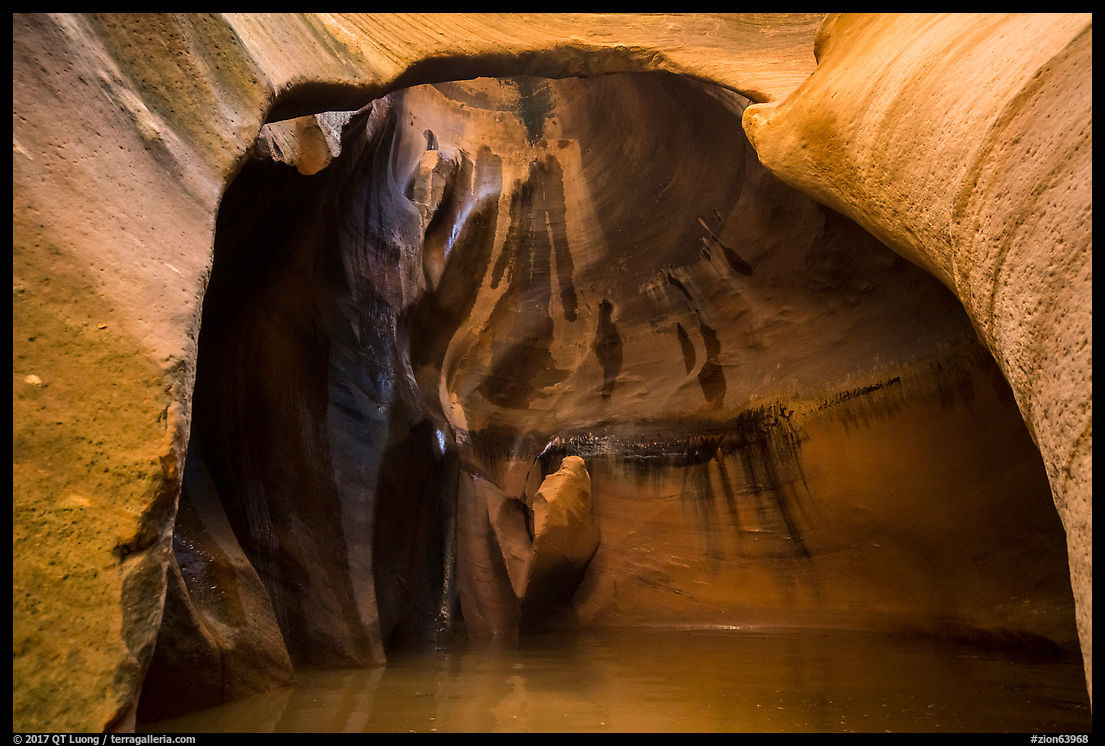 Another factor of change is that the narrow constrictions are subject to much variation in water levels. Last time, the water levels were unusually high, requiring swimming in spots that at other times were dry. This time, if anything, the water levels were even higher due to recent rains. When I embarked on the adventure, I was hoping to photograph both arches in the first large chamber – aptly called "the Cathedral", but this was not possible because at the spot I would have to stand, water was more than neck deep. I contented myself with framing the chamber with one of the arches. If the occasion presents itself, I will visit Upper Pine Creek Canyon for a third time, and hopefully capture the Cathedral in it full glory.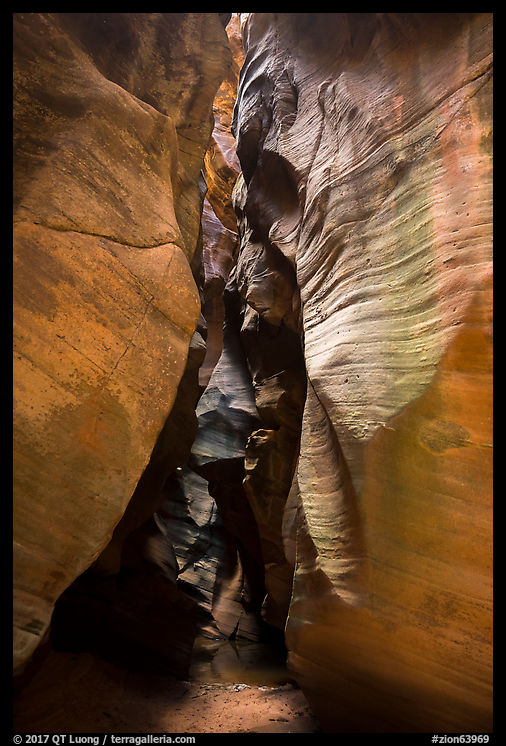 The highlight of my previous descent of Pine Creek Canyon was to find a pair of juvenile owls perfectly perched on a log. Not just that, it was a highlight of my wildlife photography. At that time, I thought this was a one in a lifetime experience, and indeed, this year even the log was gone. It was a mystery how the owls made it to the subterranean chamber, and this year, it was a mystery how a big deer carcass ended up there, but the stench was bad!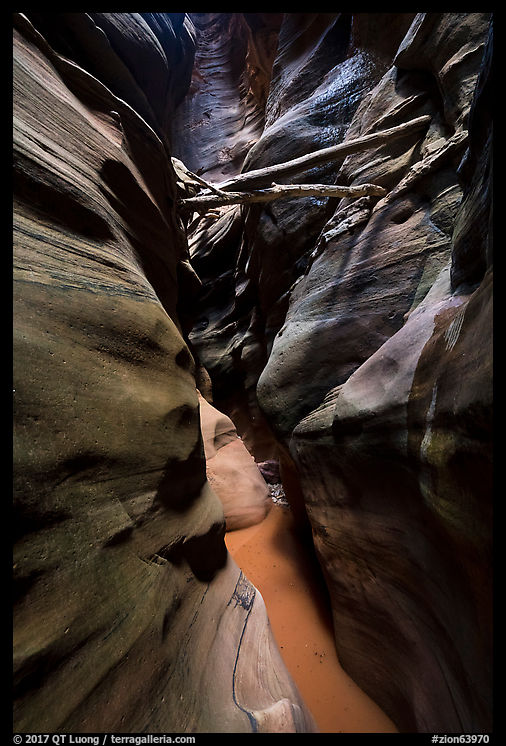 Midway the canyon, I encountered logs jammed high in the canyon that I didn't remember from last time. They are a reminder of the awesome force of the flash floods that carved the canyon. You don't want to be there when those logs were floating.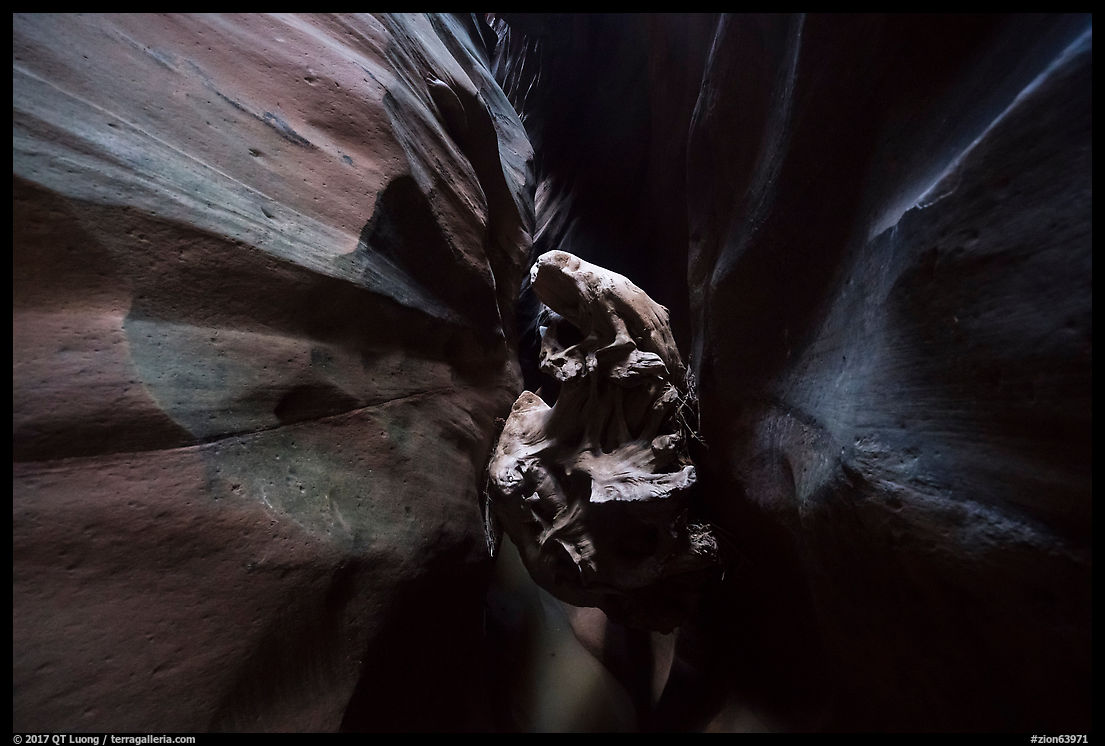 Since it was quite dark, I reached for my tripod, and to my consternation, it was gone. It likely felt out of my backpack during one of the times when I was swimming on my back – easier this way with a substantial backpack, and this keeps your hands out of the freezing water. We tried to look for it, but it looks like it sank to the bottom of a pool more than neck-deep. If you find a Feisol with an Induro ballhead, let me know!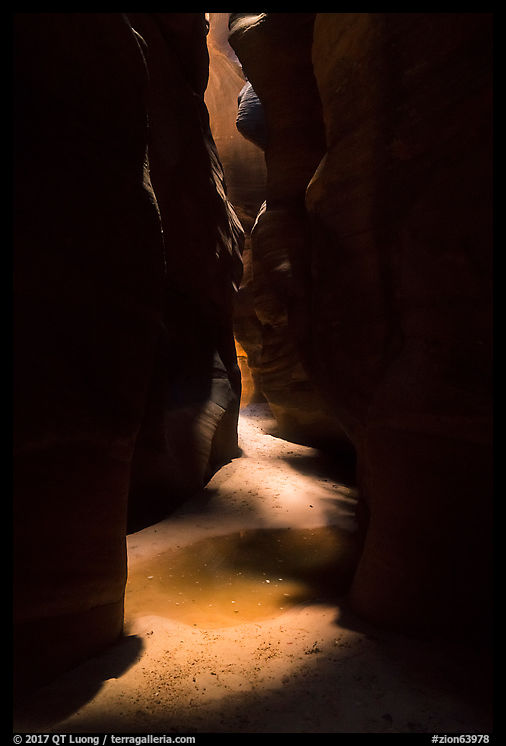 Two years ago, this would have meant that I'd be done with photography, because the scenes were so dim and in addition require stopping down for depth of field, but not with a state-of-the art camera like the Sony A7R2. Not only all the lenses, including the 16-35mm, benefit from in-body image stabilization, but also ISO speeds of up to 12,500 and even 25,600 are usable. The RAW file at first appears noisy, but it retains great dynamic range and Lightroom cleans it nicely. No nasty pattern noise!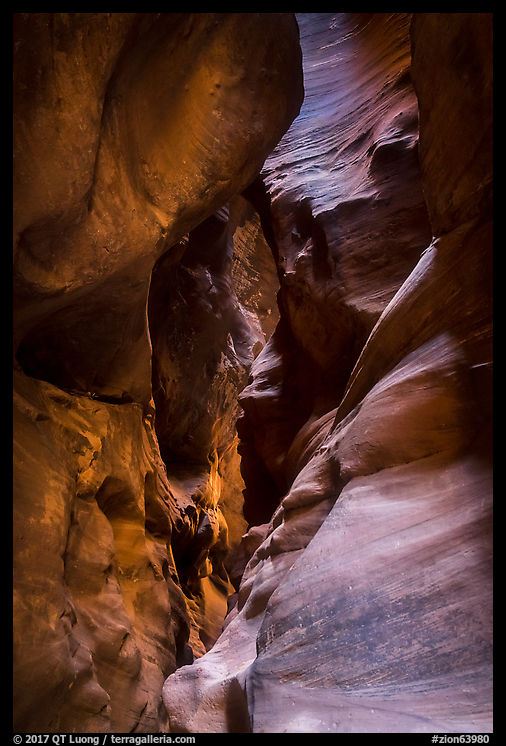 I was glad that I was able to shoot handheld, since this time I happened on a spot with a stronger glow than anything I'd seen last time – usually, midday conditions are more favorable in narrow canyons, and last time we were quite late.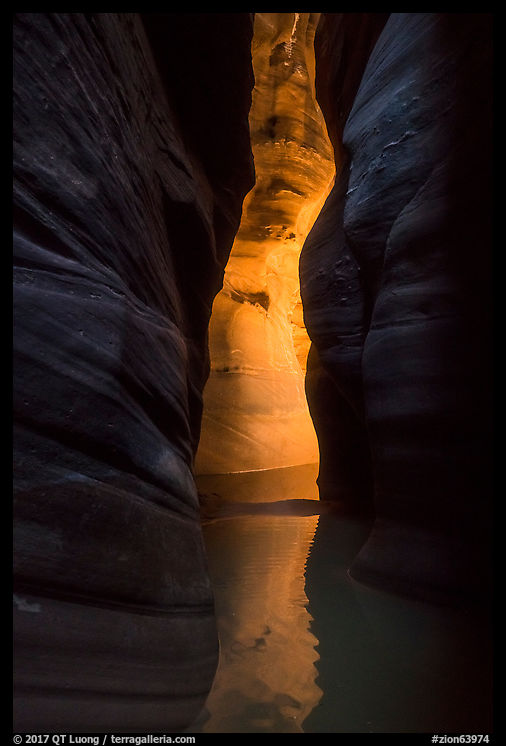 After the final rappel, last time, we had to hurry, since it was getting dark. With the more leisurely pace of this trip, I noticed the beautiful striations in the last chamber.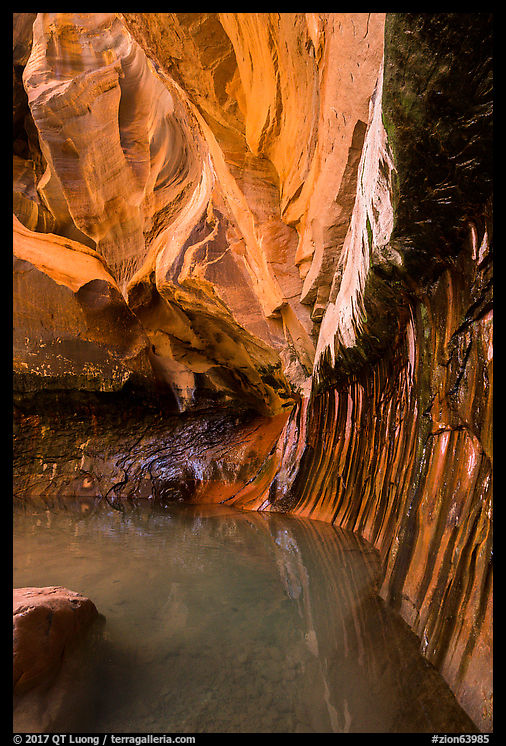 Although Upper Pine Creek Canyon requires technical canyoneering with ropes and wetsuits, the fact that this chamber is past the final rappel means that one could hike to it from the bottom. It is a fun adventurous hike with many swimming holes. To get there, park your car at the 2nd switchback (on the way up) and look behind the wall for a user trail down to Lower Pine Creek Canyon. The going is easy at the beginning, but the further you go up, the more you'll have to scramble over boulders with no well-defined path.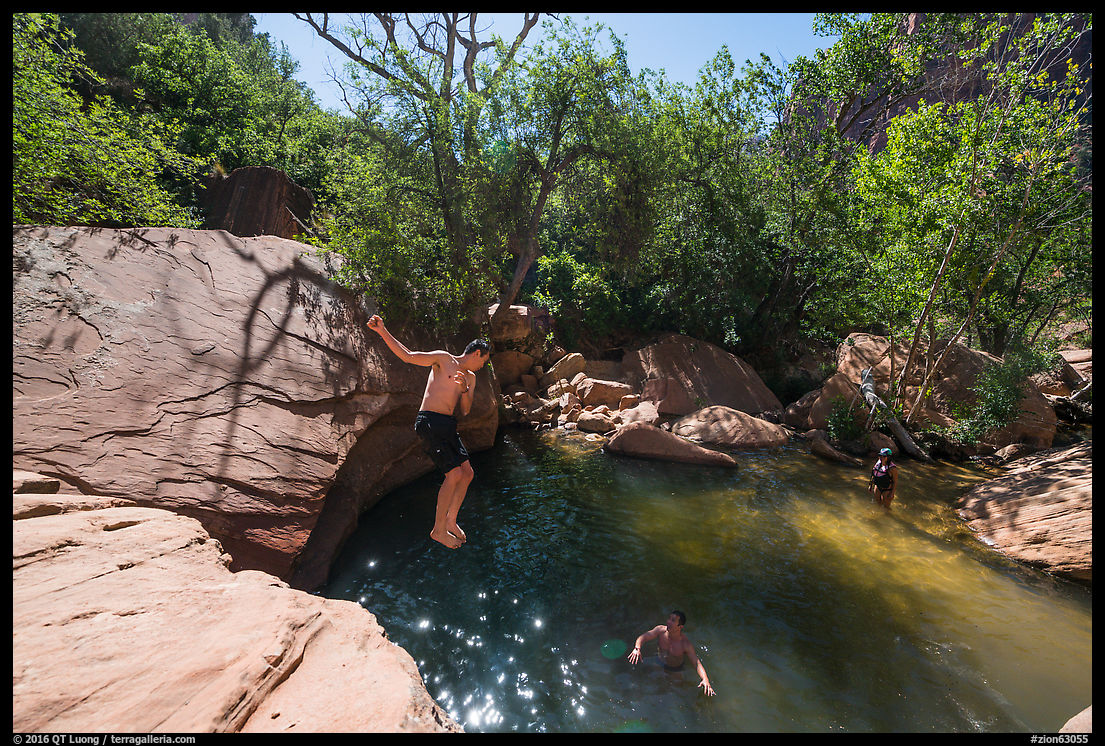 Since you've read so far, here's another Zion secret from Lower Pine Creek. If you park at the first switchback (on the way up) near the Pine Creek Bridge and hike up canyon for about half mile, you will find little known lower Pine Creek Falls, which is quite beautiful despite its small height (10 feet). The user trail is well worn at the beginning, but at the end you'll have to scramble over boulders on the right- it's possible to keep your feet dry – or wade.