North Cascades National Park New Images: Hidden Lake
5 Comments
It's been a few months since I posted about new images in this blog. Although there are a lot of Yosemite and New York images I'd yet to comment on, in an effort to catch up, I am fast-forwarding to the most recent National Parks trip of this fall.
The first objective of my visit to North Cascades National Park was to seek more expansive views. I remembered from my previous visit a vast wilderness of rugged mountains, but on that trip I didn't stand on a mountain top at sunrise or sunset. The mid-day light from Sahale Peak wasn't too interesting. That what happens if your partners are normal people (as opposed to photographers :-)).
Based on photographer Jon Cornforth suggestion for Sibley Creek, I hiked the Hidden Lake trail. After about 3000 feet of elevation gain, I left my sleeping and cooking gear at a pass between the two Hidden Lake Peaks, and proceeded with the camera gear in the dense fog towards the higher of the two peaks. The lake below was often obscured. I was hoping that the fog would clear later, and it did, revealing spectacular views, but only after the sun had set.
After a rewarding session of dusk and night photography, greatly aided by the full moon, I scrambled by night to the retired Hidden Lake Peak lookout, situated on the other peak. I found the gear that I had left at the pass coated with a layer of frost in just a few hours. The air in the North Cascades is definitively more moist than in the Sierras. The lookout turned out to be of the nicest places I've stayed in the mountains, with stunning 360 degrees views, and a cozy interior well maintained by volunteers. I was glad I didn't have to bivy outside.
The morning was clear, but views towards North Cascades National Park, on the edge of which the lookout is situated, were backlit. Every rock was coated with a layer of hoar frost. Because they were so slippery, I didn't depart the lookout until mid-morning after the sun had melted some of that frost. By that time, clouds had already built up. I explored again on the ridges around Hidden Lake. One hour before sunset, it was clear that the summits would stay again engulfed in the clouds. I began to descend in order to get under the clouds. The sun emerged for a new minutes. I paused to make a few photographs, then quickly resumed scrambling down. Since this evening there would be no moonlight, I made sure to reach the trail before it was totally dark. Making few stops, I reached the trailhead at 10pm. It started raining after midnight.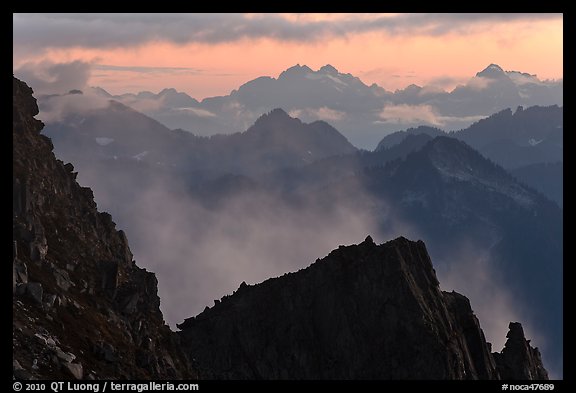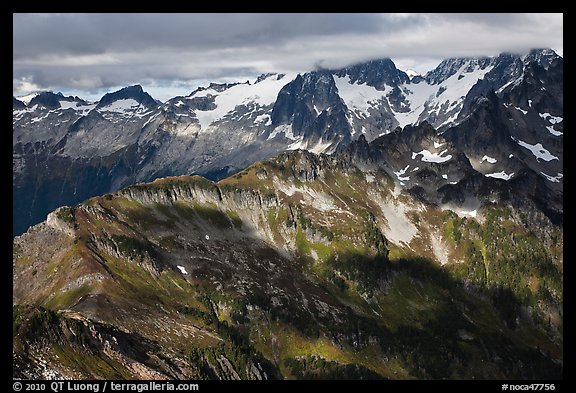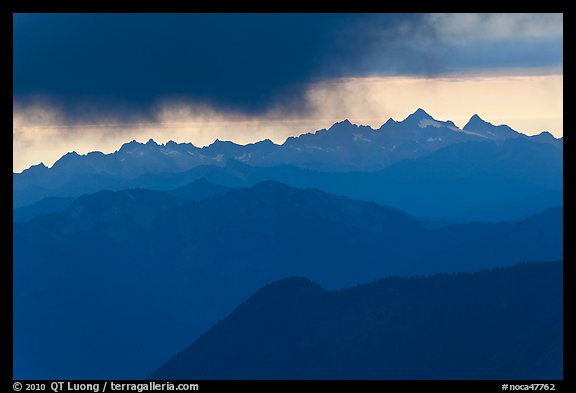 More views around Hidden Lake: Hidden Lake, Mountains