Photo Spot 43: Great Sand Dunes National Park – Entrance road
No Comments
The Great Sand Dunes protected by the National Park of the same name have the distinction of being the tallest dunes in North America, raising to heights of 750 feet.
Climbing the dunes proved quite an exercise. I was making one step backwards for every two steps forward on the deep sand. It took me one hour of hiking, from the time I stepped on the first dunes, to reach the top of the tallest dune. I was glad this was still May, when the temperatures were pleasant, and the mosquitoes hadn't arrived yet, as I've read that the surface temperature of the sand can reach 140 degrees in the summer.
While I enjoyed the 360 degrees view, I didn't think that it gave a good sense of the size of the dunes. When you are standing on the top of a mountain, you don't see the mountain itself, right ? I remembered the first glimpse of the dunes I got upon entering the park. Because of the high sun, the dunes lacked relief then, but by late afternoon, the light should be just right.
I hiked down quickly, and crossed Medano Creek to get back to my car. I drove the access road a couple of miles past the visitor center and then past the park headquarters to maybe a mile before the private lodge, and then set up not too far from the road. Sometimes, the view you are looking for is the easiest to get to !
After a few tight shots with my 35mm camera and the 100-400mm, I reached for my large format camera and the longest lens that I own, a 720mm. Although this sounds impressive, on the 5×7 camera this is equivalent to a very modest 160mm on 35mm. Because of the extension and the relatively long exposure time of about 1/2 a second, I also needed to use two tripods to support the camera adequately and prevent vibrations that would have ruined the sharpness of the image.
The lens was not long enough to frame tightly the dunes and Sangre de Cristo Mountains, but I knew that the image would crop perfectly to a panoramic 6×17. I liked anyways the greater context it provided to the picture. The flats, accentuated by the grazing light, begin here and extend towards the East for most of the continent's interior. Framing tightly often results in a more striking image, as no "uninteresting" element distracts from the main subject, yet the image with the broader context often rewards a more sustained viewing.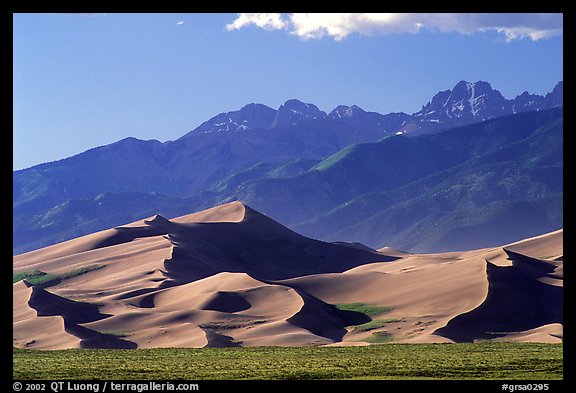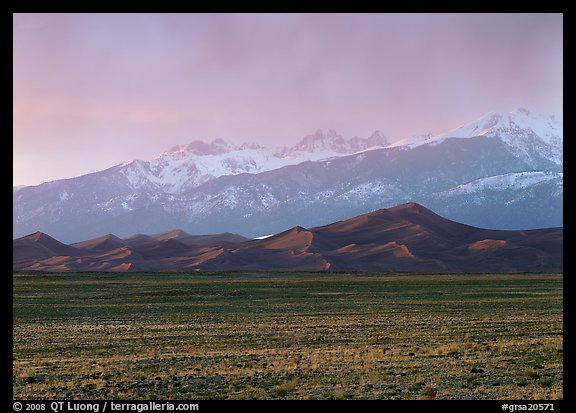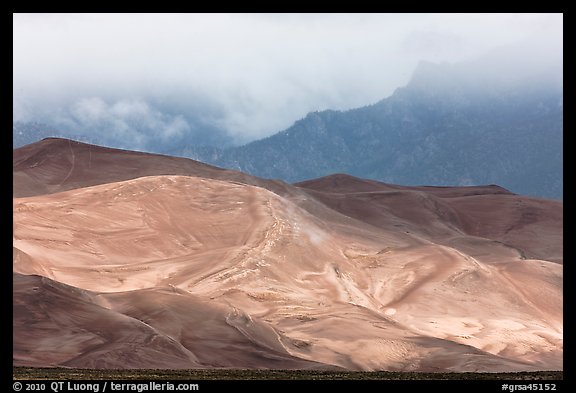 View all images of Great Sand Dunes National Park