Photo Spot 49: Kenai Fjords National Park – Exit Glacier
One Comment
Kenai Fjords National Park, like many other Alaskan parks, is a place of superlatives. Its centerpiece, the Harding field, is the largest ice field in North America, covering more than half of the park. At some places, the thickness exceeds a mile.
Unlike other Alaska parks, one section of the park can be easily reached. After my extended backcountry adventure in Gates of the Arctic National Park, the complicated logistics of Denali National Park, not to mention Wrangell St Elias, I was feeling ready for a easier trip.
I drove the Exit Glacier Road just a few miles out of the town of Seward. Although the signs there pointed out to winter travel by snowmobiles and skis, in September, it looked like the snow season was still far way, making access through the 9 mile, well paved road, a breeze. From the Nature Center, a half-mile, flat trail (also paved !) lead through a cottonwood forest to a panoramic vista of Exit Glacier. Along the trail signs indicated the date at which the front of the glacier reached that particular position. I was surprised to see how recent those dates were, even though the ice looked quite a distance away.
From the glacier viewpoint, the trail branched to two areas of that offer a closer view of the glacier. The trail to the Edge of the Glacier took me near walls of ice. After the sun had disappeared, in the late afternoon, the soft light helped reveal the delicate shades of blue of the ice.
I returned early in the morning the next day, easily hiking the short distance in the dark. I stopped at a small glacial pond that I had spotted the day before, thinking that it would provide interesting reflections when the first rays of sun would hit the front of the glacier. I was pleased to see that it was now frozen with delicately textured ice on its surface adding more interest to the image as two types of ice temporary existed together.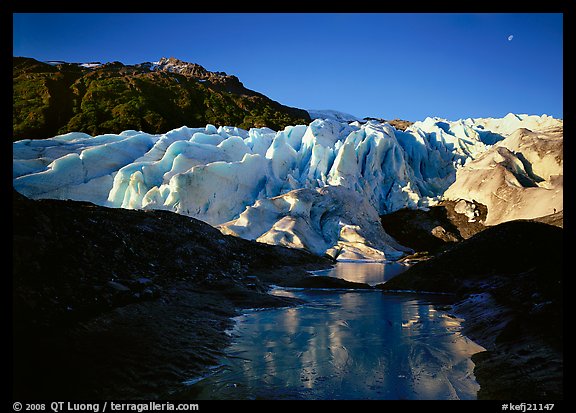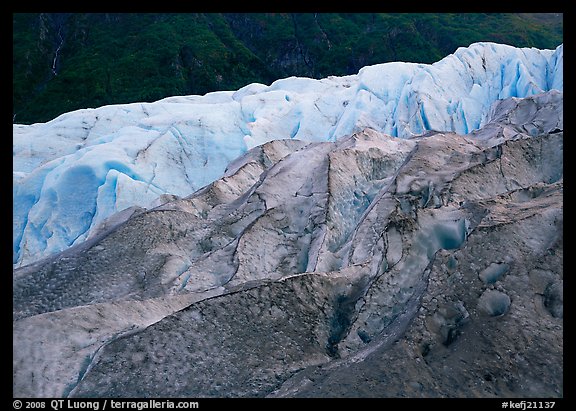 View more images of Kenai Fjords National Park
View more images of Exit Glacier