Photo Spot 46: Congaree National Park – Weston Lake
2 Comments
Located in South Carolina just a half-hour's from its capital Columbia, Congaree National Park preserves the largest remaining old-growth bottomland forest in North America.
The easy 2.4 mile boardwalk loop trail is an obvious choice for an introduction to the park, offering diverse perspectives, and natural environments. It begins on the bluff where the visitor center is built. The first section is elevated as much as 6 feet above the forest floor, while the second section rests on the forest floor. The benches along the way provided a perfect place where I paused to enjoy the tranquility of the primeval forest.
Looking overhead, I noticed the height of the canopy. Because of the periodic flooding and deep fertility of the alluvial soils, the floodplain is home to bald cypress, tupelo and other trees growing to unusually large size. I learned from the interpretative signs that this was one of the world's tallest temperate forest canopies, averaging over 100 feet high, and including two dozen champion trees.
As on my first visit, the place was named "Congaree Swamp National Monument", so I was surprised to see the floodplain quite dry. One spot where I found water in abundance was Weston Lake, a abandoned channel of the Congaree River. There, I was able to photograph trees growing out of the water, the natural sight that I associate the most with the American South. I stepped out of the boardwalk to find positions that maximized the amount of reflections of the trees into the dark waters, while minimizing the brights spots caused by the sky.
Read the interview (PDF) that appeared in The State, South Carolina's largest newspaper, on the occasion of my visit to the redesignated National Park.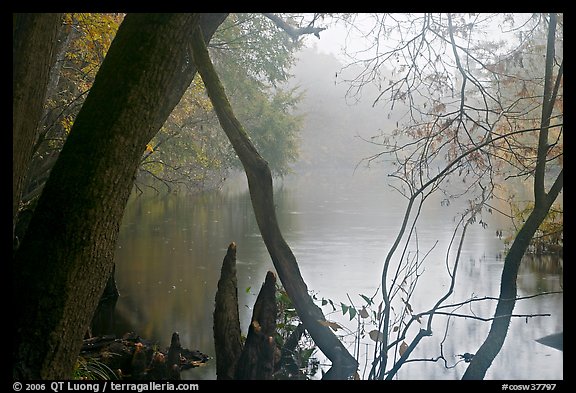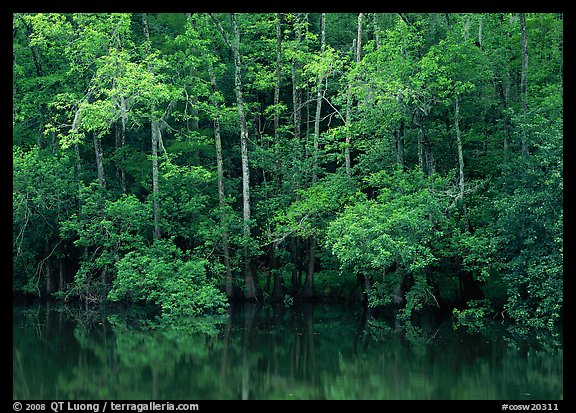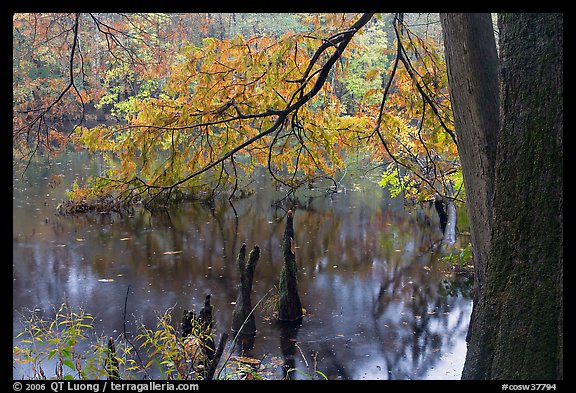 More images of Congaree National Park
More images of Weston Lake