Photo Spot 40: Wind Cave National Park – Boxwork
No Comments
Wind Cave National Park, one of the three National Parks (together with
Mammoth Cave
and
Carlsbad Caverns
) centered around a cave, was the first cave anywhere in the world to be designated a national park.
Although its 134 miles of mapped galleries make it the fourth longest cave in the world, I had heard of Wind Cave for its unusual formations. In general, I prefer to photograph using the cave lighting, since I find on-camera flash lighting usually too flat. Like in most caves, tripods are not allowed during the tours. However, for once, the bad weather helped me.
Two days before, I had encountered a storm system with winds so severe that I was barely able to pitch my tent. Once I got inside, I felt like I was trying to sleep in a washing machine. Needless to say, this wasn't too successful. The next day, as I was driving past daytime in the continuing storm, I stopped in an isolated country restaurant seemingly in the middle of nowhere, surrounded by vast plains. There, after engaging me in conversation, and learning that I had no place to stay, a woman offered me a place in their family home. I was immensely grateful to be able to stay out of the weather. I still remember the Dakotas as the first place in America where I had benefited from the hospitality of strangers.
Early this morning, I was the first visitor to drip into the Wind Cave National Park visitor center. Seeing that I had braved the weather to get there, the ranger on duty agreed to give me a private tour without an advance notice.
On such a tour, I was allowed to bring along my tripod, since it would not constitute a tripping hazard for the other participants. The ranger pointed me to the nicest displays of boxwork. the unusual cave formation composed of thin calcite fins resembling honeycombs, for which the cave is known. As formations were lining up the ceiling, the photography with the large format camera required quite a few contortions.
Back on the surface, I felt eager to explore the park's mixed-grass prairie, but given the weather, this would have to wait for a return trip.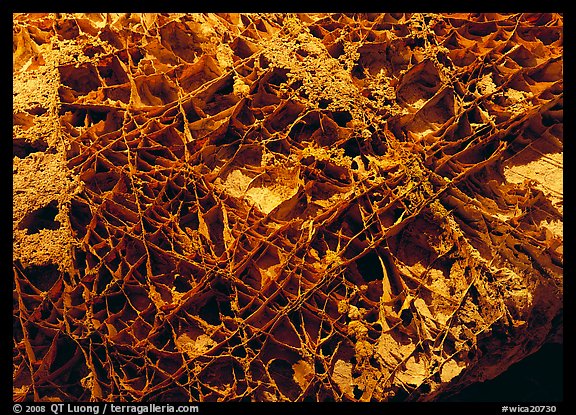 See more images of Wind Cave National Park