Photo Spot 39: Theodore Roosevelt National Park – Cannonball concretions
4 Comments
Theodore Roosevelt National Park preserves not only a rugged landscape, but also the memory of a man, who has done so much for conservation through his support of the National Parks. It started oddly, though. The impetus for the young Theodore Roosevelt to head to North Dakota was reading in the newspaper that bison were being exterminated. He hoped on a train to be able to kill one himself before they were all gone. However, the badlands taught him respect for nature, while toughening him. He would later say "I would not have been president, had it not for my experience in North Dakota".
I came to Theodore Roosevelt National Park to collect a different type of trophy. One of the things that fascinated me most about the Parks was not only the extraordinary diversity of the landscapes they featured, but also how those landscapes were inter-related, yet different from each other. Having seen badlands terrain elsewhere made me more curious about how the North Dakota badlands would compare.
I found the two units of the park to have a different character, with the North Unit being more wild and scenic. What struck me the most North was the variety of the erosion formations. Theodore Roosevelt described them as "so fantastically broken in form and so bizarre in color as to seem hardly properly to belong to this earth". In particular, I discovered numerous cap rocks of different shapes, and even a large, little-known, petrified forest in the South Unit. Getting to some of them required a bit of hiking.
However, the most unique formations I saw were situated next to the road in the North Unit. At the aptly named "Canonball Concretions pullout", next to the spur road to the campground, I found almost perfect rock spheres of up to five feet diameter, their symmetrical shape contrasting with the chaotic badlands. I was saddened to see that some visitors had traced words in their soft rock, and only hope that this was done in earlier years, when environmental awareness hadn't reached today's levels. Yet, after searching around, I concluded that the nicest specimen were the ones that had been defaced, so I resolved to photograph them nevertheless.
As nature photographers, we tend to exclude the hand of man to emphasize the eternal character and the magnificence of the untouched land. However, images showing the impact of man in an otherwise pristine setting are useful, as they could raise awareness that some actions are not to be repeated.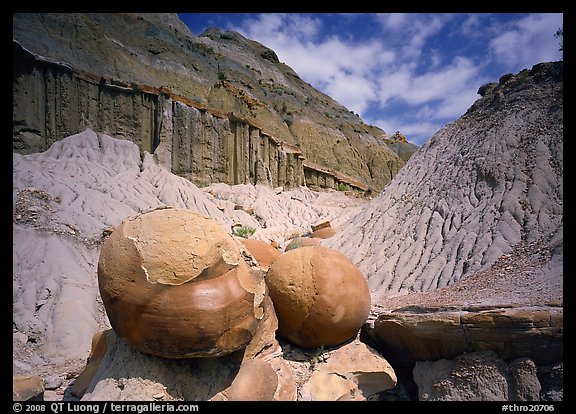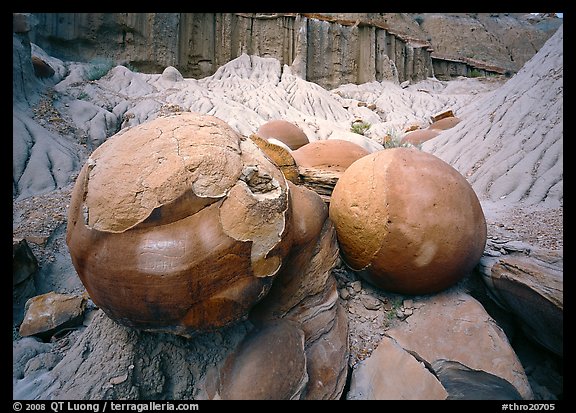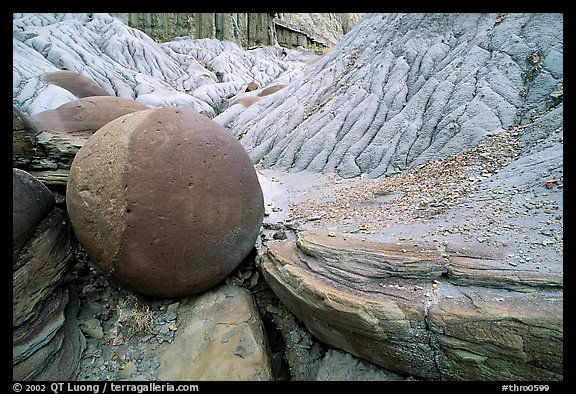 View more images of Theodore Roosevelt National Park