Photo Spot 25: Guadalupe Mountains National Park – Sand Dunes
3 Comments
Guadalupe Mountains National Park offers in a compact size a great variety of scenery and juxtapositions, including the highest mountains in Texas, canyons, desert, and sand dunes. The vegetation range from desert plants, to woodland trees whose color in autumn rival New England. Being among the least visited of the parks in the continental US, the park is mostly free of crowds, except maybe in the main canyon during the peak of fall colors. It is not well known amongst nature photographers offering the opportunity to create relatively fresh images.
There are more iconic or productive spots in the park, however since in the past I have featured only relatively well-known sites, this time I will describe an interesting location that I bet you haven't visited yet.
Undocumented (the NPS map says to call for directions), unmarked, and out of the way, the Salt Basin Gypsum Sand Dunes are one of only two gypsum dune fields in the US. The other is nearby White Sands National Monument, in New Mexico, which is huge, and sees heavy recreational use. The small size of the island of dunes, surrounded by desert scenery and the backdrop of the massive escarpment of the Guadalupe Mountains, create a very different effect of intimacy and solitude. You will not be bothered by footprints. During my visit, in November, I did not meet another person there. The area has been included within the park boundaries only for a decade.
To get there, drive South on US 62 for 23 miles from the visitor center to Salt Falt. Make a right turn and follow county road 1576 for 16 miles, then make another right turn on the access road, driving towards East for 7.5 miles to a parking area before a the locked gate. Hike about 2.5 miles down the dirt road to the dunes. The driving time from the visitor center is about one hour. In 2000, there were no signs and absolutely no facilities (the closest are in Dell City about 4 miles West from the access road).
The clay that makes up the surface of the access road becomes extremely slippery during rainy weather, and would be unsafe to drive. At 3640 feet, the Salt Basin Dunes are lower in elevation than most of the park. They are warm in winter, and very hot in summer. During the spring, high winds can make the area inhospitable, sometimes even obscuring the road with sands.
You will be West of the Guadalupe Range. To capture the dunes in the foreground, with the impressive reef behind, late afternoon to sunset light is the best. When I was there, wispy clouds on the East catched the colors of sunset, so I used only a wide angle to take in the dunes, mountains, and sky. If the sky is not as spectacular, a longer lens could be used to frame the mountains more tightly.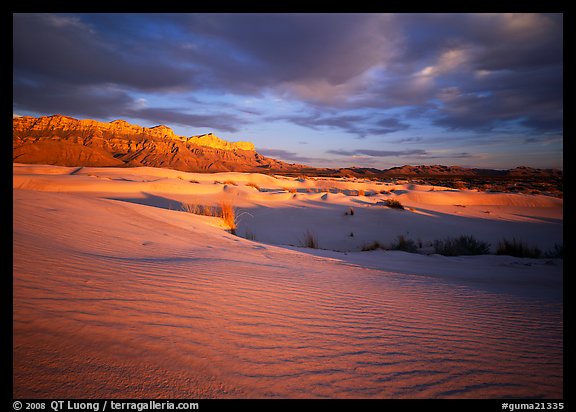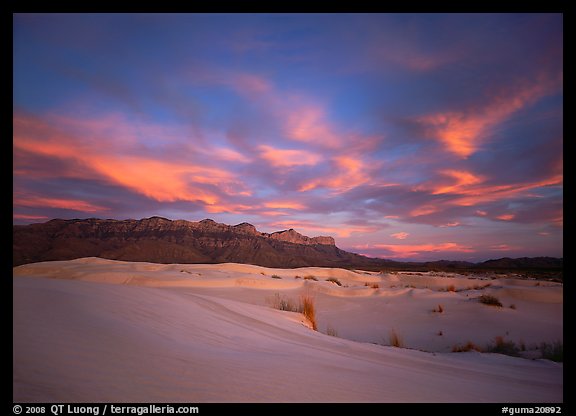 View all images of Guadalupe Mountains National Park
View all images of Salt Basin Sand Dunes