Photo spot 24: Big Bend National Park – South Rim
4 Comments
Remoteness makes Big Basin National Park one of the least visited National Parks. The park lies 325 miles from El Paso, the closest major city. The three roads that lead to the park end there. They do not pass through to another location.
A diverse topography, flora, and fauna surprise the visitor who takes the long trip. Three distinct environments are found in the park. The desert, at the edge of the Chihuahuan, offers more variety of cactus than any other desert in North America. The Chisos Mountains, a compact mountain range that is the southernmost in the US, rise to 8000 feet in the center of the park. The canyons of the Rio Grande River form the border with Mexico. Northern trees (such as Aspen and Maple) mix with southern trees (like Pinyon Pine and Juniper). Blooming flora is found in almost every season.
Driving into the Chisos Basin, you experience in a few miles a change from the hot desert to a cool sub-alpine environment. Consider hiking three trails from the Chisos Basin, the Windows Trail, Lost Mine Trail, and South Rim Trail. On the Window Trail, concentrate on close views of the pools and stream, as the view of the Windows is better from the overlook of the same name. The Lost Mine trail (4.5 miles RT) provides good views with a moderate hiking distance.
The South Rim of the Chisos Mountains offer by far the most spectacular panoramic views in the park. From there, the desert below stretches as far as the eye can see into Mexico. Agaves and cactus on the rim form interesting foregrounds. I prefer to photograph those compositions with a wide angle lens such as a 24mm.
The South Rim Trail is 13 miles RT, with an elevation gain of 2000 feet. As the light is often quite flat mid-day, I recommend to camp overnight on the top of the rim to catch both the early morning and late evening light. Although you will meet a springs on your way up, it is probably safer to take all the water you need with you. There are some flat spots, well sheltered by pines, close to the rim. On my outing, I did not bring a tent.
The Chisos are much cooler than the surrounding desert, yet during the summer the temperatures are probably too high to enjoy such a long hike, and thunderstorms may present a hazard on the ridge. When I visited in mid-November, the temperatures were perfect. Winter can bring sub-freezing temperatures to the desert and mountains. The desert blooms in spring, but note that from February to July the southern part of trail is usually closed for peregrine falcon breeding season, which would limit your explorations, although the remaining section of the trail will still offer plenty of superb views.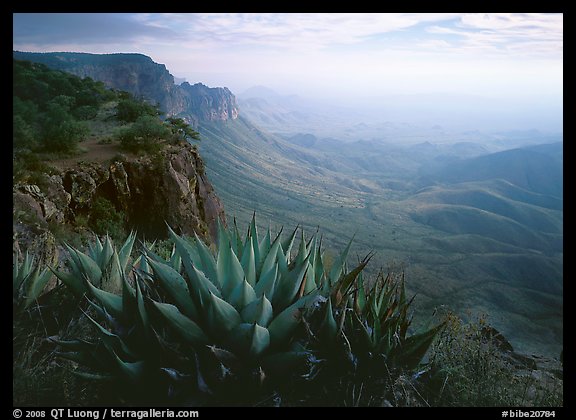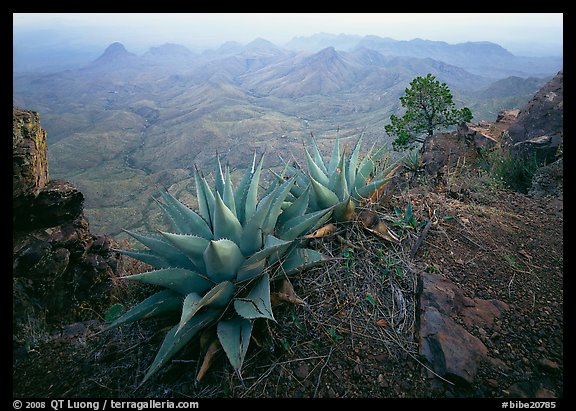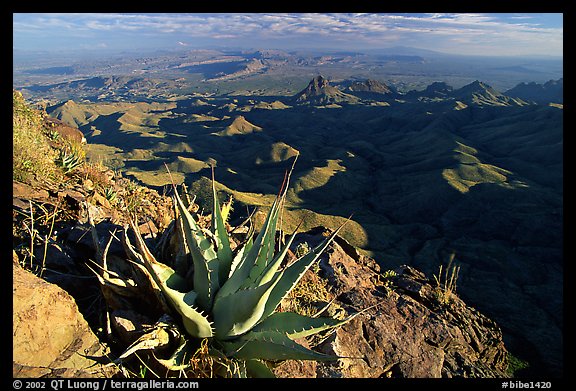 View all images from South Rim of Chisos Mountains
View all images from Big Bend National Park