Paddling the White Cliffs of the Upper Missouri River
2 Comments
Floating the Upper Missouri River in Upper Missouri River Breaks National Monument is a great trip, offering the opportunity to connect with a time when the landscape of the West was wild, surrounded by unique and spectacular scenery. It is an easy multi-day adventure that doesn't require much experience nor effort to arrange. This article explains the basics and details the highlights of the most remarkable White Cliffs section.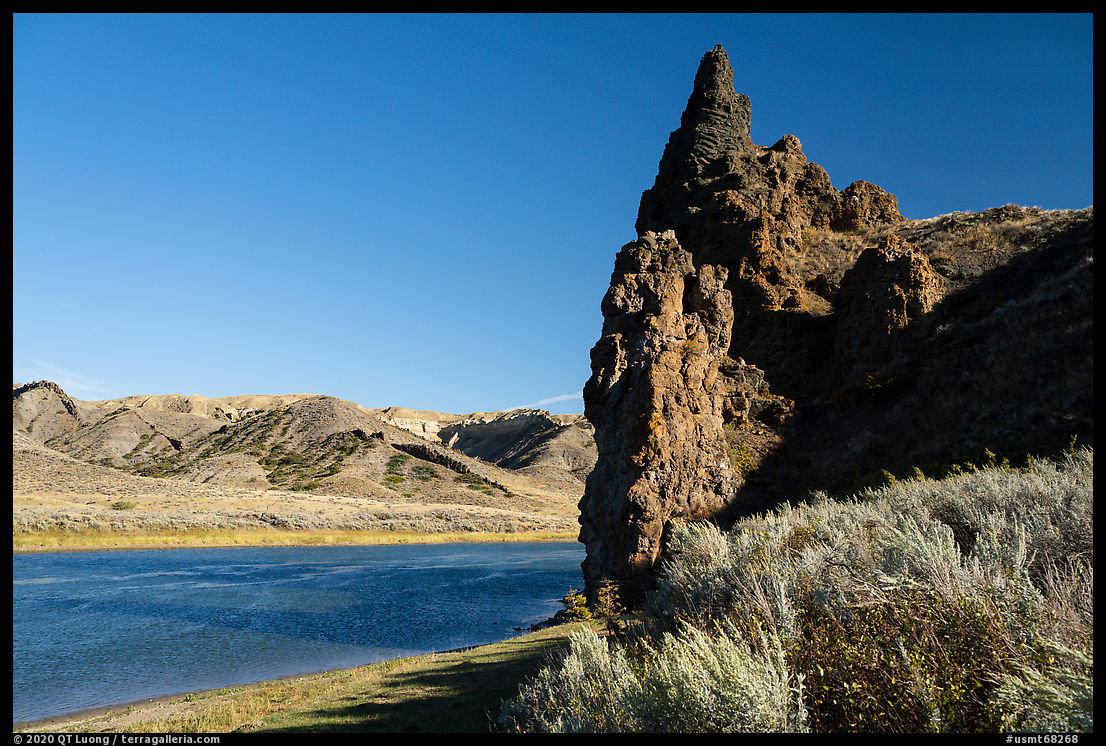 The River
The Upper Missouri River is meant to be paddled like Lewis and Clark did. Unlike modern travelers, Lewis and Clark traveled the river upstream, an indication of a placid river. It is indeed forgiving and does not require paddling experience. On the other hand, it is not great for motorized travel. Motorboats are strictly restricted and the riverbed is so shallow that you'd want a jetboat. The Upper Missouri River is Class I with no whitewater rapids. The only difficulty I found was that some landing spots were very muddy. Most boaters prefer canoes for carrying large items such as coolers to make camping more pleasant. Being more used to kayaks, I rented a double kayak, which had enough room for me to toss in my full-size photo backpack and my drone backpack, in addition to camping gear, food and water. I didn't use dry bags, nor did I find it necessary to wrap my backpacks into waterproof plastic bags.
Logistics
Logistics aren't difficult. Guided trips are available during the summer. If you'd rather go on your own, Missouri River Outfitters in Fort Benton offers canoe and kayak rentals. Conveniently, you pick up your boat at the departure point and leave it at the take out point. For a reasonable fee, they can also drive your car from the departure point to the take out. The developed campsites where I stayed had vault toilets and fire rings, and sometimes 3-walled shelters. Besides the usual camping preparations, you need to bring your own water. The Upper Missouri cannot be treated adequately by boiling or filtering because of sediment in the water and extensive cattle in the area. The BLM provides an excellent 65-page Boater's Guide with detailed river maps. A printed copy can be bought online or obtained at the BLM visitor center, but I found it easier to keep track of river miles by GPS.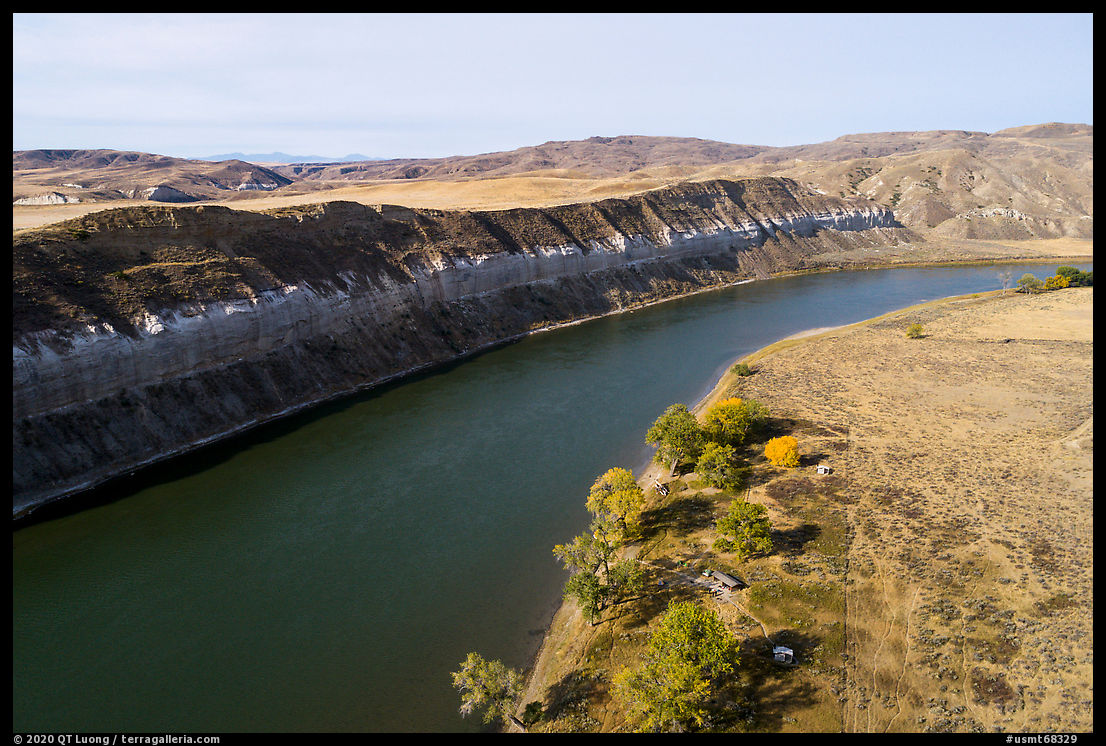 Time
Most river trips take place from mid-June to early September, and during that period campgrounds can be busy. The shoulder seasons extending a month on either side of the main floating season offer far greater solitude, but the weather is more dynamic and temperatures could drop down to near freezing – two pluses as far as I am concerned. The river flow is about 3mph, faster and higher in the spring, slower and lower in autumn.
The central section, from Coal Banks Landing (river mile 41.5) to Judith Landing (river mile 88.5) consists of 47 miles of river. Some people do the trip in 3 days, but most chose 4 days, and I even met a party who took 7 days. Even with 4 days, staying at the 3 popular developed camps, getting up before dawn and finishing well past sunset every day, and paddling quite hard, getting blisters on my hand, I felt that I could have used more time for hiking because there is so much to see around the river corridor.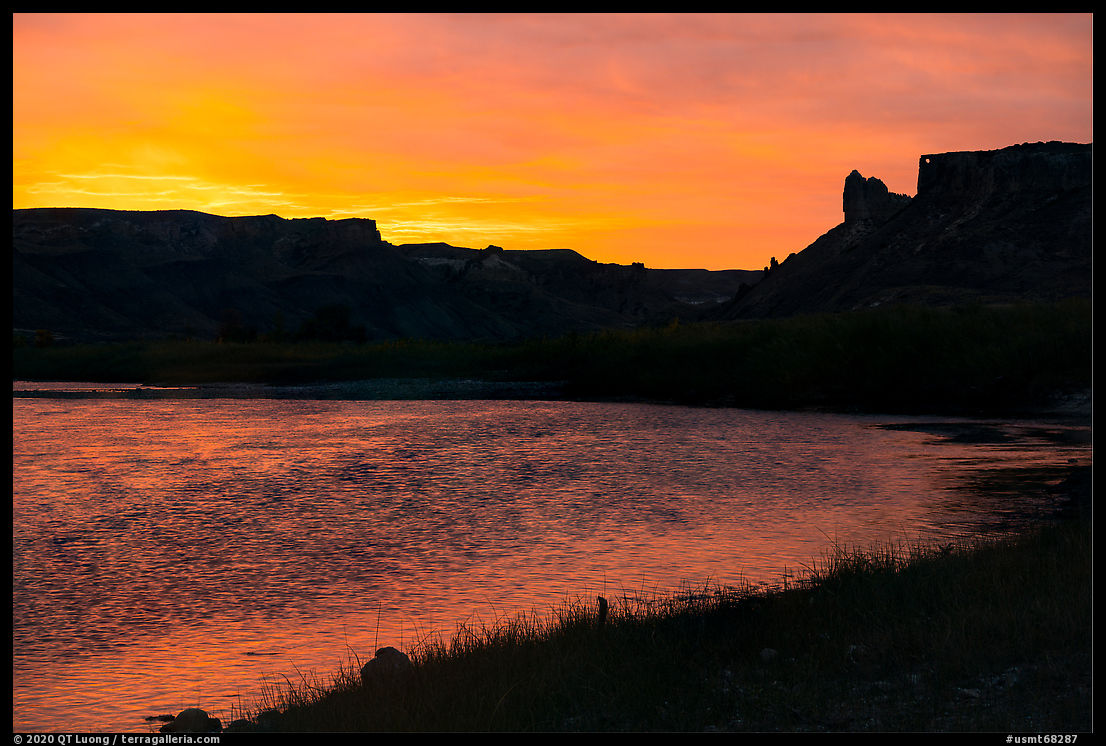 Little Sandy
At Coal Banks Landing, a helpful BLM volunteer named Jim helped me carry the kayak to the water and go over the trip. He recommended that I stop at Little Sandy (river mile 46.7) to see ancient tipi rings, a reminder that the area has a long history with native Americans. I landed as soon as I saw the campground, but when I went looking for the tipi rings, the surrounding didn't quite match his description. I found some rocks on a perfectly flat spot with commanding views of the river, but their shape was only vaguely related to the circles I was expecting. After getting into the kayak, once I floated downstream, I saw terrain matching the description at the other end of the campground – they can be pretty long. I landed and hiked back, only to find a creek between me and the campsite. Not wanting to get my feet wet, I strenuously paddled the kayak upstream. A short stroll above the campground, there were several perfect circles of stones. Robert, a fellow Californian traveling solo (for the 4th time!) who was camped there told me that they were in fact too perfect: modern visitors have added stones to them unlike at the undisturbed site I came upon earlier.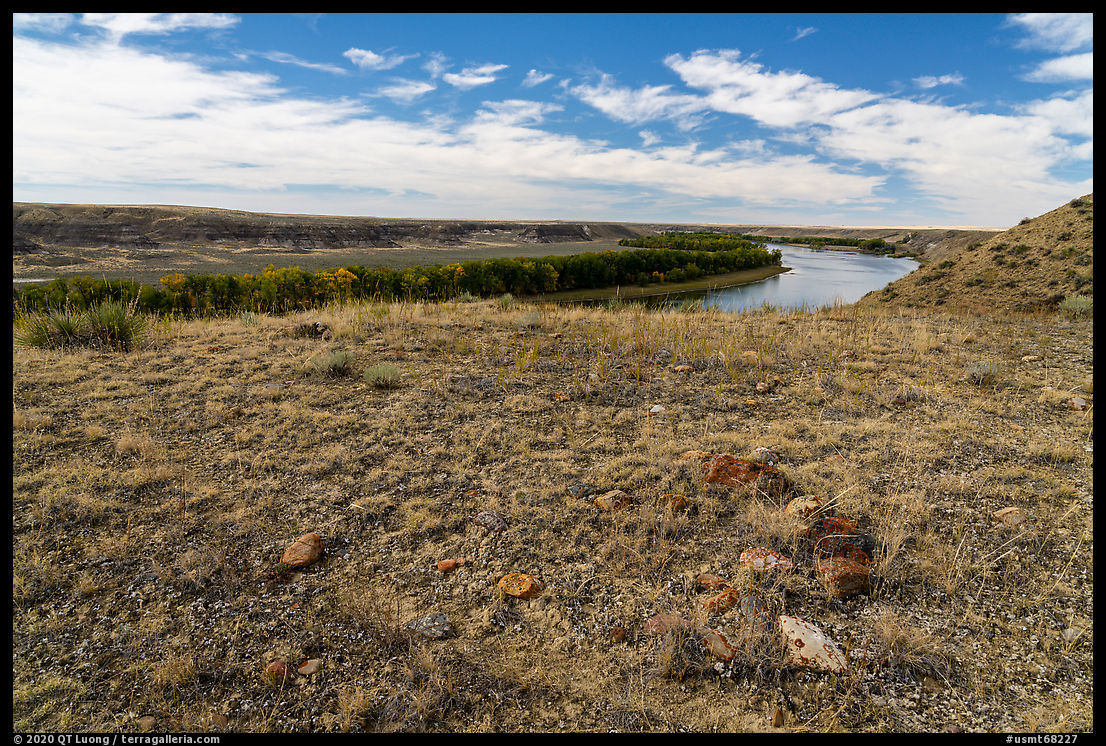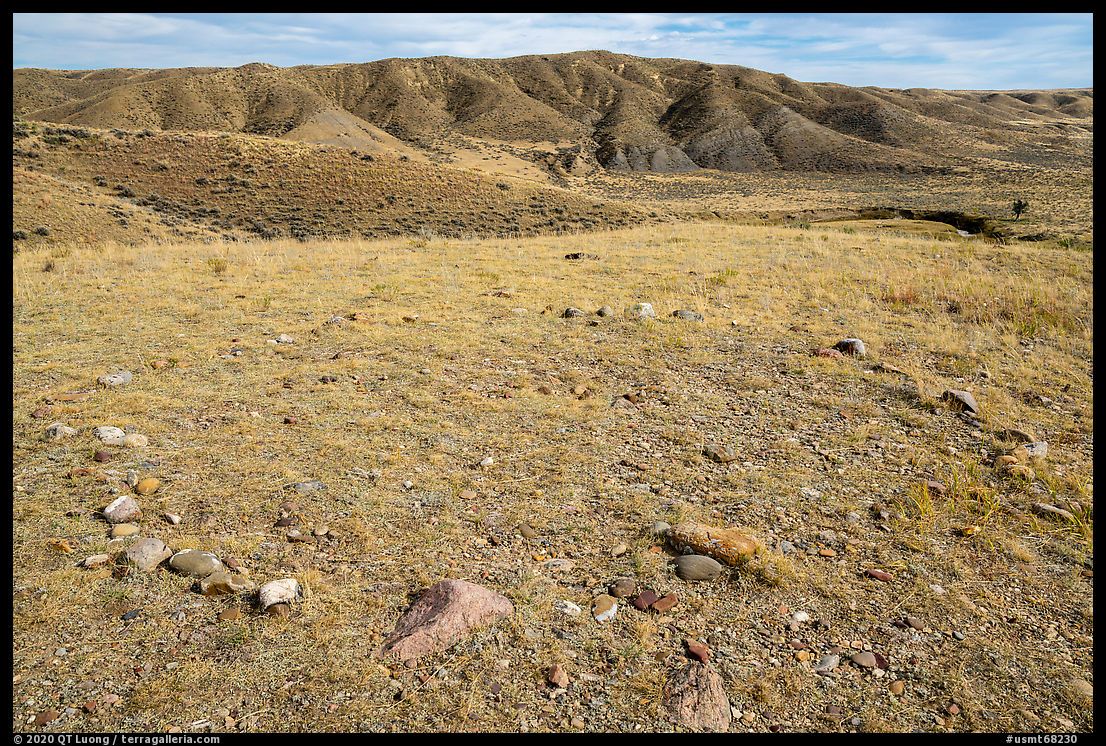 Burned Butte
I arrived at Burned Butte (river mile 55) with less than 30 minutes before sunset. In my rush to land, I had reached a spot that was so muddy that I struggled not to get my rubber boots sucked in. I then made a cross-country beeline for the top of the igneous rock plug, only to find the slope to be too steep and slippery to climb further. I didn't get high enough before sunset for a good perspective on the river, but going down, I noticed a user trail. Although it was past sunset, I decided to investigate. It led me around the cliff for great views of the river. I was glad I had not given up, as the post-sunset glow turned out beautiful thanks to the clouds. After a few photos, I made sure to go back to my boat before dark, paddling a mile to the camp by moonlight.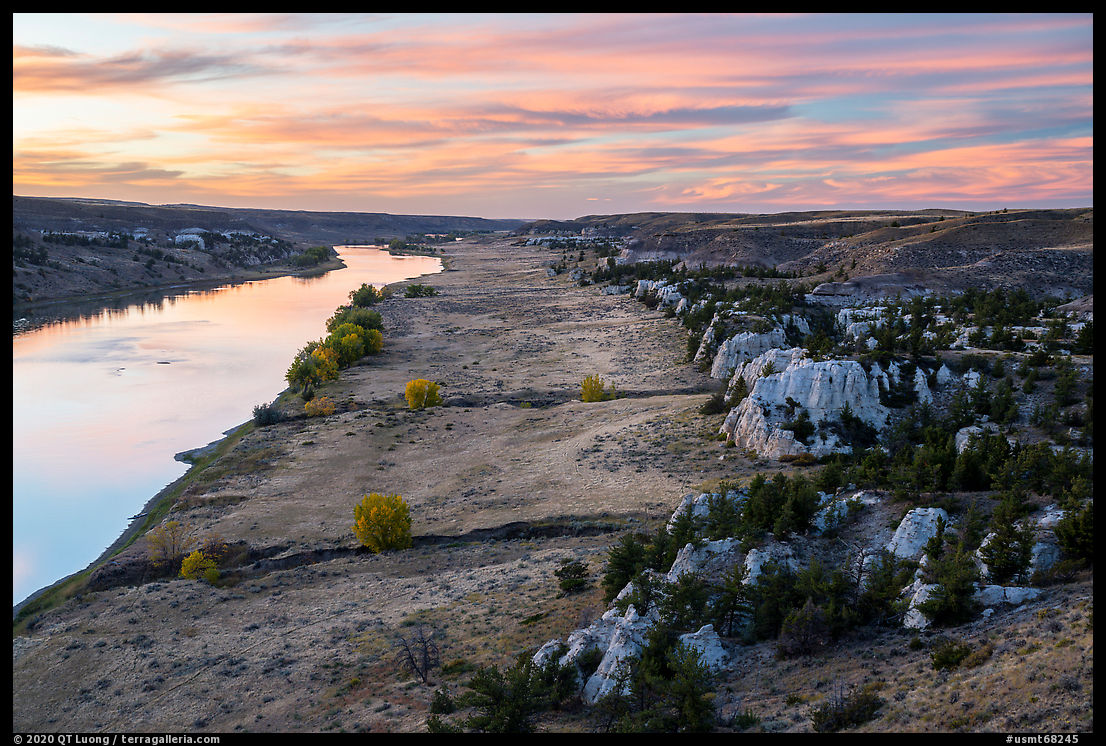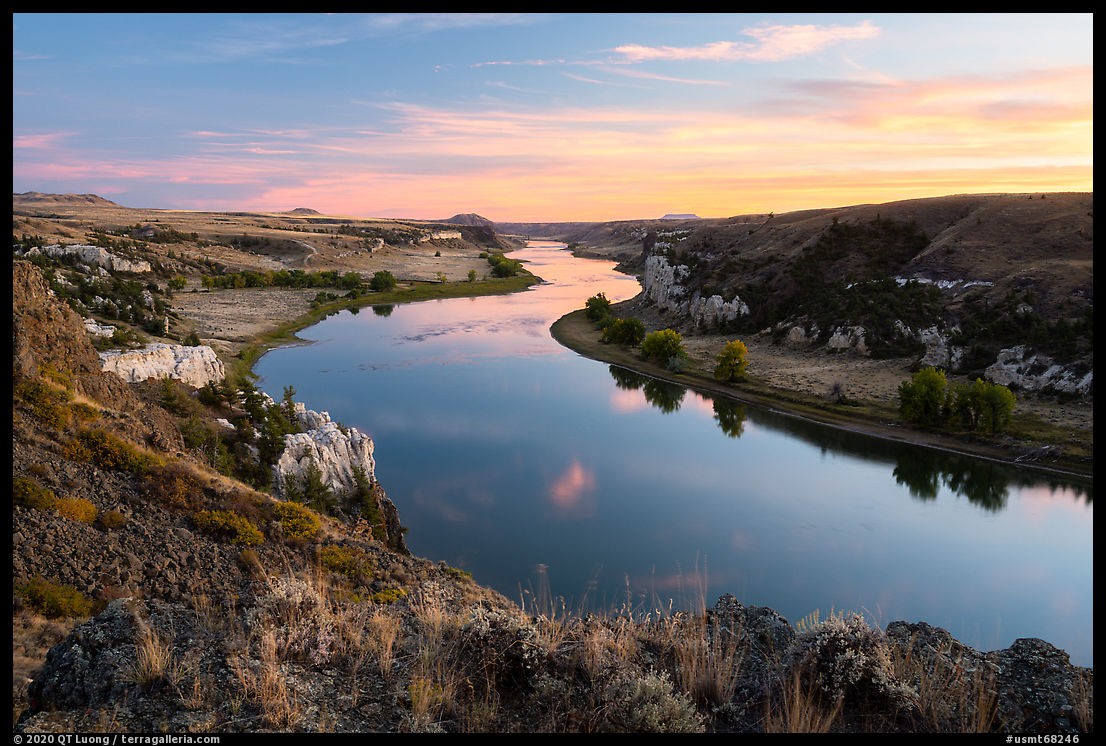 Eagle Creek
When I arrived at Eagle Creek Boat Camp (river mile 56) in the dark, not wanting to miss the site, I floated too close to shore and I kept getting stuck on gravel bars. As I eventually landed at the first campsite, a group came to shore to let me know they were using it, and helpfully suggested another location downriver. The most popular destination on the river, the site faces impressive white cliffs well-lit at sunrise. I got up at 4:30 am, after the moon had set, to start an extremely promising night-to-day time-lapse, but sleepy as I was, I used the wrong settings. Next time, I've to make sure I don't forget to review the first images of the sequence. After breakfast, hiking downriver into a narrowing canyon, I scrambled into Neat Coulee, a slot canyon where sandstone has been carved into fantastic curves and shapes (2 miles round trip). That is more the type of scenery that one expects in the Southwest, but I noticed that instead of smooth sculpted walls, those were full of knobs. I focussed on such a section, selecting one where the warm glow of reflected sunlight contrasted with the cool colors that open shade get from the blue sky. Hiking upriver from the camp, after crossing Eagle Creek, I found a site with petroglyphs etched in sandstone cliffs (1 mile roundtrip).
Hole-in-the-Wall
Hole-in-the-Wall, a natural hole within a vertiginous sheet of freestanding rock is one of the most iconic rock formations in the monument. It lies about a mile downriver from the Hole-in-the-Wall Developed Boat Camp (river mile 63) and after an easy approach on the flats, requires some rock scrambling to reach via its top. Even more impressive than the hole, the forest of pinnacles to the east, best lit in the afternoon, presented great depth and complexity in a spectacular setting high above the river. I wished I had arrived earlier at this world-class site to have time to find better viewpoints, especially since it was so windy that I was hesitant to venture out on exposed perches like the plank-like top of the rock. When the moon suddenly rose, I hurriedly scrambled to find a composition with it, and also to shelter my camera from the wind, as the telephoto lens I now used to make the moon appear bigger would be sensitive to vibrations. I had friended a group of three from Montana (Daniel, Jason, Jeff) and they were worried when I showed back to camp way after dark, but this was par the course for me, as when the moon became too bright relative with the landscape, I photographed with it as a substitute for sunrise. That turned out to be a good idea, since clouds moved in unexpectedly during the night. There was fantastic color in the sky for a few minutes before sunrise, when the sun illuminated the clouds from below, and after that, it was all overcast.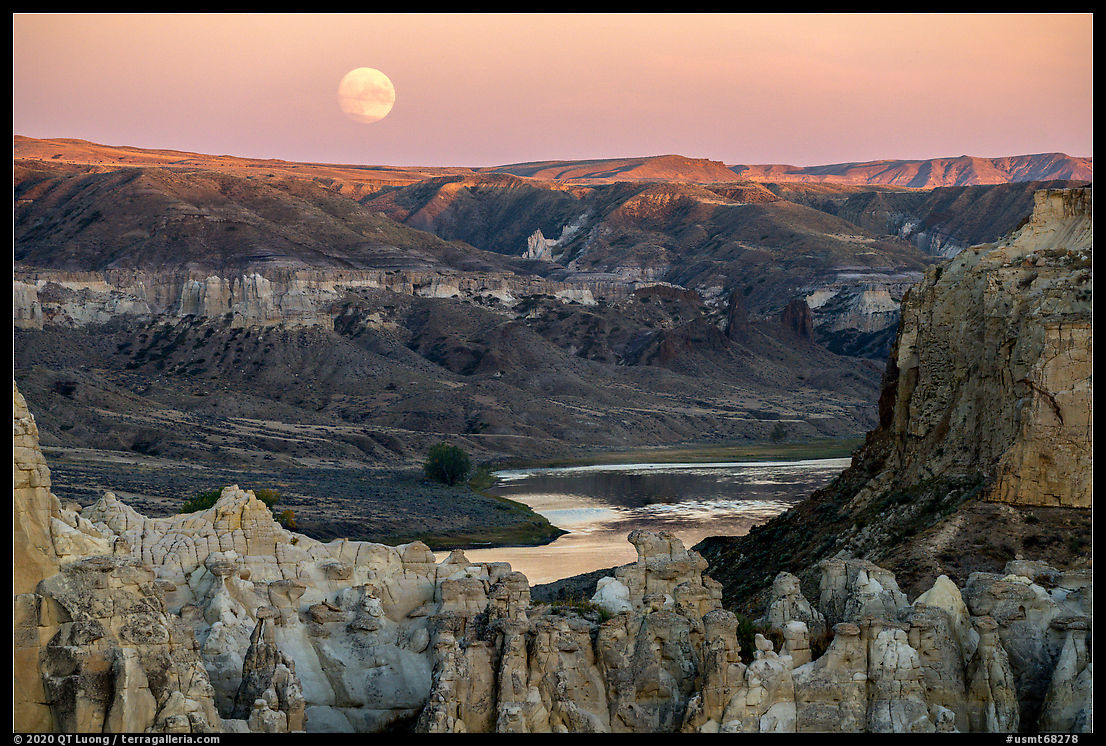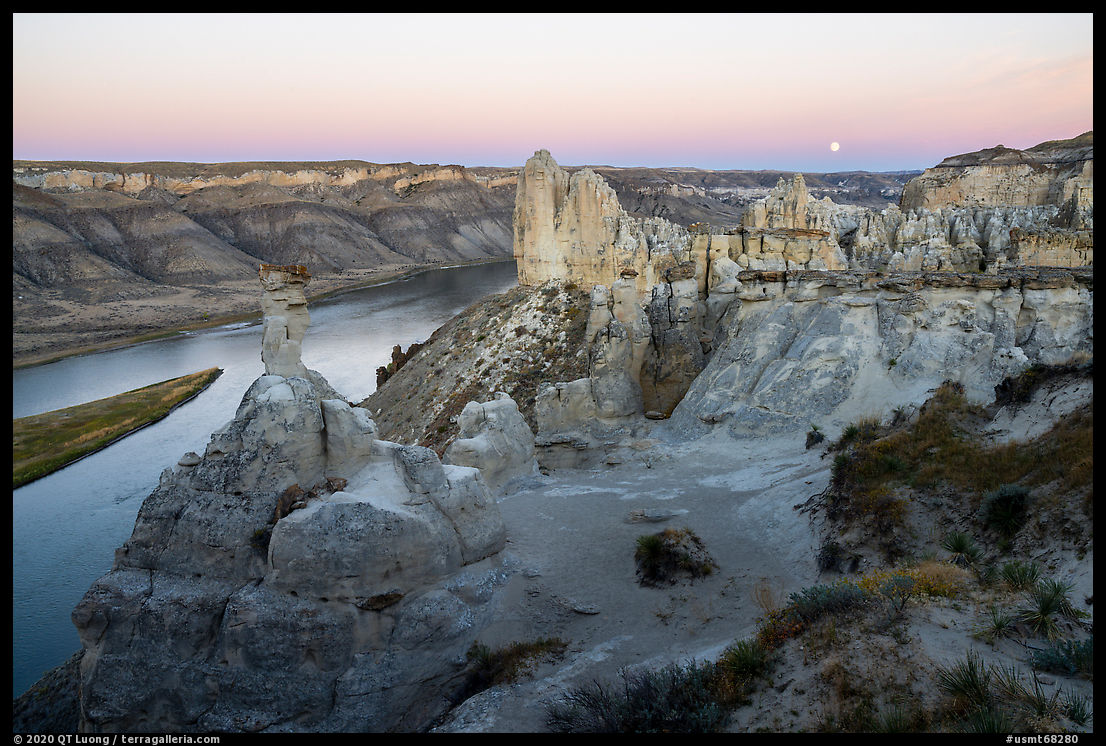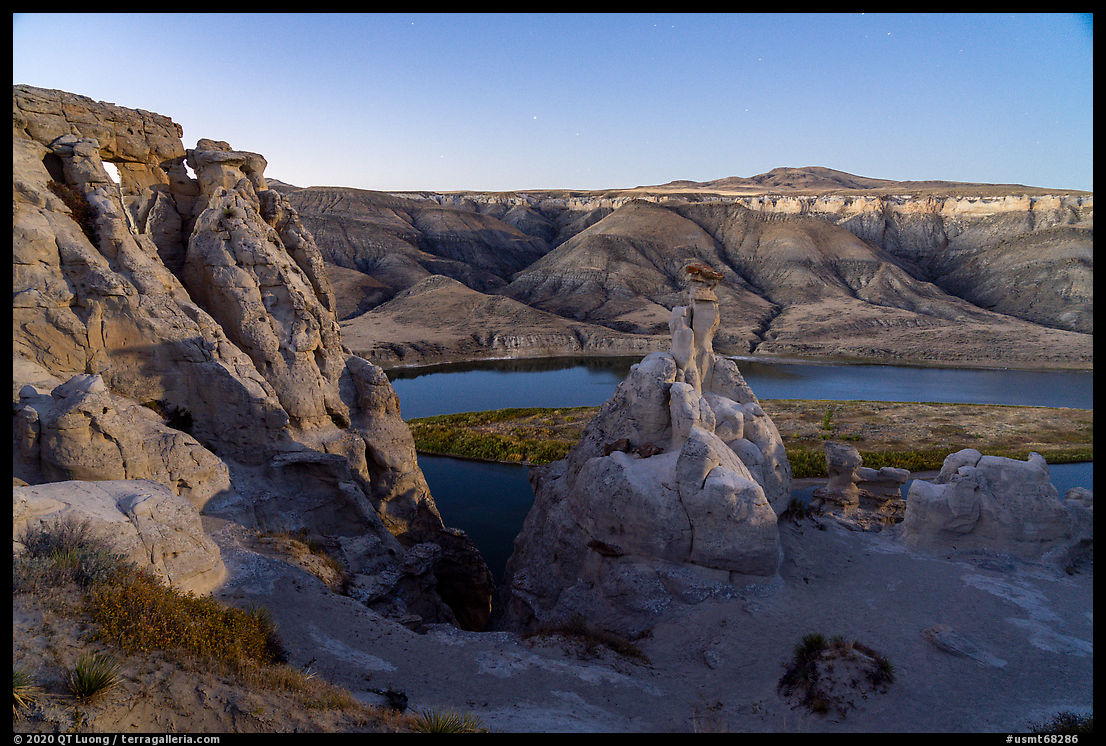 Valley of the Walls
The section of river from Hole-in-the-Wall to Dark Butte (river mile 69.8) is graced with the most notable geological wonders in the monument. At Valley of the Walls (mile 66.5), opposite the famous Seven Sisters rock formation, creeks have carved a spectacular canyon. As it is not obvious from the river or during the steep cross-country hike, getting a good view of it from the top of the hills was a rewarding surprise. After a difficult landing, I had started hiking under heavy overcast with nobody else in sight. Since I noticed the light getting brighter, I hanged out at the top in anticipation for the sun to come out, and it did. But that ate up my time for Dark Butte. After a short hike there, I hopped into the kayak to make sure I wouldn't get to the next camp too late, and just arrived as it got dark.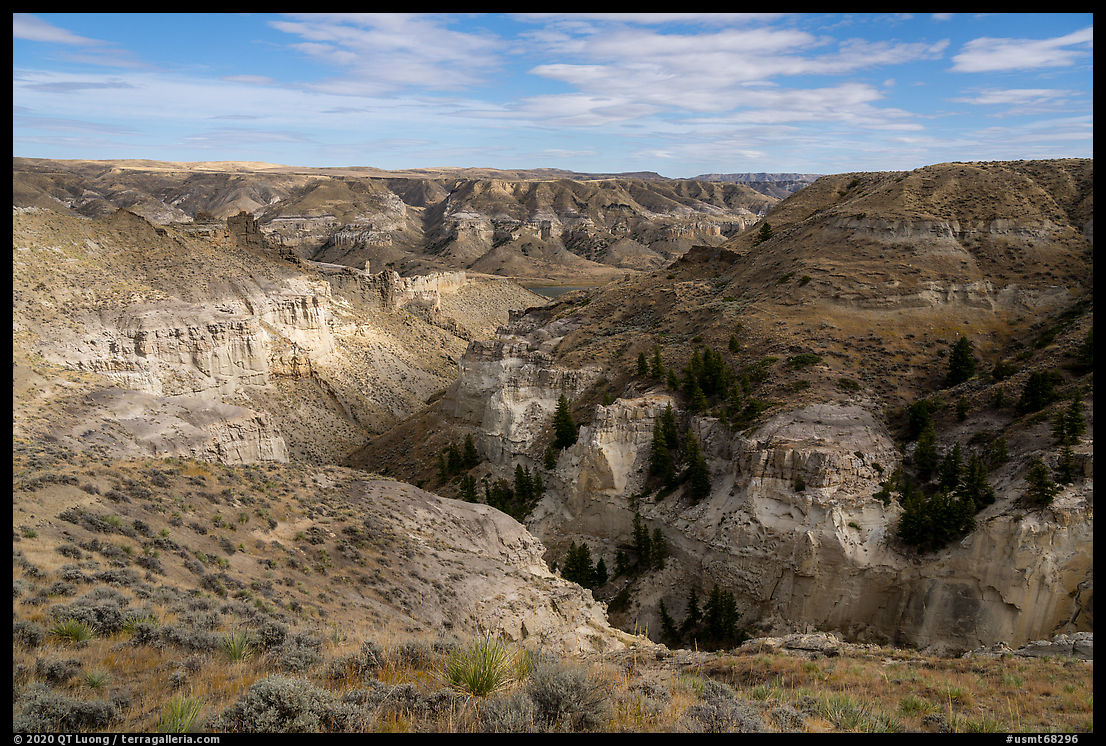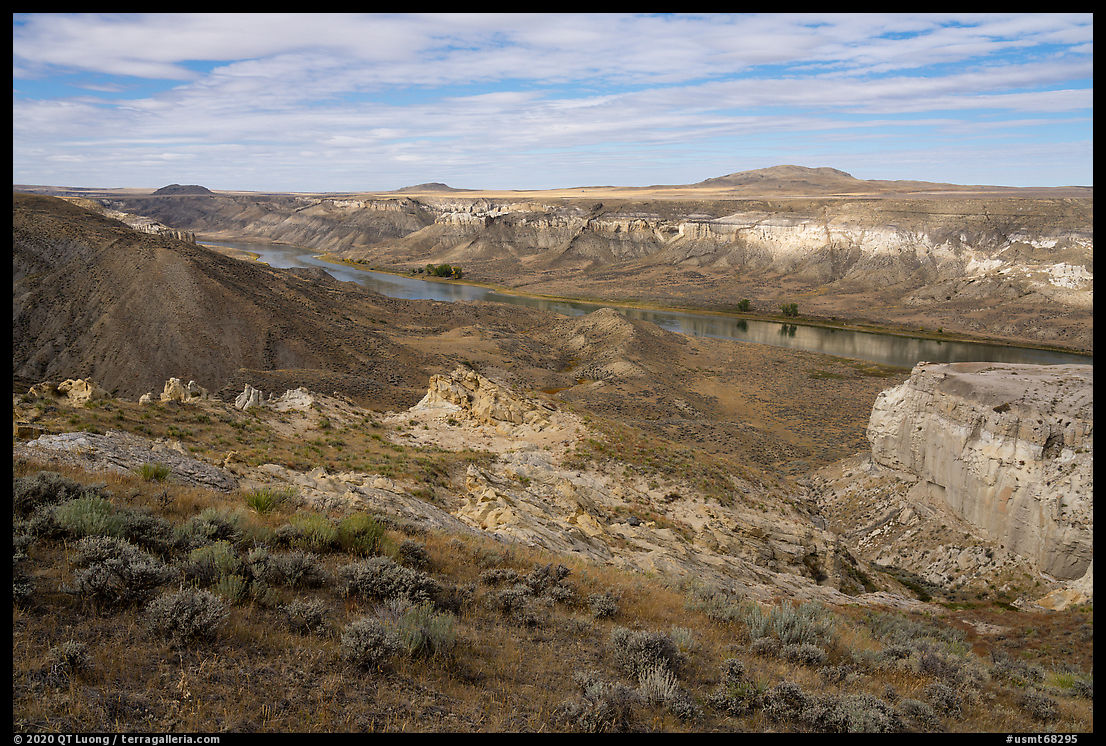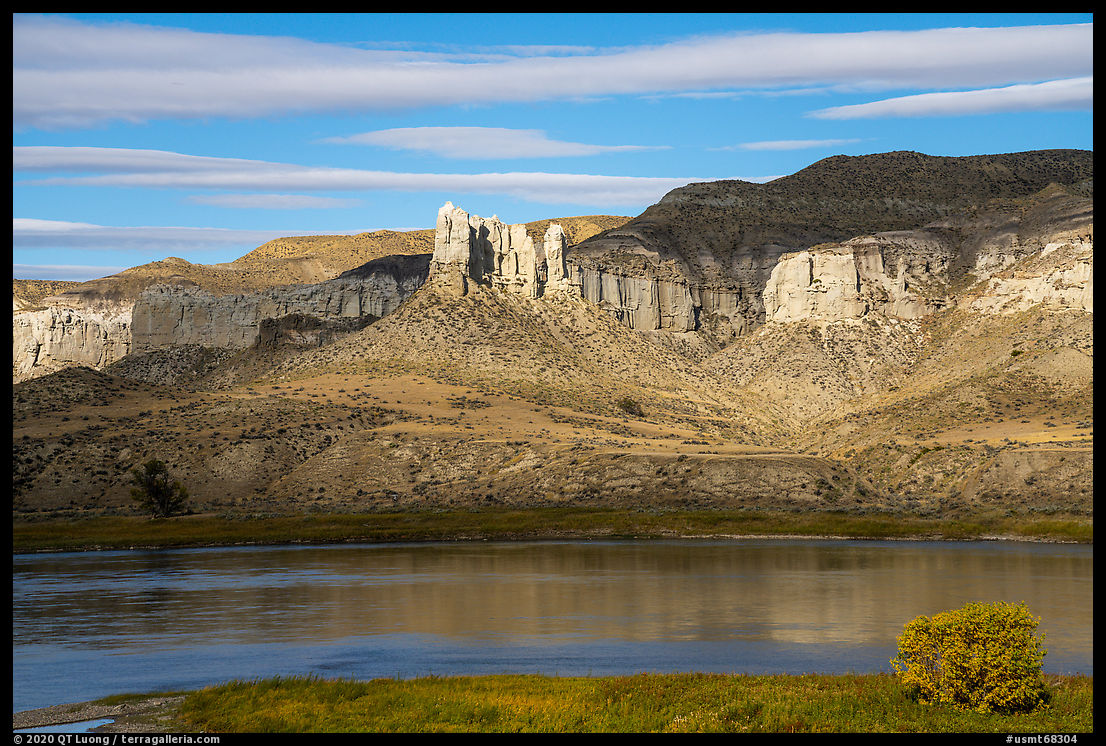 Slaughter River Boat Camp
Past Slaughter River Developed Boat Camp (river mile 76.8), the character of the monument starts to change as white cliffs are replaced by rugged badlands. The camp is facing some of the last cliffs on the river. The shore next to the campground wasn't inspiring, as it was somehow muddy and full of footprints, but by hiking half a mile downriver, I found a nice gravel spot. As I was photographing straight towards the east, I knew I had to photograph right at sunrise, before the sun in my back would be strong enough to cast a long and noticeable shadow. That section of the river had more cottonwoods, and therefore more foliage color than I saw on previous days.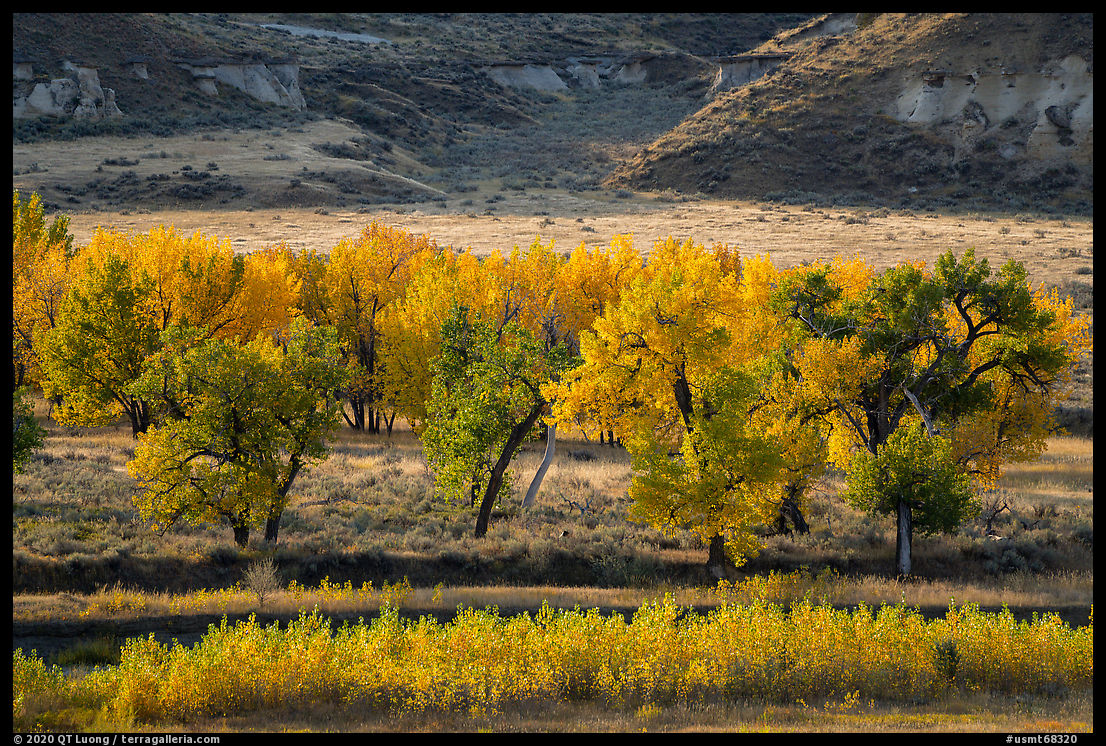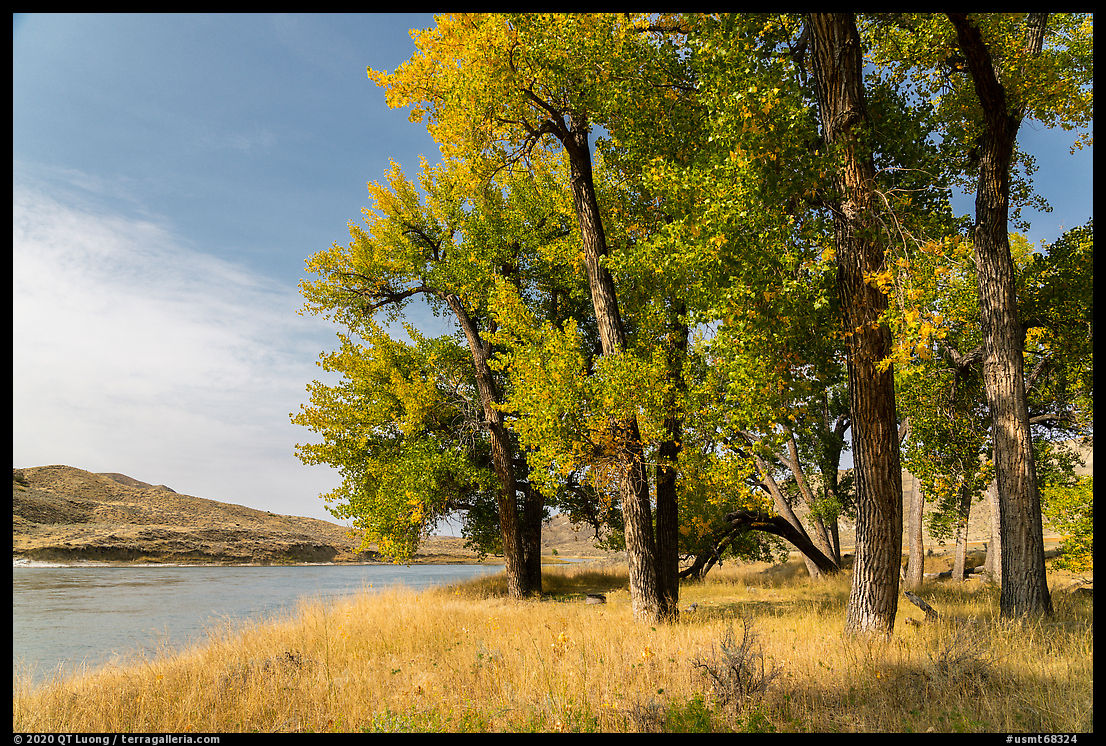 More images of Upper Missouri River Breaks National Monument