North Cascades National Park New Images- Fall Foliage
One Comment
My second goal in visiting North Cascades National Park was to photograph some fall foliage there, especially since I had photographed fall foliage in each corner of the US, except in the North West.
The first source of fall foliage color I found on that trip was provided by maple trees, in particular vine maples that can turn a bright orange not often seen on the West Coast (and California in particular). I found a few pockets of those trees along the Cascade River Road. The rain was falling all day. This made it a bit difficult to work, but it provided a perfectly soft light. The wetness of the leaves enhanced the colors, once a polarizing filter was used to reduce the glare. For fall foliage forest photography, I'll take rain over sunny weather any day. I looked for mossy boulders to include in the compositions. Their electric-green color complemented well the orange-red of the leaves.
At those northern latitudes, there is a more impressive source of fall foliage color. Berry plants blanket the sub-alpine elevations, and can turn whole mountain slopes crimson when the conditions are right. Normally, late September would be have been a good time to witness this event in the North Cascades, but it appears that the fall colors were late this year. Instead of looking for large autumn landscapes, I sought intimate scenes in the forest. After covering a lot of terrain, on the fifth, and last day of my visit, I eventually ran on a beautiful patch in the forest with a variety of reds and yellows. The foggy weather was just perfect for that scene, and the dark spruce trees added to the color contrast.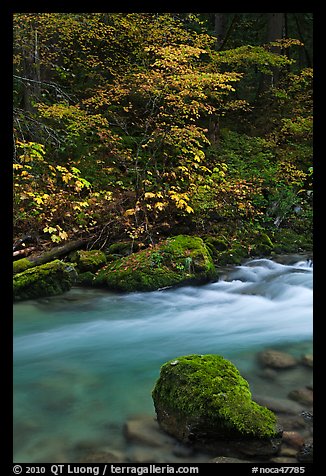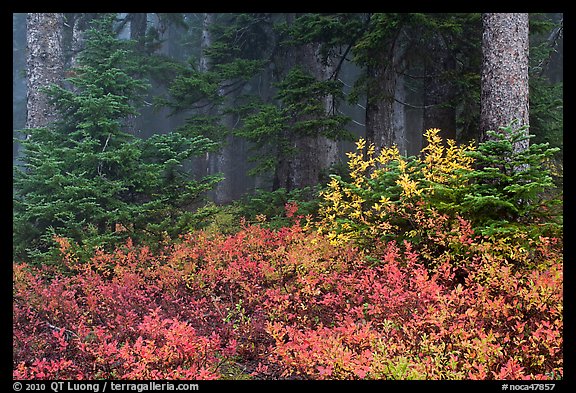 More images of North Cascades National Park Fall Colors