Melaka, Malaysia
One Comment
Melaka being a popular tourist destination just two hours away from
Kuala Lumpur
, Malaysia's capital, I expected it to be a breeze to book bus transportation, but it turned out not to be the case. First, you'd think that the area around the Jalan Petaling street would be full of travel agencies, but I managed to find only two of them, each located upstairs, away from the street. Both of them told me that I had to go to the bus station to make reservations. Given that it had taken us three hours to get here from the bus station, I had no intention to waste a great part of the day, despite the warnings in the guidebook that one should not just show up and hope to get seats. The easy option was to go on a tour, but after reviewing their schedules, I thought that they would be inadequate for photography.
We took a taxi to the bus station before the crack of dawn. As the city was still sleeping, It just took us twenty minutes to get to the bus station. As soon as the taxi arrived, a man asked us where were were heading, and directed us to a bus. I was a bit wary of bypassing the official ticket booth, but the price seemed in line with the guidebook, and when I asked the man at what time the bus would be leaving, he promised only a half-an hour wait. It turns out that there are a lot of competition from bus companies, with hourly departures, so it wasn't a problem at all to get seats.
The bus arrived at a station a few miles out of town, and a short taxi ride took us to the Chong Hoe Hotel in Chinatown. It was facing a Hindu temple. Next was a mosque, not any mosque, the oldest functioning mosque in Malaysia (1728). Down the street, we could see a traditional Chinese temple.
Compared to Kuala Lumpur, even Penang, the historic center of Melaka city appeared much more compact and relaxed. There were many tourists in the town center, most of them from Malaysia, and having a good time.
Contributing to the vacation atmosphere, Melaka had the most kitsch collection of trishaws that I had seen anywhere. Trishaws are the local version of the fun three-wheeled, human propelled vehicle seen with regional variants in most of Asia. Modernization has caused trishaws to disappear in most places, but here, they have been revitalized by tourism. Decorated with plastic flowers, they are even equipped with a sound system blasting loud music during the rides, which often start on the historic town square.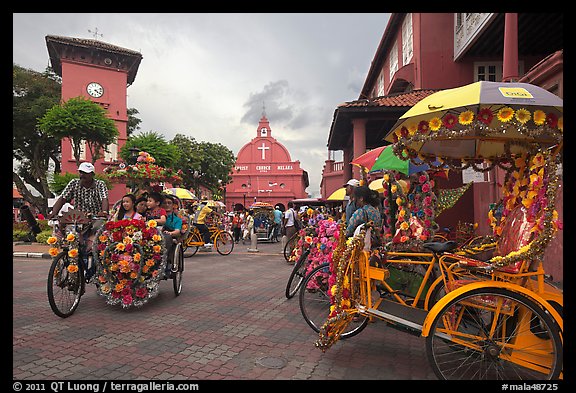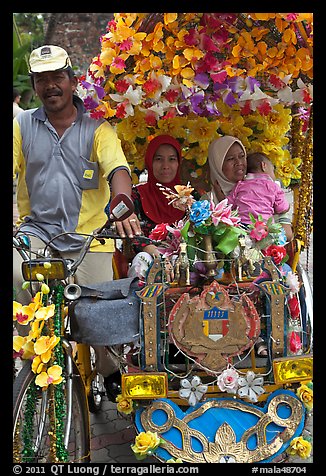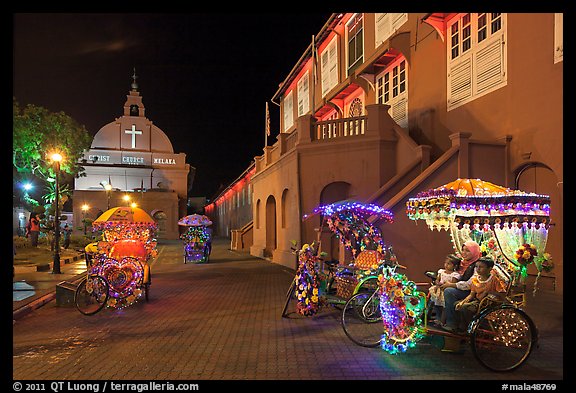 See more
images of Melaka City, Malaysia