Cedar Grove, Kings Canyon National Park – the other Yosemite ?
2 Comments
Kings Canyon National park was conceived by as a "wilderness park", mostly free from development. There are only two sections accessible by car within the park, one around Grant Grove, the other in Cedar Grove. Both those sections are small: many visitors do not notice that shortly after Grant Grove, they exit the park, entering lands now protected as Giant Sequoia National Monument. Although I have often seen this view labeled as "Kings Canyon National Park, no lands belonging to the park proper can even be seen from this picture of the narrowest section of Kings Canyon, as the park is re-entered only in Cedar Grove.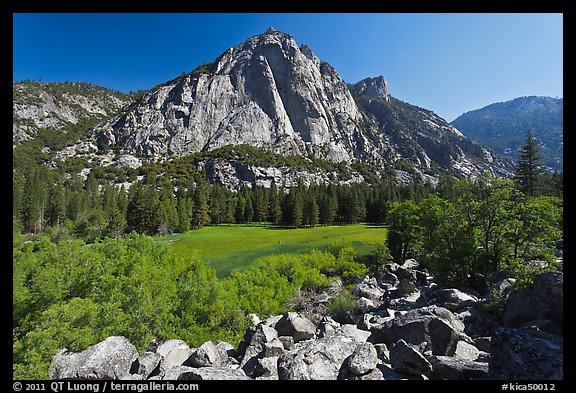 In the past, I had explored at some length the most spectacular alpine sections of the park (such as Dusy Basin near the Sierra Crest, but visited Cedar Grove only for a day. This spring, with the publication of my Yosemite Book completed, I decided to spend only one week-end in Yosemite, saving more time for a return to Cedar Grove: could that glacial valley surrounded by tall cliffs, be another Yosemite Valley that I had overlooked ?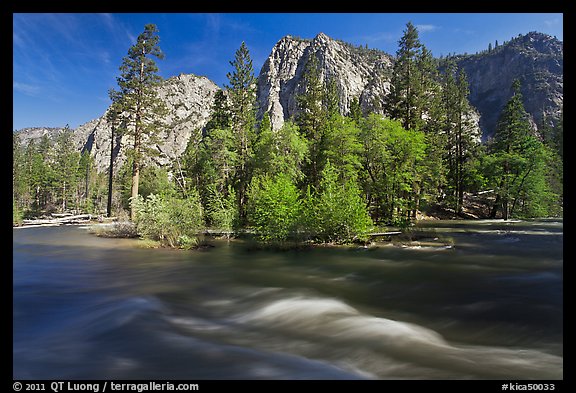 If that was the case, I was not the only one. Although I visited at the beginning of June, the Cedar Grove valley was remarkably quiet, nothing like the busy Yosemite Valley. The parking lots at the trailheads were never more than half-full. Even without a reservation, I had plenty of campsites to choose from. There was no need to stand elbow-to-elbow with other photographers, in fact nobody else was even standing near me when I took the images in this posting.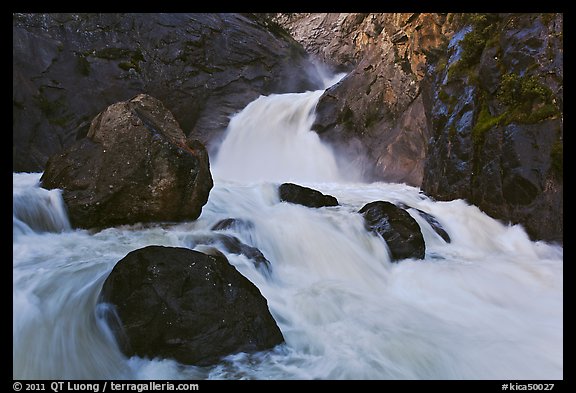 I realized that Cedar Grove lacked many features of Yosemite Valley, besides the crowds. The surrounding cliffs are not as monolithic, and there are no high waterfalls. The tallest one is Roaring River Falls, which looks more like a series of cascades. The short trail to this waterfall is the most popular in the park, together with Zumwalt Meadows, but besides, there are not many developed trails in Cedar Grove, and no great viewpoints from the valley rim (let alone easily accessible viewpoints such as Glacier Point). Even the meadows are smaller, making it difficult to get clear views of the entire valley. I found such views only at Zumwalt Meadows and on an un-named meadow close to Knapps Cabin.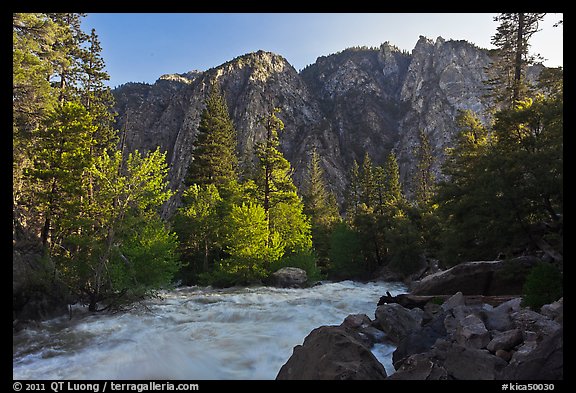 Although no long hiking was required, almost all the views required some exploring, instead of pulling out at a designated overlook, as is sometimes the case for Yosemite. I liked the fact that in Cedar Grove, although the place is easily accessible, I was able to work from a "blank slate" and actually had to find my own views, instead of being influenced by a vast repertoire of existing images, which are difficult to escape in Yosemite for someone who has any interest in the rich history of photography there. I created my own list of photo spots.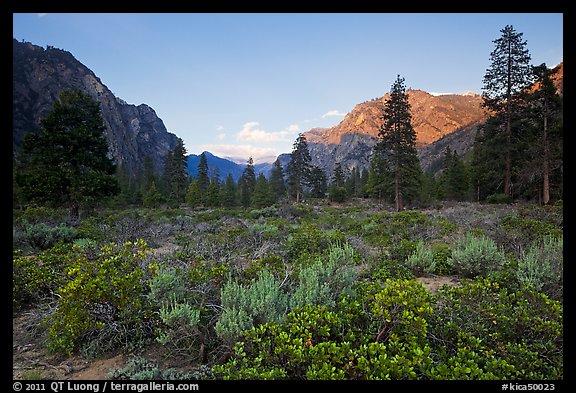 For a photographer looking to escape the beaten path, while photographing some beautiful Sierra scenery of cliffs, forests, meadows, and water, I'd recommend a visit to Cedar Grove.
More images of Kings Canyon National Park