Longing for the Night in Petrified Forest National Park's South Wilderness
2 Comments
Unlike all other national parks that are open 24 hours a day, Petrified Forest National Park's gates close at night, an extraordinary measure necessary to prevent theft of petrified wood – a serious problem. Petrified Forest National Park, despite his sizeable area (146 square miles, 38th largest national park) is also one of a handful of national parks without a campground. However, all this does not mean that the park is solely a day use area.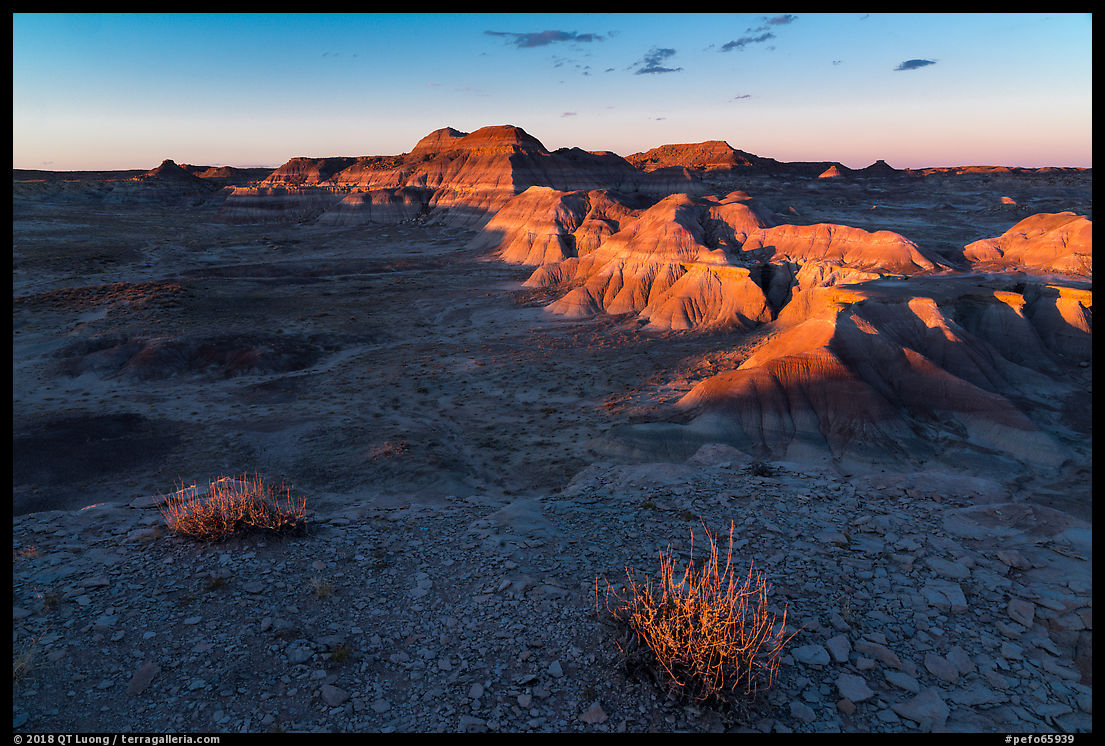 Petrified Forest National Park includes two wilderness areas open for overnight backpacking. No reservations are taken, but rangers issue permits for free in both the visitor centers at the northern and southern entrances, even for a trip that starts on the same day. Those backcountry permits are not a pass for roaming freely in the park after hours. In particular, permit holders need to park overnight at two specific locations and are not authorized to drive their cars when the park is closed. Instead, the permits are meant only for staying in the wilderness areas. You need to have left your car well before the park's closing time. When you sign the permit this is only one item amongst the long list of usual leave-no-trace backcountry rules. Because of that, on my first attempt to go backpacking there years ago, I did not pay enough attention to that detail. I found out that the National Park Service enforces the rule seriously. After securing my permit in the morning, I went for a day hike and eventually parked my car at the pullout meant for backpackers, maybe two hours before park closing time. A ranger was already parked at the pullout. As I was taking my time re-packing my gear for the overnight outing, the ranger approached me to notify me she is canceling my permit because I was supposed to have left my car already.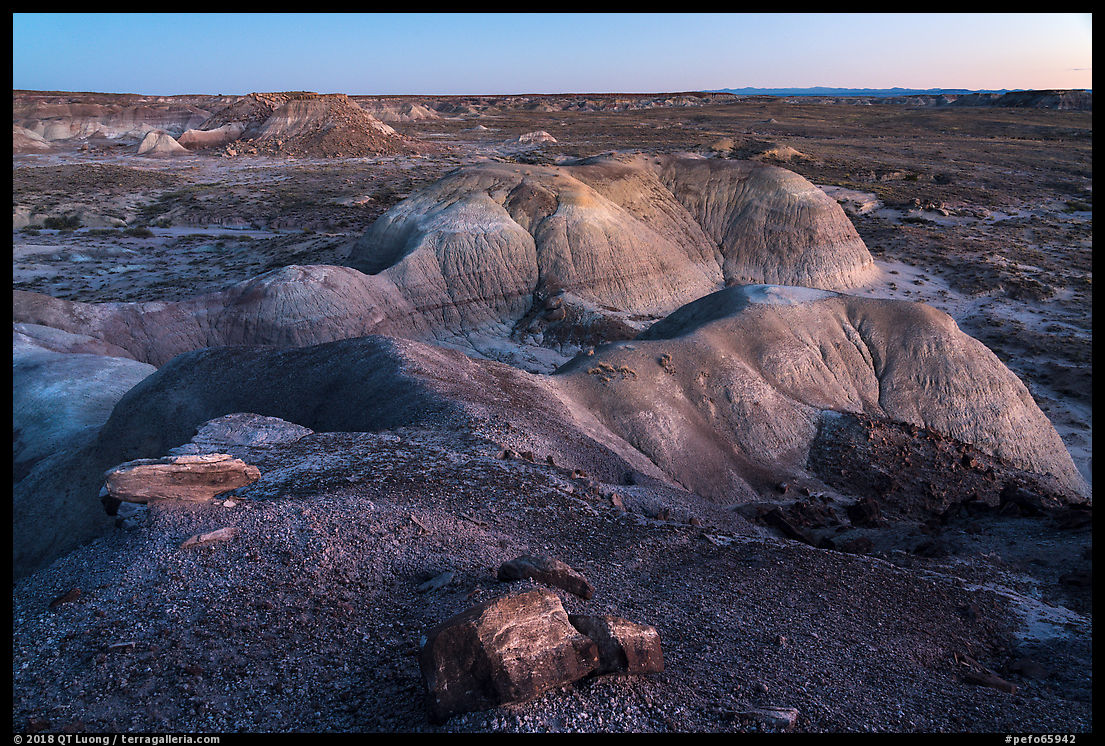 Because of that experience, for my second attempt, I made sure to start early even though I've been told that the new regulations are less strict: permits just need to be picked up at least an hour before park closing. You need to indicate which of the six backcountry zones you would be camping in. Five of those are in the North Wilderness, including the Black Forest, which is Zone 2. Since I had previously hiked in the North Wilderness, I chose instead to hike into the South Wilderness.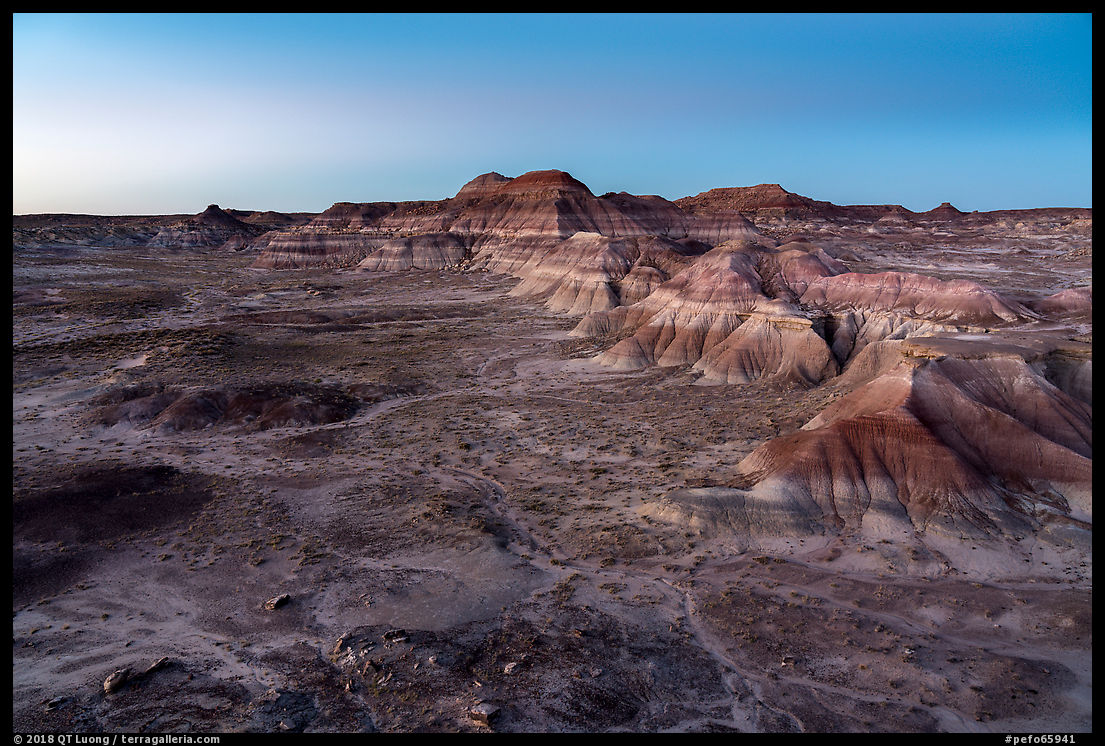 I headed towards the Puerco Ridge. Being free to roam the backcountry with nobody around is such a treat. After seeing something intriguing in the distance, I could simply hike straight over and check it out. As sunset was approaching, I climbed up a ridge for a higher view of the surrounding badlands and watched the light change over 360 degrees of desert. Since the climb was rather precarious, I made sure to get down before it was too dark.
Why did I want to do an overnight trip in Petrified Forest National Park, when, given the size of the park, it is possible to reach any part of it on a day hike of fewer than 15 miles? I am working towards a goal to photograph each of the national parks at night. As beautiful as the badlands I found were, I had been surprised to see almost no petrified logs in the Puerco Ridge area. I wanted the night photographs to be representative of the park, and therefore to include some. Maybe it would have been a smarter idea to stick to a pre-scouted area such as the Black Forest, and my curiosity for new places had given me a disservice? Fortunately, I knew that the day use area along the Longs Logs Trail has large concentrations of petrified wood, so I was confident that by walking southwest, I would find some. I hiked cross-country for a few hours in that direction in the dark, following the easier travel routes formed by dry washes, and reveling in the solitude and beauty of the night.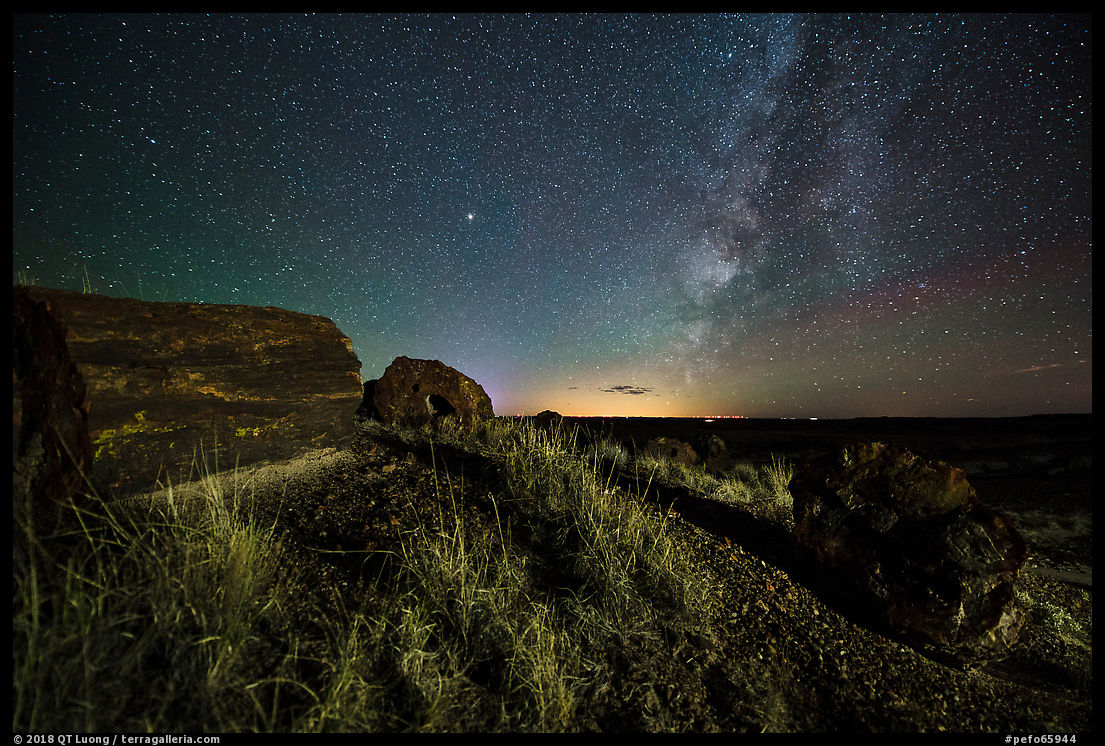 Eventually, the bright spot of my flashlight shone into sizeable logs. The bright core of the Milky Way rises towards the south. If I had gone to the North Wilderness, I would have been looking south towards I-40. Because of its proximity light pollution may have been an issue. That was another reason why I tried the South Wilderness instead. I had hoped that the area south of the park would be wild enough. However, the South Wilderness which is close to the southern edge of the park and I was disappointed to find out that the light from inhabited areas was a bit distracting. Another lesson learned! I tried to hide the brightest lights behind a petrified rock so that the glow would kind of highlight it. Photographing towards the north, the Milky Way wasn't as bright, but there was no distracting light pollution.