Lombard Street: Variations on a Difficult to Photograph San Francisco Landmark
2 Comments
Lombard Street in San Francisco has a one-block section with eight hairpin turns known as the "crookedest street in the world". Although one of the most famous sights in the city, it is also one of the most difficult to photograph.
Other subjects are open to a wide range of interpretation, but there is no mystery about what a good photograph of Lombard Street should do: depict how crooked the street is. That is not an easy task because there is no publicly available high vantage point from which to do so. Most postcards were shot from a private residence. From the bottom, the best one can do is to stand on a driveway just off Leavenworth, in the NE corner, and this is too low to show the red-brick street.
Canon 1Ds3, EF24-105mm @ 65mm, 1/80s at f/9.0, ISO 200
My favorite image from the bottom was made with a telephoto lens. Although the street is not in view, the cars heading down at various angles form an odd graphic motif that suggests the underlying street geometry.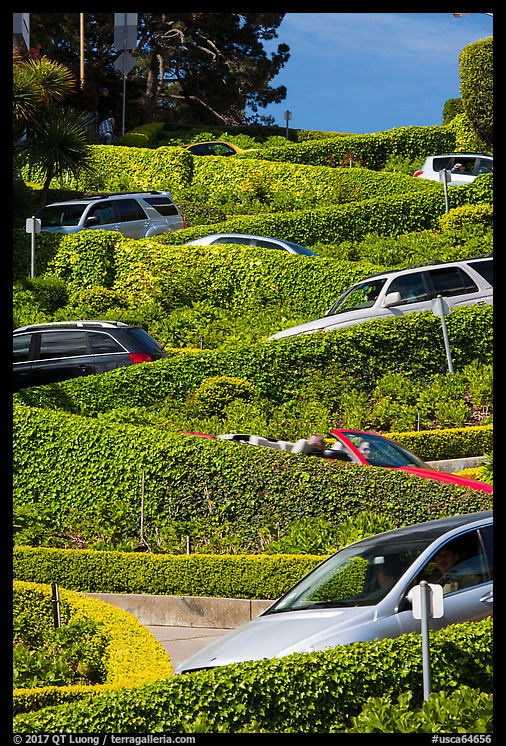 Canon 1Ds3, EF100-400mm @ 235mm, 1/60s at f/13.0, ISO 200
By daytime, the view from the top is rather unsatisfying, because the street's geometry is not legible, but this changes at night, with the light trails of car tail lights materializing the curves in a long exposure.
Canon 1Ds3, TS-EF45mm, 25s and 5s at f/1.4, ISO 200
Several years later, aerial photography naturally provides the high viewpoint needed to reveal the hairpin curves, with drone technology making it affordable and easy to deploy at the spur of a moment.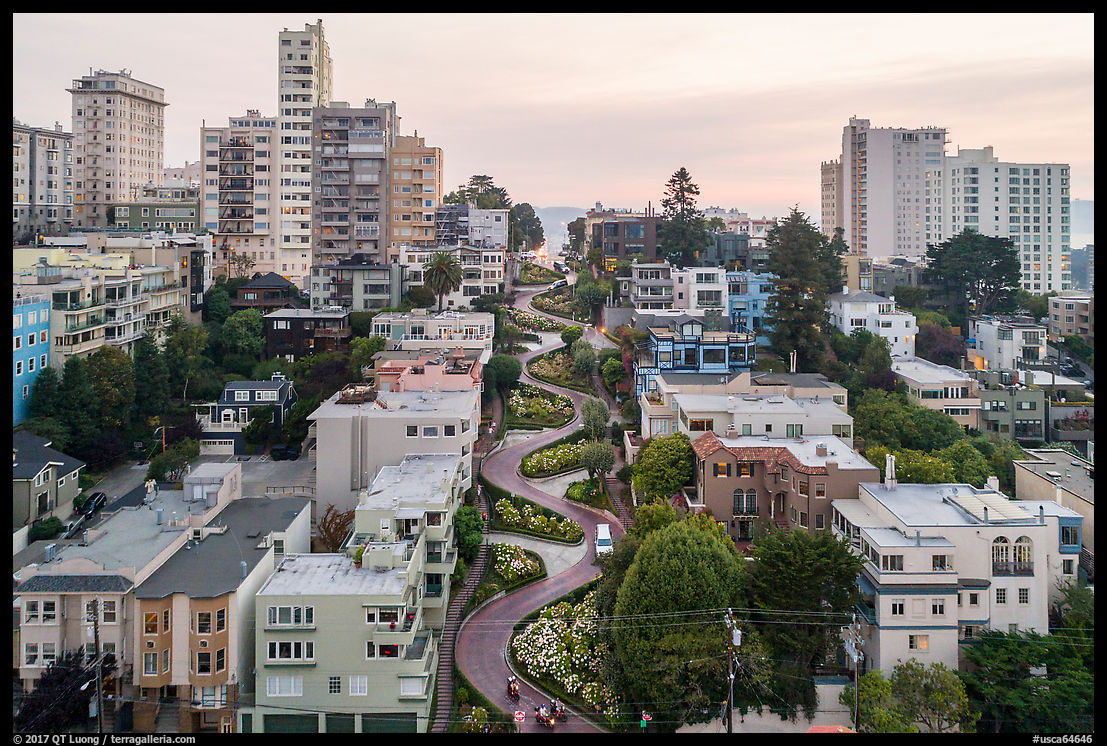 DJI P4P, 24mm, 1/30s at f/4.0, ISO 400
At dusk, light from the car headlights, and a bit of motion blur enliven the image. The straight-down composition provides the graphic abstraction of an unusual perspective. This was made possible by the amazing stability of the latest generation of drones with 3-axis gimbal-mounted cameras, which can shoot sharp exposures at a one-second shutter speed, at which one would be hard-pressed to get a sharp handheld image.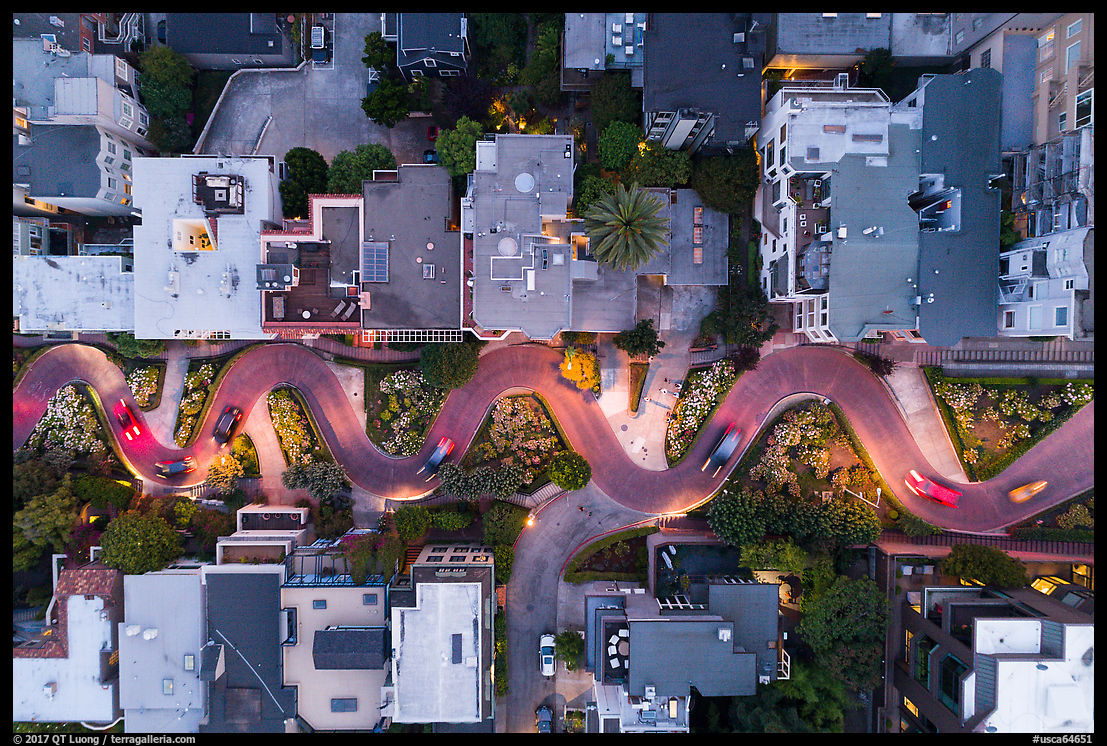 DJI P4P, 24mm, 0.5s at f/4.0, ISO 100
The drone camera cannot be turned sideways, so to make this vertical image I tilted the camera and assembled the three resulting shots in Lightroom, creating a very wide vertical field of view that shows well the street in the context of the city and bay.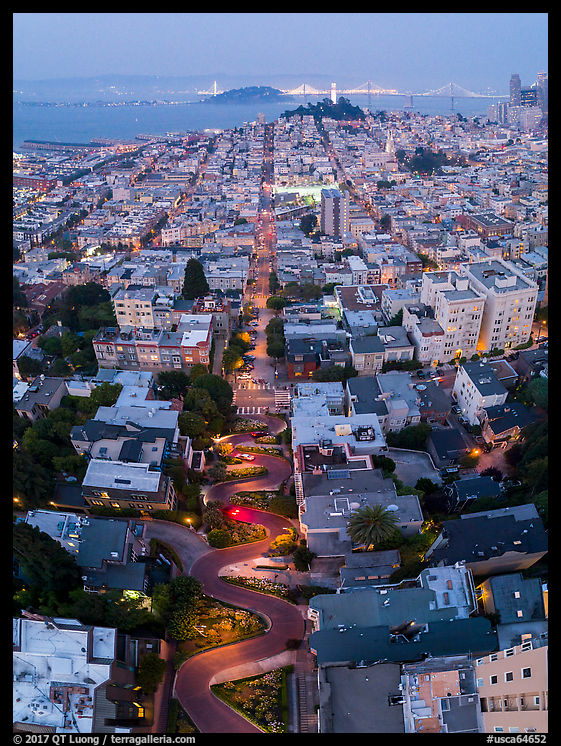 DJI P4P, 24mm, 1/6s at f/4.0, ISO 1600
When I made a comparable picture just three years ago, high-quality drone photography was still a pioneering activity requiring DIY equipment, but in that short period of time, easy-to-use off-the-shelf equipment has made it accessible to everybody. Exciting times!