Happy New Lunar Year of the Cat/Rabbit
No Comments
Today is our Lunar New Year, the Tết 2023 – a word infamous in American history for the 1968 offensive during the Vietnam War. From our family to yours, happy new year, and may your dreams come true.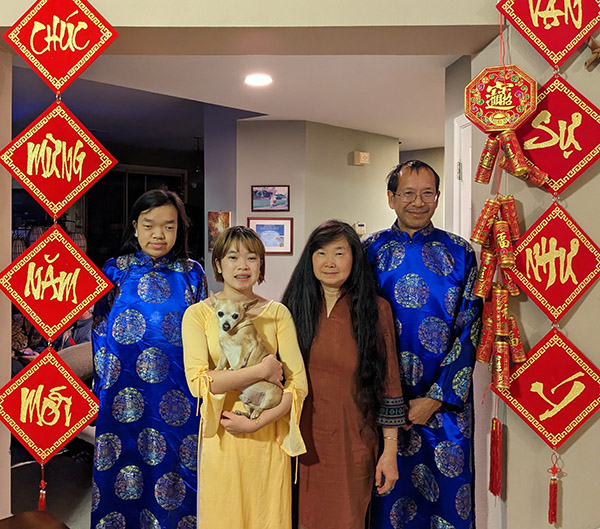 As implied by its name, Lunar New Year is based on the lunar calendar, which is the oldest calendar owning to its simplicity: you just needed to glance at the clear night sky to figure out where you are in the month. It is based on the 29.5-day moon cycle: first day of moon is 1st of the month, full moon is 14th day of the month. The drawback is that twelve lunar months add only up to 354 days, less than one full solar year. To avoid getting out of step with the seasons, the Chinese had to add a 13th month approximately once every three years – kind of like a super leap year, making it a "lunisolar" calendar. This drawback led to the adoption of the Julian, and then Gregorian calendars.
Lunar New Year is often referred to as Chinese New Year, but the terms are not exactly equivalent. Chinese New Year incorporates specific elements from ancient Chinese culture and, on the other hand, some countries celebrate Lunar New Year on a different date and with different customs. Because of the historic influence of China over Vietnam's history, Chinese New Year was passed on to the Vietnamese and has stayed quite intact. The main difference is in the animal zodiac, which runs on a twelve-year cycle. The Vietnamese have replaced the Rabbit with the Cat (much to my chagrin) – and also the Ox with the Buffalo, seemingly indicating a common motivation to honor agriculturally useful animals.
Other traditions are similar, such as dragon and lion dances, setting off firecrackers, and giving red envelopes holding money to children. We also dress up in the Vietnamese traditional national garment, the áo dài, a long ("dài") split tunic worn over silk trousers, in modern times by girls and women. Our extended family sets up two lineups ordered by age, one for the adult women, the other for the children. Each child then offers a greeting to each adult before receiving their red envelope. In the pandemic years, we had refrained from indoor gatherings, so it was great to resume the tradition. I have traveled around the world to witness traditions like that in various cultures, but they are also taking place in suburban homes in America.
Naturally, I also try to photograph my family, although in retrospect I wished I would have devoted much more effort than I did to this project, despite the subjects recalcitrance. Sally Mann set the bar so high that it felt unreachable, but I later realized that just showing the passage of time in a consistent way could have artistic value. I have not shared images beyond a circle of friends and family, but since I have published so few images last year, today, I am making an exception. At some point, I might release this work in black and white, but due to the eye-catching hues in play here, I have kept the colors to convey the festive occasion.
Chúc mừng năm mới 2023!