Book review: A Sense of Yosemite
No Comments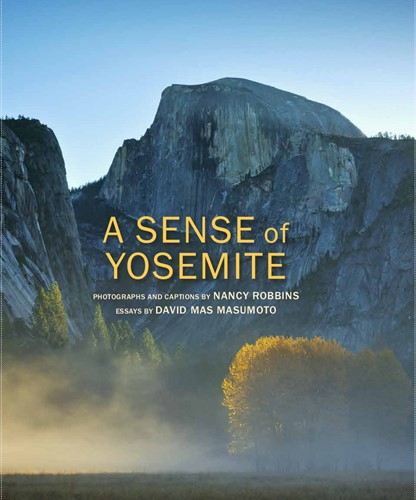 Yosemite, one the most popular and oldest national parks, has inspired photographers from its creation. Carleton Watkins and Ansel Adams created some of their most important work in the park. More recently, photographers as different as Galen Rowell, William Neill and Michael Frye left their distinctive visual mark there. Having studied many photography books about Yosemite and even authored one (Spectacular Yosemite), I feel well qualified to assess a book's unique contribution to the visual Yosemite litterature, so I was pleased to receive for review A Sense of Yosemite. The book is the latest production from the Yosemite Conservancy, an association that does a great job at helping preserve Yosemite, and has brought us many fine books about the park over the years.
Although it is a big challenge in a park with a such a long photographic history, Nancy Robbins, the photographer for the book, has managed to find plenty of new takes on familiar scenes. In "Redbud at Tunnel View" an unexpected patch of pink adds an element of surprise to the iconic scene. Likewise, in "A View of Nevada Falls", a foreground of summer flowers provides an original touch to another classical view. Since she began to photograph extensively Yosemite after moving there in 2004, I assume the book was photographed with digital cameras. Their dynamic range enabled images such as the splendid "Yosemite Falls and Half-Dome" whereas their sensitivity – and the ease to make composite images opened the door to night photographs such as "Star Trails above Bridalveil Falls" and "Horsetail Fall, afterglow". The photographer's proximity to the park made it possible for her to capture elusive seasonal spectacles such as a rare cluster of twenty four snow plants (one would be lucky to see just a few!) or frazil ice flowing down Lower Yosemite Falls, a phenomenon that was mostly overlooked until a Yosemite Conservancy video brought it to wide attention. When the Meadow Fire broke, she was there on the first evening for a striking photograph, whereas I arrived on the second evening, when the fire's intensity had been greatly reduced thanks to the firefighters efforts.
Its deservedly famous views of cliffs and waterfalls are among the most spectacular in the world, but Yosemite Valley's vistas represents only a small fraction of the beauty the park has to offer. A Sense of Yosemite does a good job of giving a survey of the park, including at least an image of each major sight, and although the high country (which represents 95% of the park) isn't very well represented, its most prominent locations and accessible locations are there too. On the other hand, Robbins shines in capturing the whole range of nature scenes, from spectacular light and atmospheric conditons (fog!) on the grand landscape, to the more intimate details which may be a natural outlet for her experience as a portrait photographer well acquainted with the place. "winter's chill" superimposes patterns of frozen ice and fallen leaves to combine two seasons. A section of the book showcases the passing of the seasons, and at first I thought that the heading "Finter" was a typo. Upon reading the captions, I understood that Robbins was referring to the brief collision of Fall and Winter at the same time. Unlike in other landscape books (think Ansel Adams and his followers), wildlife makes a frequent appearance, and the animal portraits contribute to the overall joyfull tone. The image sequences of a coyote catching a prey in winter, and of "Twenty Minutes in the Life of a Ladybug" showcase it in a playful and cinematic way.
The choice of images, themes (which even include a "black and white" section), and sequencing in A Sense of Yosemite give a kaleidoscopic representation of Yosemite as a sum of many parts and viewpoints. The park appears as a collection of glimpses. The texts that accompany the images reinforce that impression. Robbins' words consists of captions that mostly emphasize her own experience of the place as a photographer. The essays by David Mas Masumoto, as somehow expected from a farmer, are down to earth. They are each one page or less, and rather than focussing on natural history or conservation as is often the case, elaborate in a personal way on our relationship with the park via multiple approaches. Both form an accessible and rewarding dialog. After an essay by Mas Masumoto entitled "The Nature we hear", a great spread contrasts Fern Springs – shot with a low viewpoint that emphasizes its waterfall-like appearance, with Upper Yosemite Fall from Fern Ledge, and in the captions Robbins evokes the "sweetest babble" of the former and the "thunderous" sound of the later. Overall, this beautiful coffee-table book lives up to its promise of giving us a "sense of Yosemite".