Spectacular Yosemite book published by Universe
12 Comments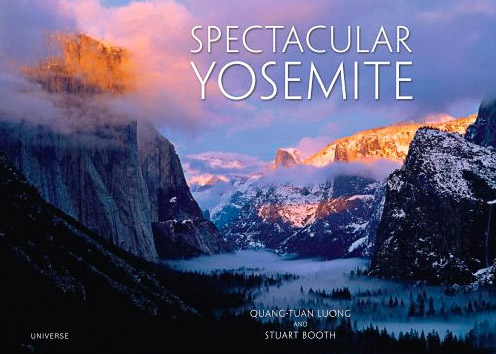 Since Yosemite is one of the most famous and photographed natural sites in the world, you'd think that there are plenty of Yosemite pictorial books. Surprisingly, this is not the case. As far as I know, there are less than a dozen of books which showcase photography and feature mainly Yosemite as their subject. Some of them are diminutive in size. Most the remaining others, besides the Ansel Adams books, give an equal importance to the photographs and to the text.
This is definitively not the case with Spectacular Yosemite, just published by Universe, an imprint of the venerable art publisher Rizzoli. The book starts with a short introduction by travel writer Stuart Booth, then it is clearly all about photographs. Since the trim size of the book is 16.4 x 11.4 inches, some panoramic images, reproduced as double spreads, are 32-inch wide, larger than many of the prints that I sell. It's a nice production, the main flaws being a few biographical errors on the dust jacket flaps – I am billed as exploring Yosemite in a variety of ways including "paddling kayaks, canoes, and scuba diving" :-). The design is fine and the quality of the printing overall good, making the book quite inexpensive ($45) for its large size.
Spectacular Yosemite is organized logically, following the geography of the park. The book starts at the Valley entrance, moves east, then on the Valley rims. It then explores the backcountry using for anchor its two main rivers, the Merced and the Tuolumne. This organization reflects the goal of the book, which is to offer a virtual tour through a visual survey of the most spectacular features found within the park, rather to present a portfolio of personal work. Because of that, the publisher has chosen mostly scenic landscapes, electing to present multiple views of the same famous sights – sometimes in different seasons or different lights – rather than a more varied selection of locations. However, there are still quite a few images from spots that I bet you haven't visited yet. Some are described in my blog series "Yosemite Unseen" which starts here.
All the photographs in the book are from me. I even appear in a picture, together with my wife. I find it very fitting that my first monograph of a National Park is about Yosemite. Although it is difficult to pick a favorite National Park because they are so different, if I had to choose one, this would be Yosemite. Besides its beauty, and the recreational opportunities it offers, what makes it dear to me is that it was the place that drew me to California, the first National Park I had heard of and visited. Yosemite is also special to me because I have lost count of the number of days I spent there, hiking, backpacking, climbing, skiing, or just photographing. AlI I could remember is that it is well into the hundreds. The earliest image appearing in the book was shot in April 1994, while the most recent one was taken in August 2010, less than six months before the book's official publication date. Capturing the images often required many visits to catch the right light and conditions, and sometimes hiking to remote locations. Because it was such a labor of love, I am very pleased that everything came together so well in Spectacular Yosemite.
Last but not least, the book lacked space for acknowledgments, so I'd like to extend my thanks to Simon Forty of Compendium Publishing for believing enough in this book to make it happen through his perseverance. My friends from the Cal Hiking and Outdoor Society (CHAOS) and UC Berkeley introduced me to Yosemite in 1993 at a time when I did not have a car. More recently Tom Lambert and Theresa Ho shared with me the vast knowledge of Yosemite that they have accumulated by living there, often provided me with a roof and vegetarian food, and were patient with me on the trails. Thank you.