The Backpacking Trip
2 Comments
I first connected with the wilderness on the
high peaks of the Alps
. Besides the setting of that world new to me, mountain climbing captivated me because of the intense concentration it fostered. During technical ascents on steep faces and ridges, there is nothing but you and the mountain in mind, as the only concern is reach the summit and not to make a fatal move. Focussing on rock and ice, I felt part of a limitless universe. I did not think about how limited was the theater in which my outings took place. The Mont-Blanc Massif, the crown jewel of the Alps, is sandwiched between the sizeable towns of Chamonix in France and Courmayeur in Italy, only 13 miles apart from each other.
Those mountaineering outings were mostly two days affairs. The first day – or afternoon, you would hike to a mountain hut. The western Alps are home to a dense network of those structures. They range from full-service hostels with meals accomodating more than a hundred and located on trails accessible to families, to tiny shelters precariously perched on mountain ridges reachable only by serious alpinists. What they have in common are bunk beds and thick, heavy blankets. You don't have to burden yourself with even a sleeping bag. That helped make possible ascents of uncommon length and difficulty. The second day you'd get up in the wee hours, hopefully summit and then descend all the way back to the valley. I remember only a handful of times when my outings spilled over a third day and only two forced bivies. One took place in 1989 when, during the first recorded solo ascent of the Jaccoux-Domenech route to Mont Blanc (trip report in French), I arrived in the vicinity of the hut at night and could not locate it. The other was two years later on a ledge when we didn't climb fast enough on the Bonatti Pillar of Les Drus – a landmark route since then totally obliterated by a series of huge rock falls in the summer of 2005, caused by global warming.
After I climbed Denali in 1993, everybody I met in America assumed that I had a huge backpacking experience. You may be surprised to learn that the Denali ascent was my first multiple-night outing carrying a tent and a sleeping bag. Because of the Arctic environment and the peculiar logistics of dragging a sled on the glacier, going up and down the main camp twice to ferry supplies, and then waiting for a weather window, I view it more as an expedition than a backpacking trip. Back from the Mountain, during my spare time, I embarked on a series of multi-day big-wall climbs in Yosemite. In that vertical world of high cliffs, I watched the hours pass and the shadows move across the valley below during the lengthy belays. However, I was mostly stuck on a very steep rock, making very slow progress upwards. In my days in the Alps, I viewed hiking as mostly a way to approach a climb. Because of all the new scenery I saw in the national parks, I began to spend more time on trails, but that was limited to day hikes.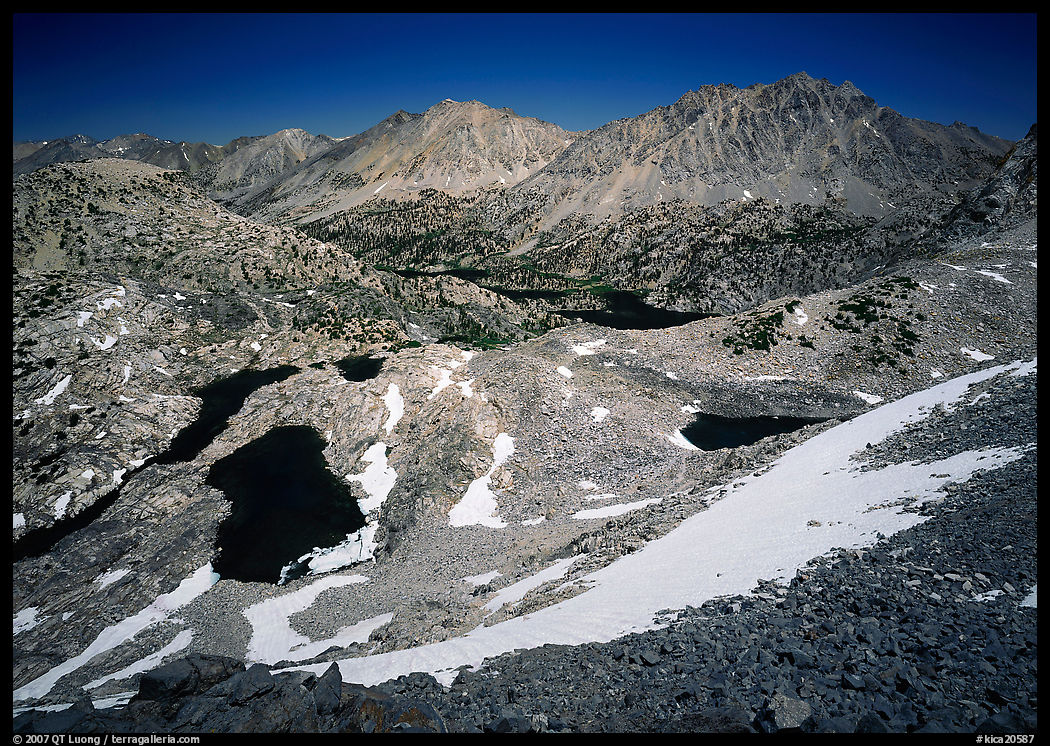 It wasn't until the summer of 1995 that I embarked on a multi-day backpacking trip. Like for my first visit to Yosemite and to Death Valley, the trip was organized by students from the UC Berkeley outdoor club CHAOS. This particular memory was brought out because my friend Ethan from the CHAOS days just released this week his promising debut novel, The Trail, which takes place on the John Muir Trail. That first backpacking trip also took place over four days on the John Muir Trail, or more precisely, a short section of its 211 miles, common with the Rae Lakes Loop, but starting from the east side via Onion Valley and Kearsarge Pass and exiting at Sawmill Pass.
Maybe it was a fortuitous coincidence that for my introduction to the High Sierra, I hiked a segment of the trail that mile for mile contains some of the most stunning scenery in a mountain range famous for stunning scenery. It is not for nothing that it is one of the most popular hikes in Sequoia and Kings Canyon, if not in the entire Sierra Nevada according to the National Park Service. Our itinerary covered less than 40 miles. Yet there was so much more terrain variety and natural delights close at hand than at the places I concentrated on as a climber. Streams, meadows with wildflowers, trees contributed to creating a gentle wilderness. All the cares of the world were gone, as all I had to do was to walk and camp, freeing my mind for looking.
Mild weather also helps make the Sierra Nevada a great introduction to backpacking. Sunny skies grace the range 300 days a year, and not needing to carry a tent not only lightened my backpack but also increased my sense of connection with the wilderness as I slept under the stars, completing my immersion in the Range of Light. The only thing I could have done without were the droves of mosquitoes at sunset! In those years, I was fit enough that carrying my 5×7 camera, a series 2 tripod, and a 35mm camera in addition to the backpacking gear didn't feel like a burden. The trip gave me the confidence that I could carry it anywhere in the wilderness for my fledgling project to photograph the national parks. Hiking with the group, there were only a few times I could set it up – including all the photographs on this page. I returned from the trip with only a dozen different exposures. But I didn't mind, because I felt that they captured the impressions of a new experience in nature and a new beginning.