Twice the Same River: Photographing Tinkers Creek Gorge, Cuyahoga Valley National Park
2 Comments
Observing natural changes is a rewarding aspect of revisiting a place, as I did for the Tinkers Creek Gorge of Cuyahoga National Park – obscure and far from California. The water flow fluctuated, and you can see in this post which conditions worked best for each scene and how I adjusted my composition in response to the changes.
Bridal Veil Falls
Cuyahoga Valley National Park is unusual in that the National Park Service allows local parks within its boundaries to operate independently. Located in the northeast corner of the park, the Bedford Reservation is one such local park, managed as a city park by Cleveland Metroparks. Its highlight is Tinker's Creek, the largest tributary of the Cuyahoga River, which has carved a deep gorge declared a National Natural Landmark.
Bridal Veil Falls is reached via a short walk (0.3 miles) from a trailhead along Gorge Parkway in the Bedford Reservation. Since it shares its name with the prominent 620-feet waterfall in Yosemite Valley, I was quite underwhelmed by the sight on my first visit. Although the narrow stream of Deerlick Creek tumbles down maybe 30 feet, it does so along a gentle slope rather than a steep drop, and the water flow was low enough that it would have taken some imagination to see a bridal veil there – the photo processing I did was unusually heavy. However, twelve days later, robust rains had changed the conditions enough that most of the shale rock was covered by whitewater. With that infusion of water, Bridal Veil Falls began to live up more to its name.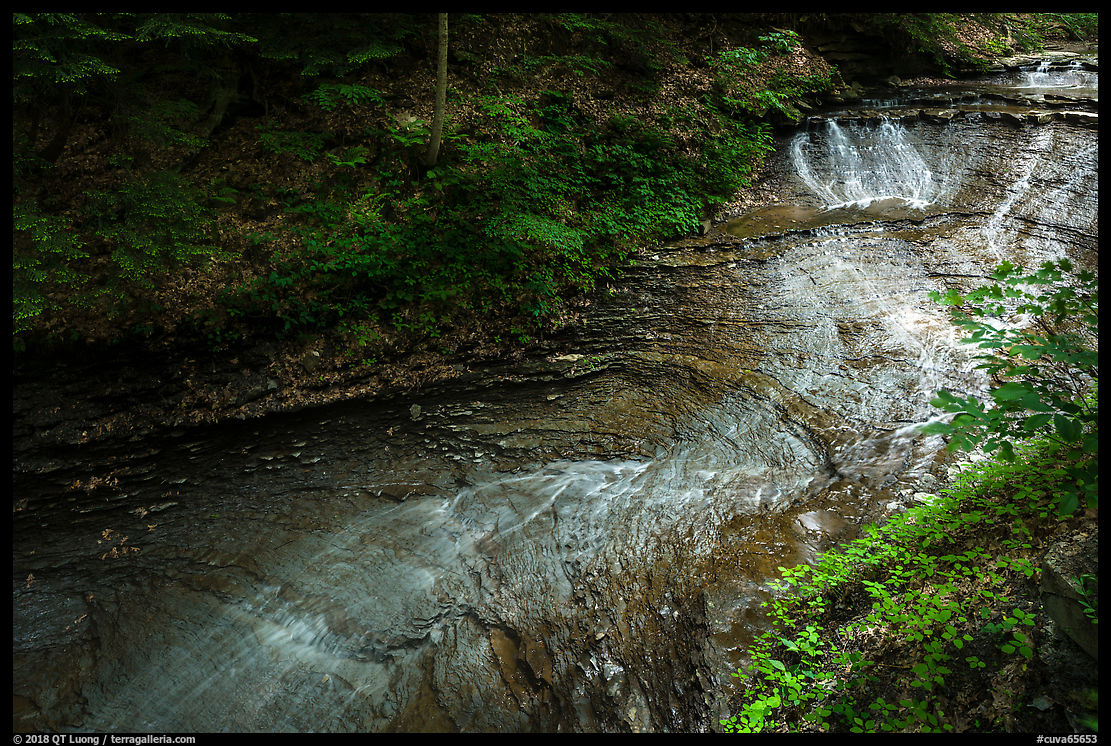 Sony A7R2, TS-E 24mm, 0.6 s. at f/16, ISO 50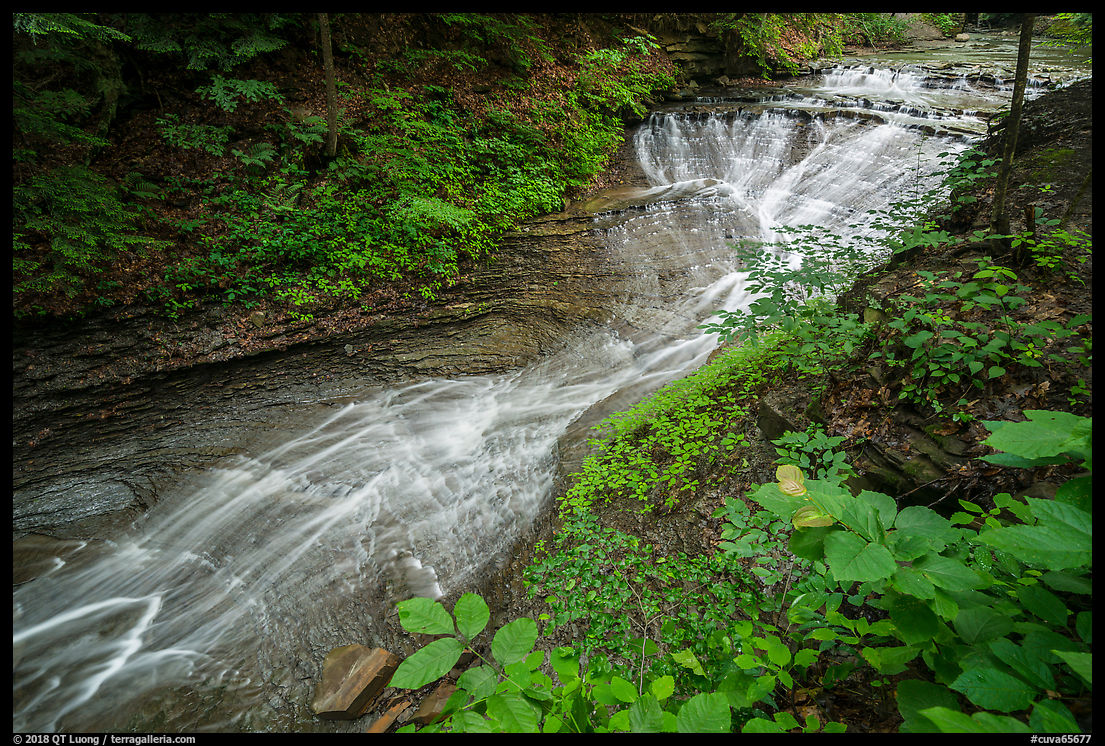 Sony A7R2, 16-35 @ 19mm, polarizer, 3.2 s. at f/13, ISO 100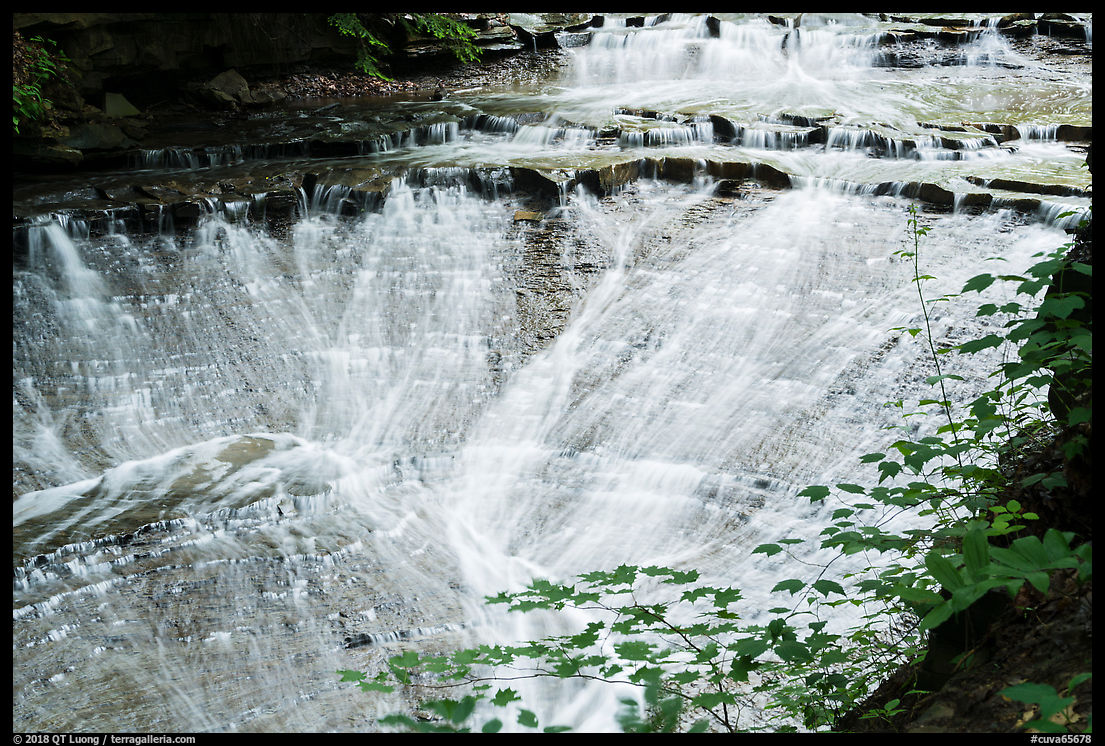 Sony A7R2, 70-300 @ 80mm, 0.8 s. at f/16, ISO 100
Viaduct Park
Viaduct Park, also part of Tinkers Creek, is under the radar, maybe because it is located just outside the boundaries of the national park. The steep forested gorge, which was not logged due to its rugged terrain, makes it easy to forget that Viaduct Park is surrounded on three sides by urban development – which is never too far in Cuyahoga Valley National Park. Tinkers Creek being a much larger stream than Deerlick Creek, the increased water flow and water opacity resulted in a reduced contrast between the whitewater and the smoother parts of the current. More water doesn't necessarily make for a better stream photograph.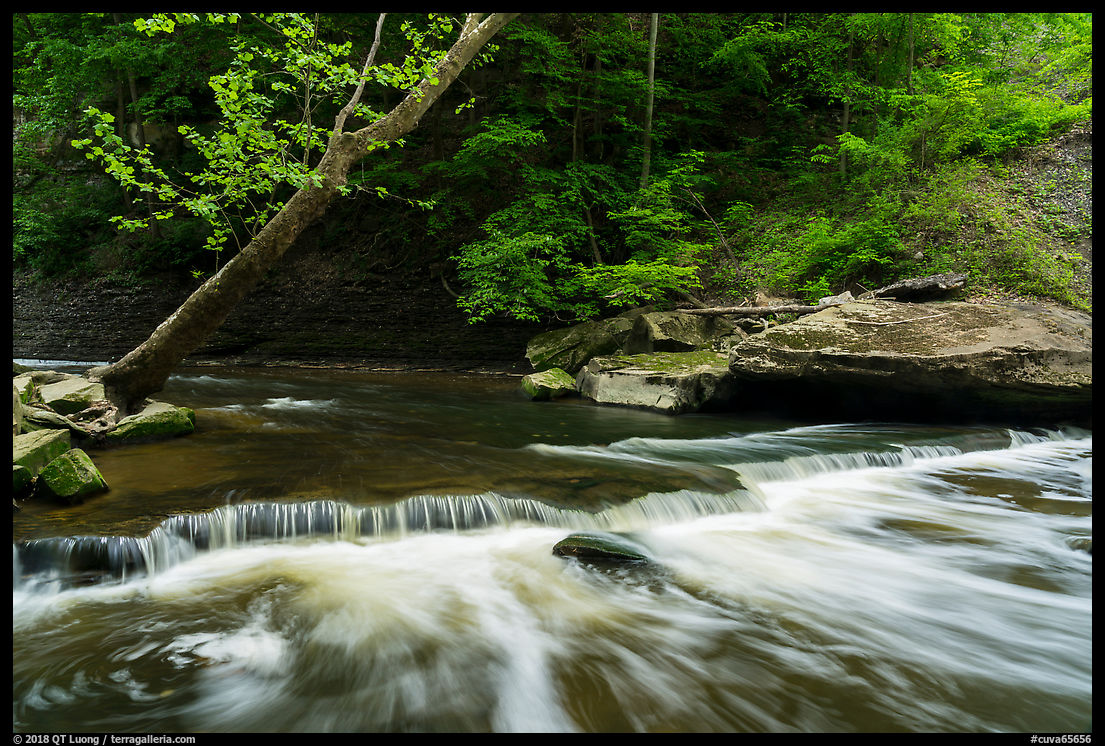 Sony A7R2, 24-105 @ 24mm, polarizer, 0.8 s. at f/22, ISO 50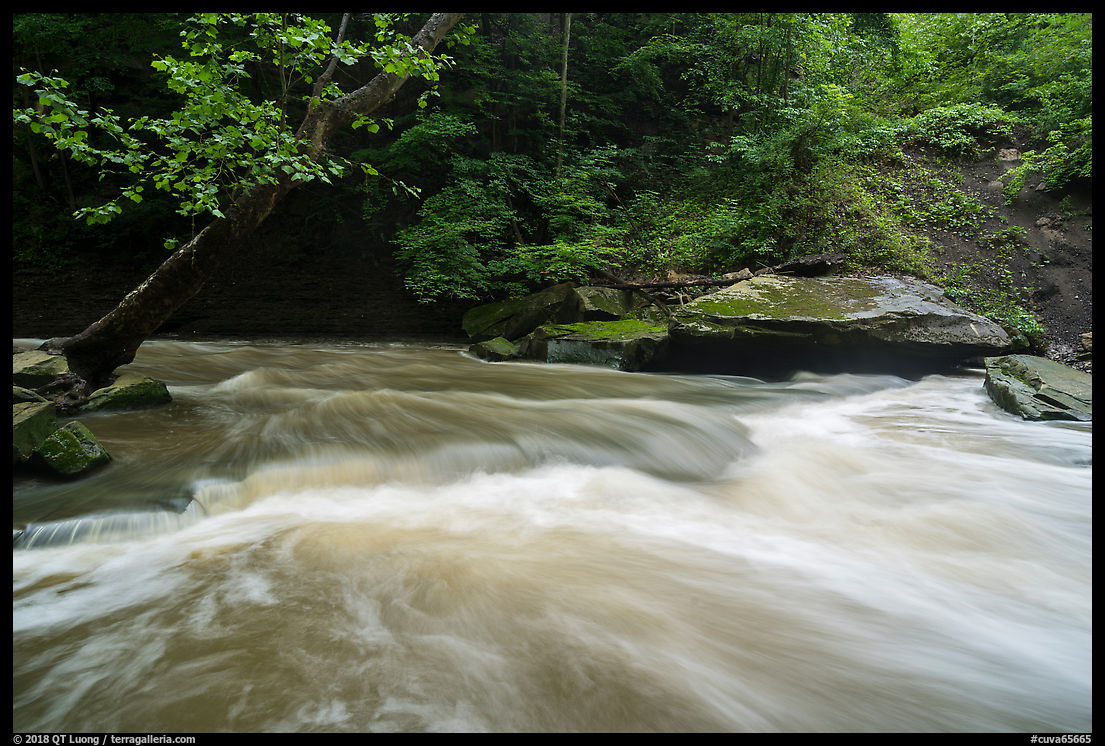 Sony A7R2, 16-35 @ 21mm, polarizer, 0.8 s. at f/11, ISO 50
In addition to the creek, Viaduct park includes ruins of an old mill, an old viaduct, and a man-made tunnel through which the creek flows. If I had used the same composition for the high-flow image as for the low-flow image, a mostly cream-colored creek would not have balanced well against the dark forest as in the initial composition where the water was darker. However, I noticed that the higher flow created eddies not present with lower flow. A long exposure captured a circular shape which together with a dark rock formed a counterpoint to the tunnel opening.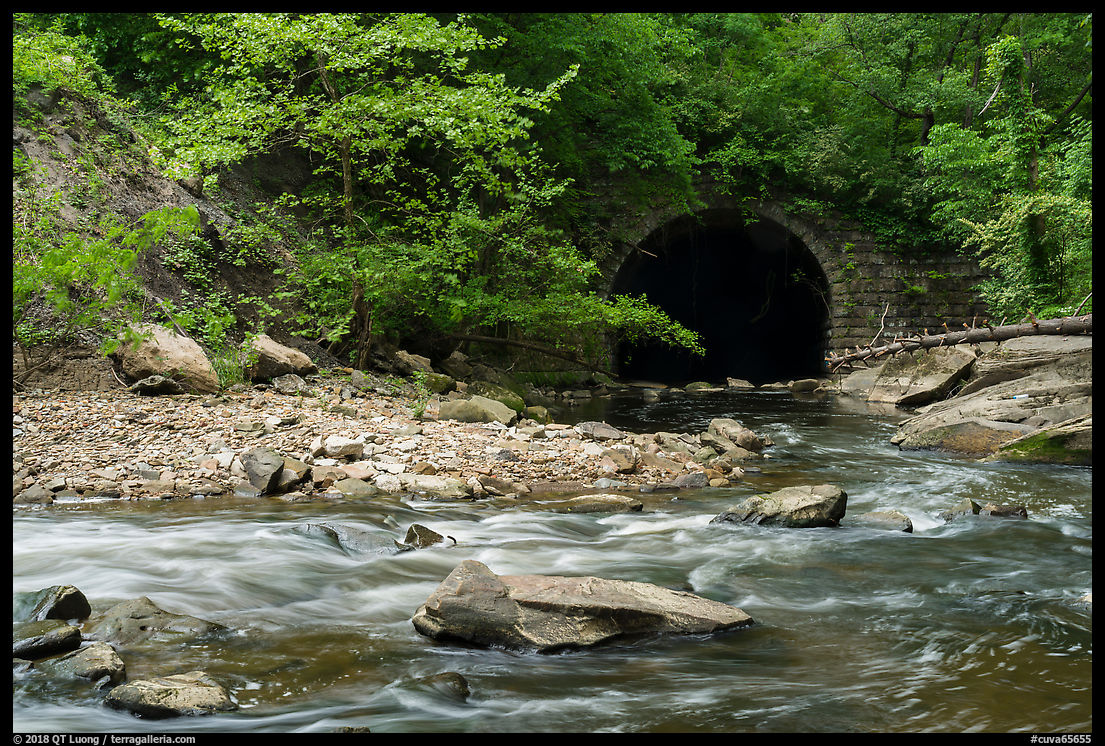 Sony A7R2, 24-105 @ 40mm, polarizer, 0.6 s. at f/22, ISO 50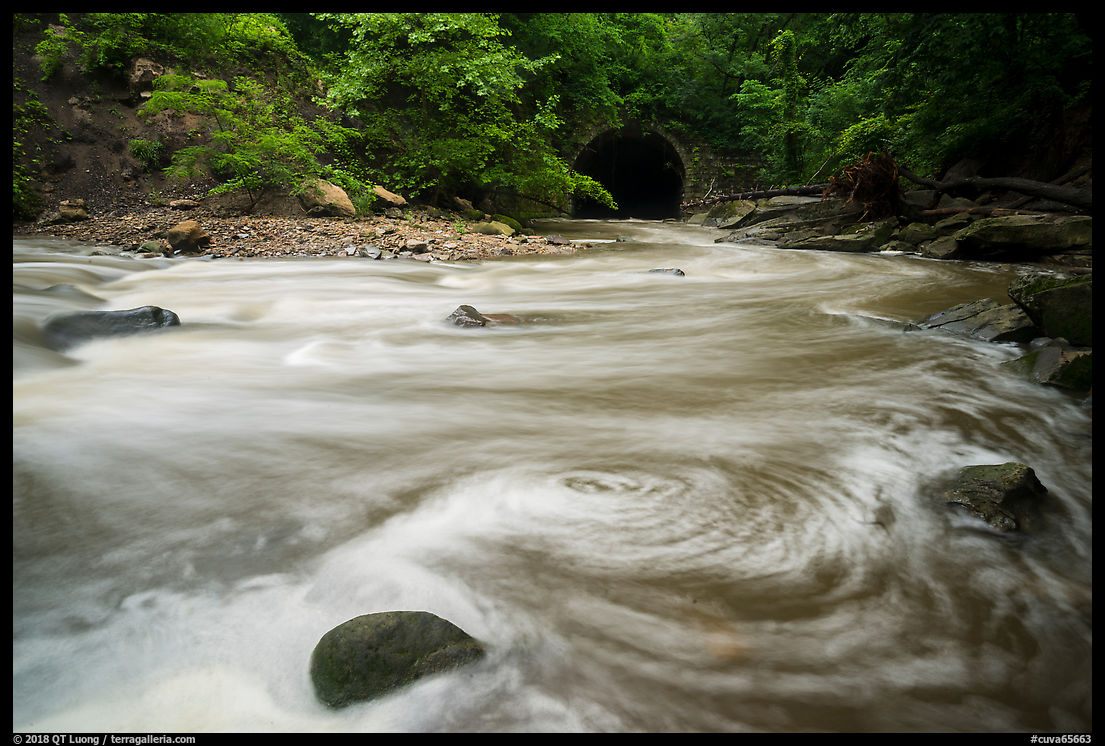 Sony A7R2, 16-35 @ 19mm, polarizer, 4 s. at f/22, ISO 50
Great Falls is not a tall waterfall, but its width and straight drop can make it more impressive than its a 15-foot height would suggest. On my first visit, no water was flowing over most of the drop. I used a tight composition to emphasize the section where most of the flow was occurring, also minimizing the visual extent of the bare rocks on the river bed, and using fallen branches to direct the eye towards the most appealing part of the waterfall, where low flow created texture. On my second visit, the waterfall was now spanning the entire 80 feet width of the outcrop. I framed the photograph with a wider angle of view again, this time to depict the almost the entire wall of cascading water, and now that the riverbed with filled with water that continued the flow of the waterfall, I also made it a prominent part of the composition.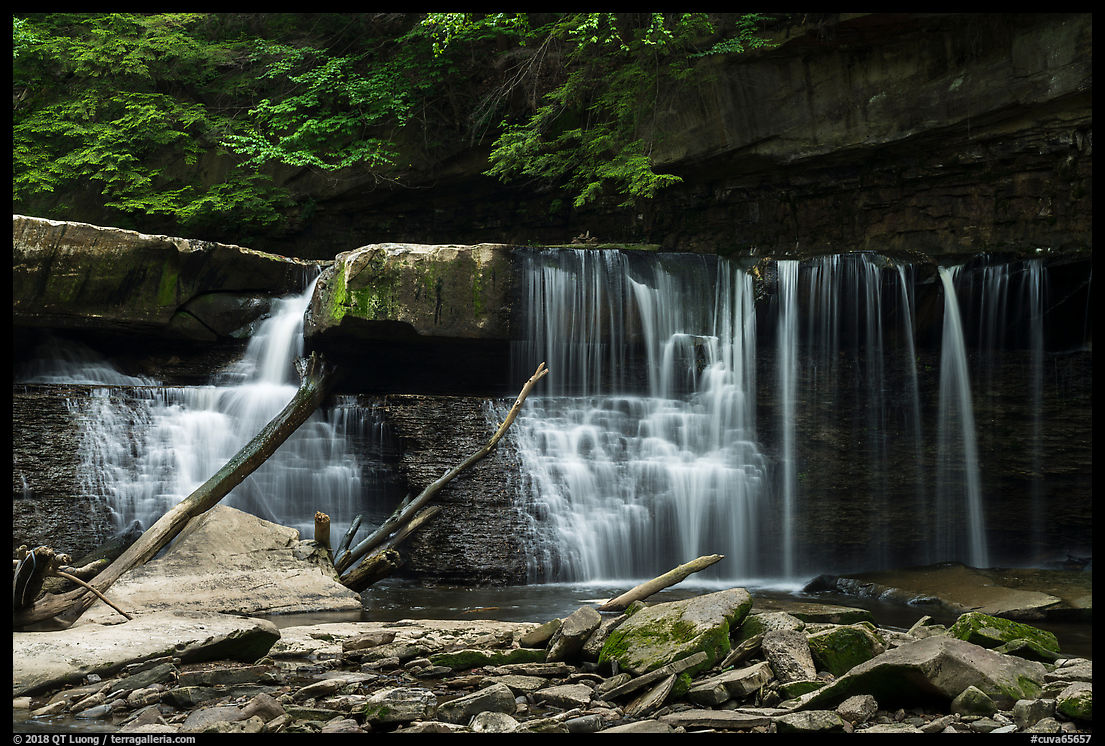 Sony A7R2, 24-105 @ 60mm, polarizer, 0.6 s. at f/22, ISO 50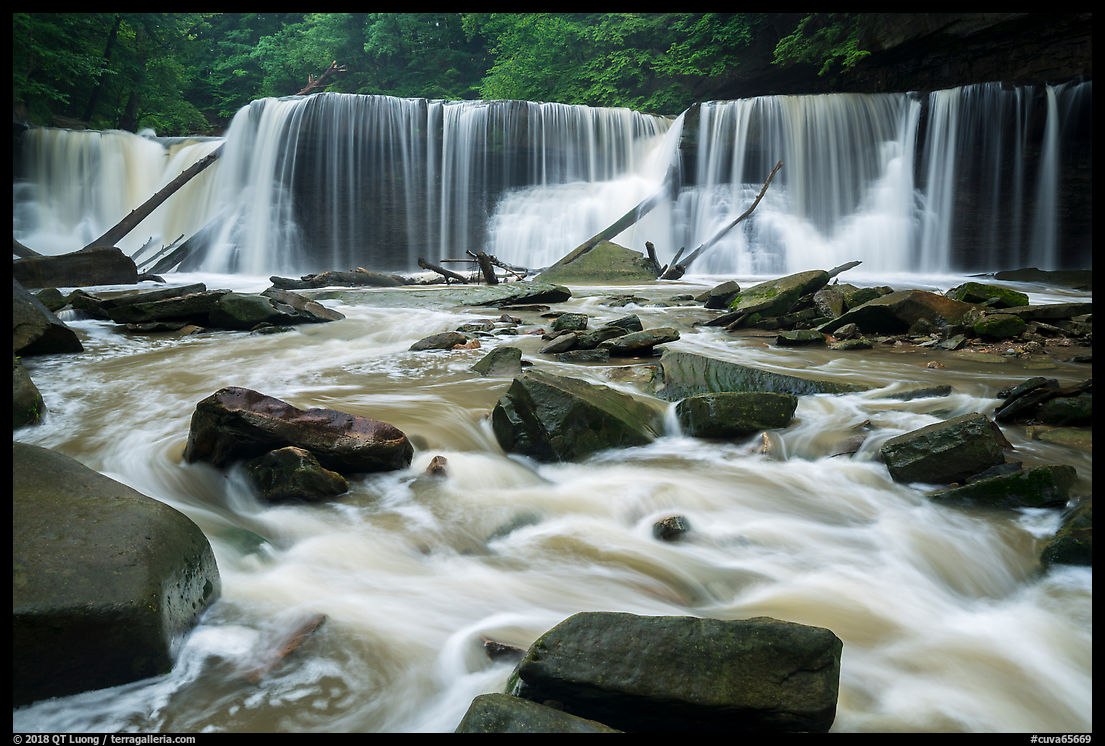 Sony A7R2, 16-35 @ 30mm, polarizer, 1.3 s. at f/16, ISO 50