Taipei, Taiwan
One Comment
After the
Vietnam photo tour
, I took advantage of the fact that Eva Air was making a transit in Taipei to spend a week in Taiwan. Before the trip, I did not know much about the country besides its separatist history and the label "made in Taiwan". I had planned to read my guidebook during the flight from Hanoi to Taipei, but the Vietnamese man sitting next to me (are you reading ?) identified me and then showed me his own photographs of Vietnam, which were remarkable and humbling, so even upon landing I had no clear travel plans yet – certainly a change from the meticulously planned photo tour.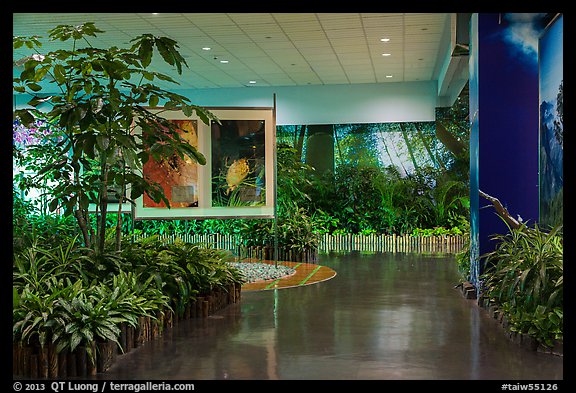 The airport provided an impressive array of free amenities, including computers to access the Internet, showers (toilet kit provided), and a relaxation room with massage chairs, however my arrival was less than smooth. At a fork, instead of paying attention to announcements, I followed a sign that said "Luggage Claim", only to find out that I had ended at the wrong terminal. After getting wrong information from airport staff, I then waited in a long line for a visa on arrival – which wasn't needed for a US Passport holder. I repacked to leave most of my belongings with the luggage service, not even taking my Macbook Air with me. Except for the tripod, all my travel and photo gear fit inside a carry-on size Think Tank Airport Accelerator. By the time I got out of the airport shuttle, it was quite late, so instead of trying to locate the hostel which I knew to be within walking distance, I hoped in a taxi. It took the driver a good fifteen minutes to locate it, although it was literally across the street.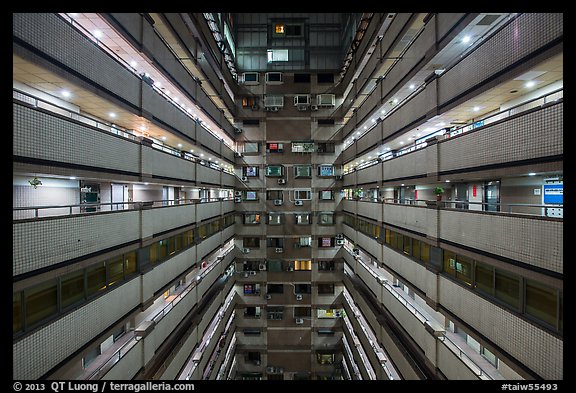 Upon eventually walking into the Holo Family House (picked because as it was the first entry in the Lonely Planet), I understood why. That's not your typical hostel: it consists of a set of rooms situated near the top of a huge high-rise building which is part of a shopping mall. The staff was friendly and helpful, the internet access (wifi or self-service computers) reliable, the rooms quiet (except for those facing the Central Station) and the location as central as could be. What else ? Maybe good photo opportunities ? Here are a few images made from the hostel's community room. If you are wondering why there are no rail tracks out of the Taipei Central Station, they are all underground.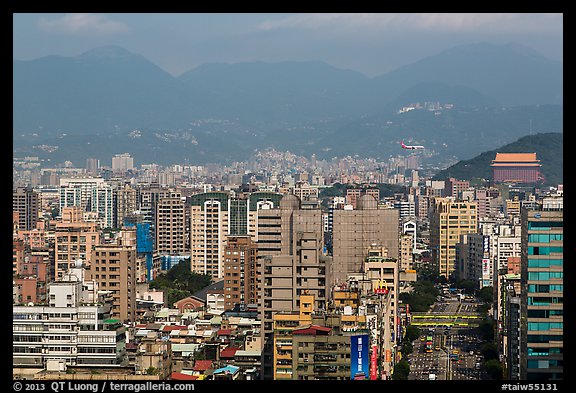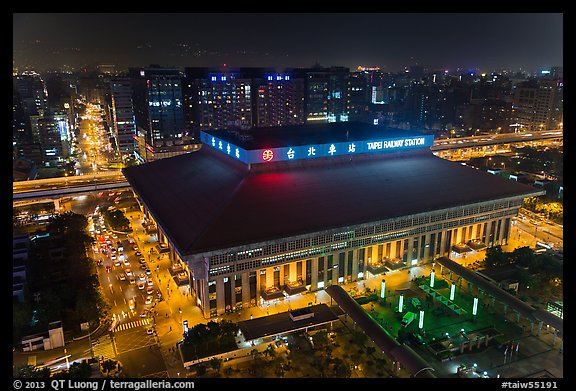 I spent a total of three days in Taipei. It turned out to be a pleasant and sophisticated metropolis with a variety of attractions, easily navigated thanks to a good transit system including the efficient subway (MRT) and inexpensive taxis. See how the locals wait orderly in line ? This isn't Paris.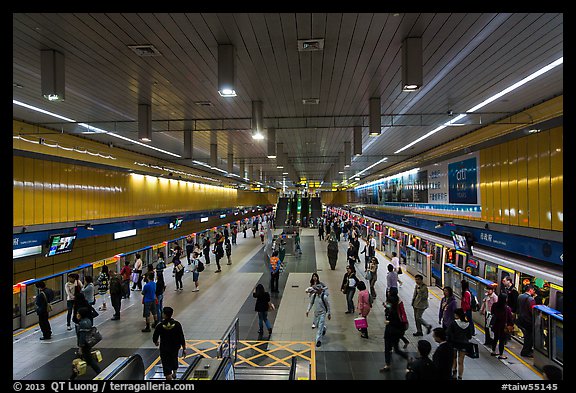 More on the orderly side, I paid a visit to the three imposing main memorials (Chiang Kai-shek Memorial Hall, Sun Yat-sen Memorial Hall, Martyr's shrine) sporting martial-looking honor guards who rotate hourly in a meticulously choreographed ceremony.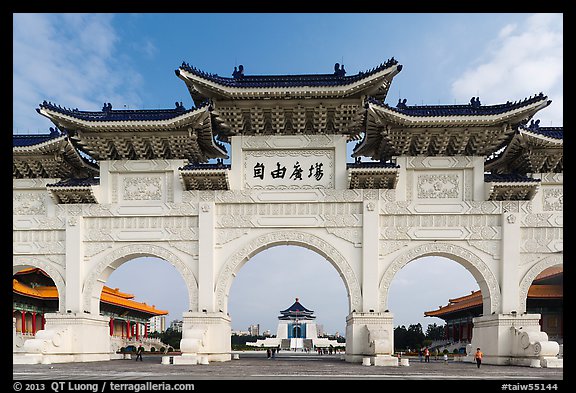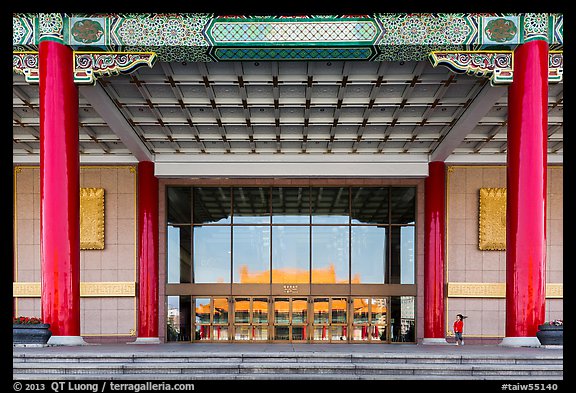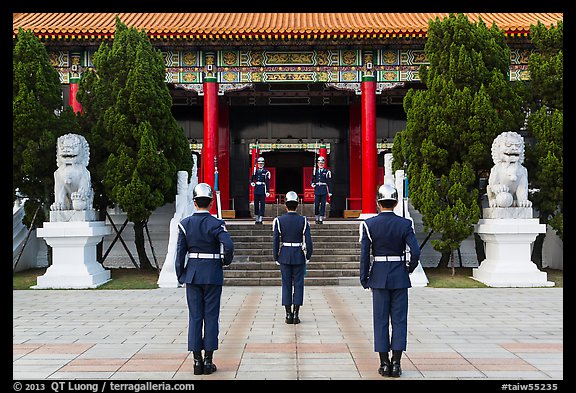 On a more peaceful side, I lingered at several temples, my favorite being the Guandu Temple, one of Taiwan's oldest (1661), situated next to the Danshui River, impressive with its height and tunnel carved in the hillside, lined with statues.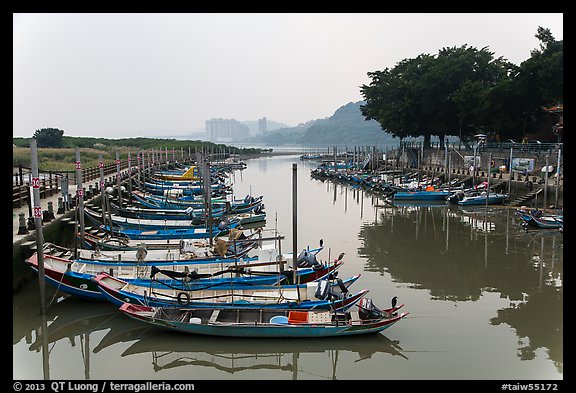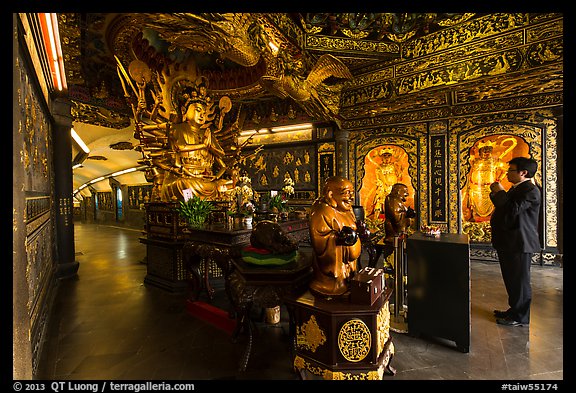 I also relaxed on the beautiful grounds of the Taipei Confucius Temple, which offered instructive exhibits, and at the Peace Park – where I tried a foot massage path consisting of pointed blunt stones.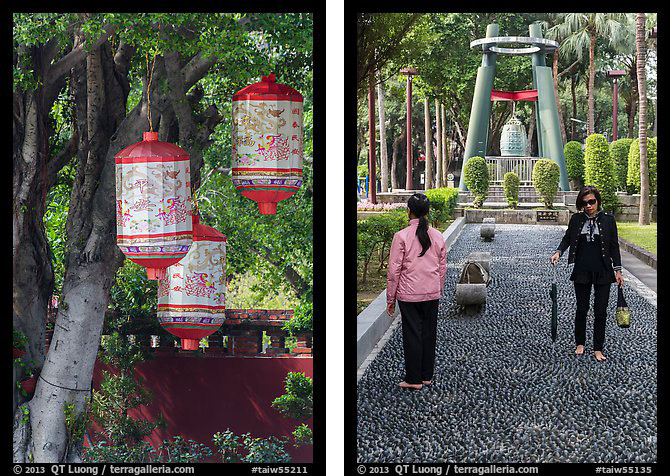 I encountered Taipei at its liveliest at the Shilin Night Market, where you can find anything, including all sorts of local delicacies – if you can cope with the crowds.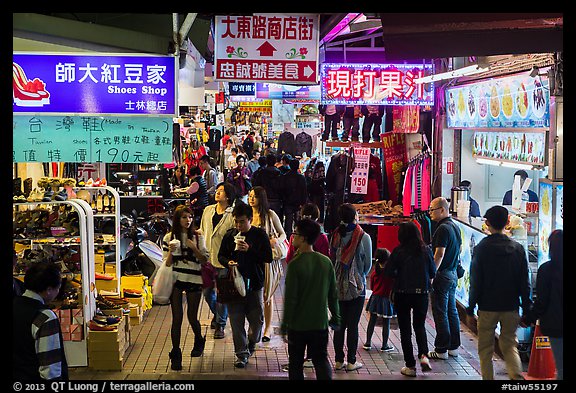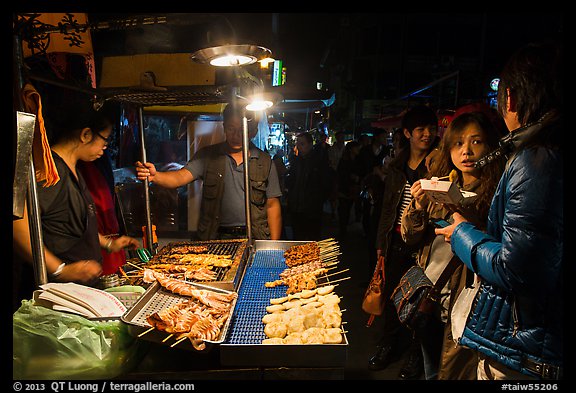 I even got to do a bit of nature hiking within the city. Searching for a panoramic view, I found out about Elephant Mountain, a tall forested hill rising next to the hip Xinyi district. A steep paved trail led to a great view of the skyline and Taipei 101, which was the tallest building in the world from 2004 to 2010 (508 m), now second to the Burj Khalifa in Dubai. After sunset, the other photographers quickly went down, leaving me in relative solitude.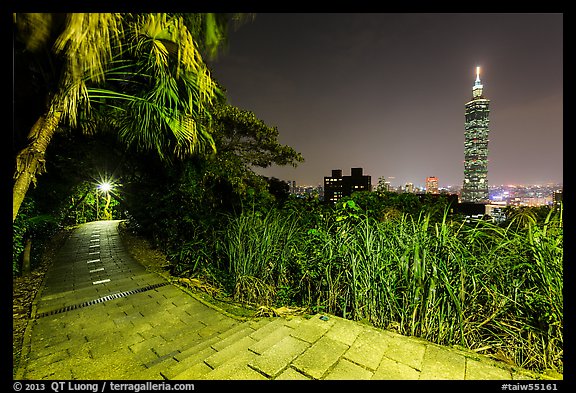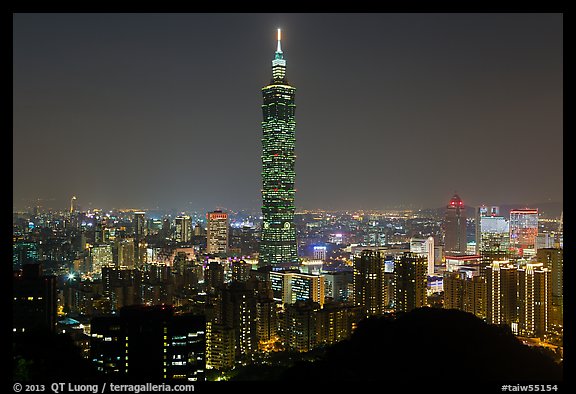 I've been told that there is even a great National Park (Yangmingshan) on the outskirts of the city, but on the day I planned to check it out, the weather wasn't favorable. Next time !
More images of Taipei