Sun Moon Lake, Taiwan
No Comments
Taiwan's cities (including
Taipei
and
Lukang
) lie on the Western part of the island, which is a plain. I was surprised to find out that the other two-thirds of Taiwan is covered by mountains.
Sun Moon Lake is considered to be one of the most scenic areas in Taiwan. My wife, who had never been to Taiwan, had heard of it, because of the many Asian romance novels that use it as a background. As expected, it turned out to be very popular with local tourists. Most stay in Shueishe Village, the main town around the lake. When I arrived there in early afternoon after taking the HSR train from Taipei and then a bus, I asked the visitor center for help in locating an inexpensive room. They were very nice, but all the hotels they called were full. Upon walking the main street, I quickly found one.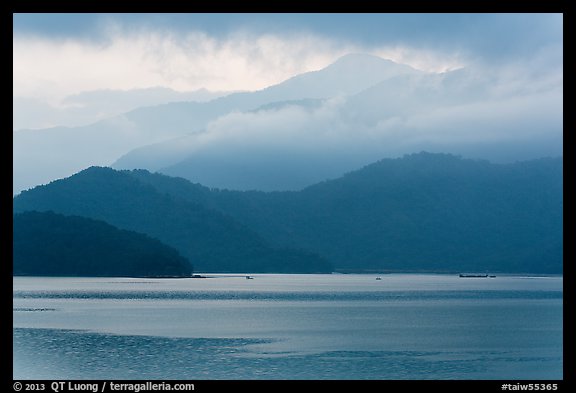 Surrounded by mountains, Sun Moon Lake's color changes constantly with weather and light, although blue often dominates.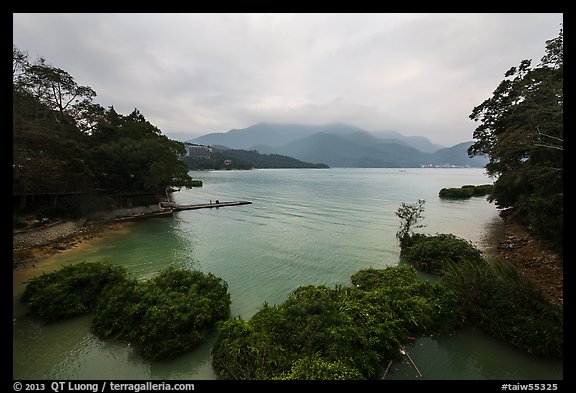 I walked a lakeside trail that hugged the North Shore, noticing floating rafts on which plants are being grown.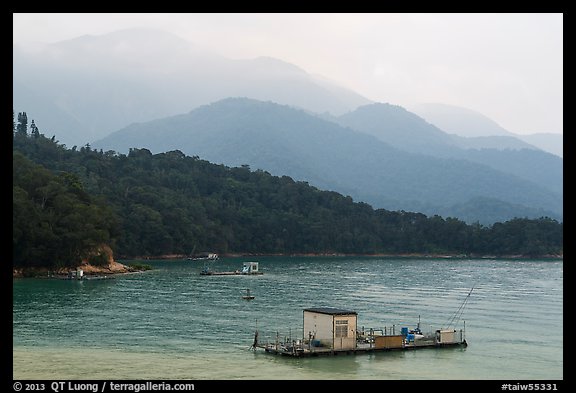 Although the lake is a prime tourist destination in Taiwan, I saw some traditional lifestyle, for instance curious houseboats.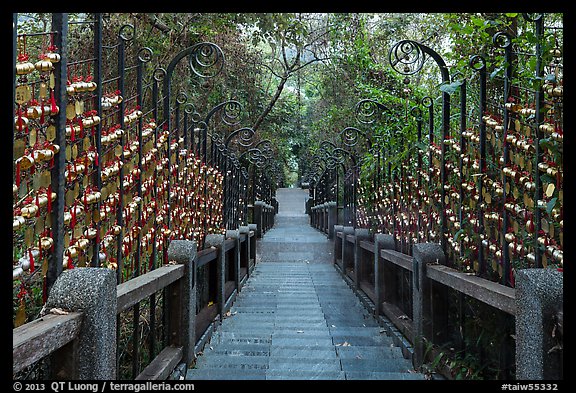 I climbed steep stairs lined up with blessing wind chimes brought by pilgrims.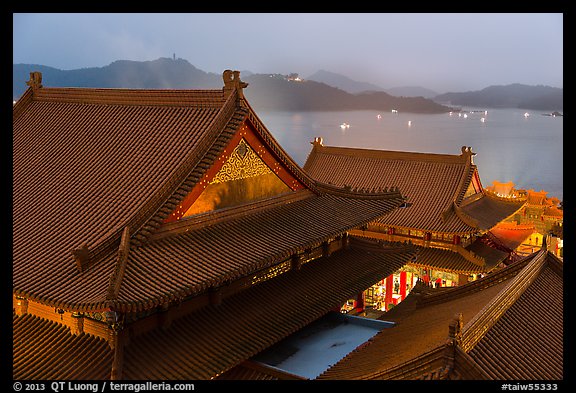 The lights were just coming up after I found a point of view above the roofs of the large Wen Wu temple, overlooking the lake.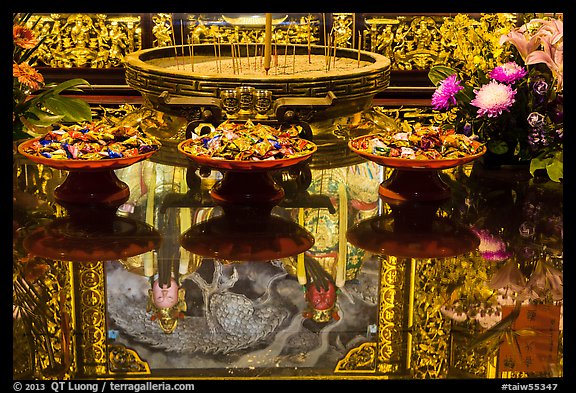 I checked out the rich temple interior. I was one of the last visitors inside. The place, quite crowded just an hour ago, had become deserted.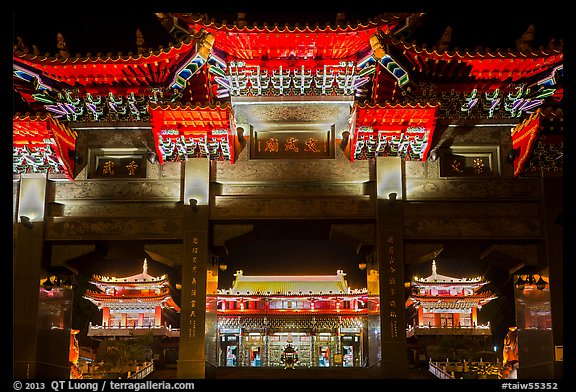 I photographed the temple gate from outside. Because there was no more traffic I could place the tripod right in the middle of the road (no adjusting the framing by zooming with a TS lens !), however I was beginning to worry about having to walk a long way back to Shueishe Village. Fortunately, as I was going to try to hitch a ride (not easy without speaking Mandarin), a taxi showed up.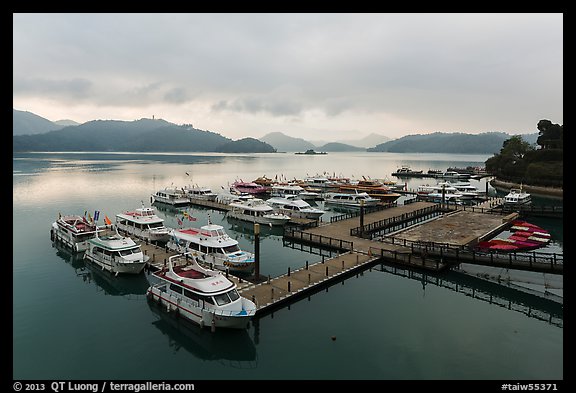 The next morning, I set up to explore the South Shore, trying to get to the tower on the top of the hill on the left in the picture. During the day, a multitude of tour boats ply the lake's waters, departing almost every few minutes. I bought a ticket at one of the several booths lining up main street, and strolled down to the pier.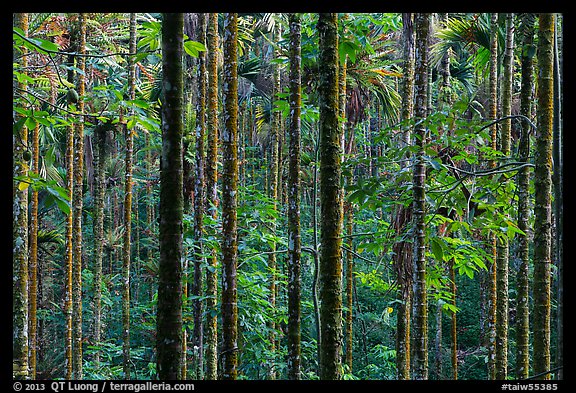 I hiked a path through the forest up the hill, past a crowded temple near the pier.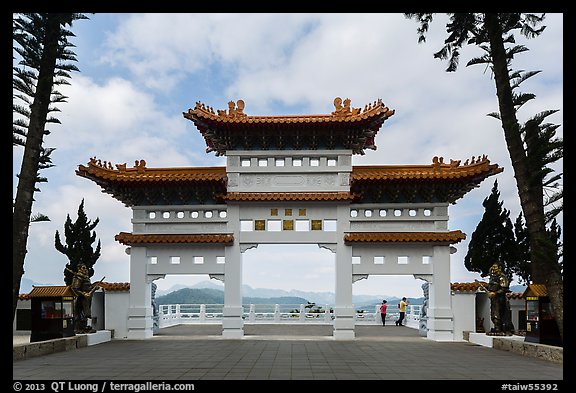 The terrace of Syuanzang Temple offered a nice view of the lake, but the best was yet to come.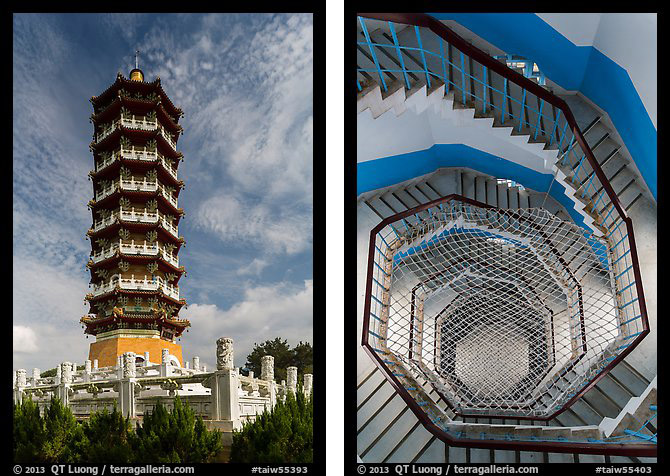 I reached the upper level of the Tsen Pagoda.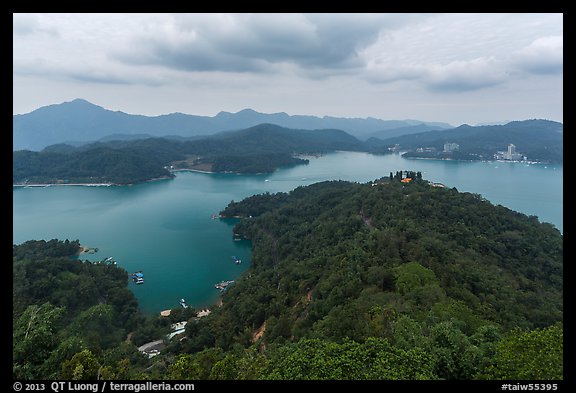 From there, I saw the lake in its entirety, recognizing that Sun Moon Lake is named so because its east side resembles a sun while the west side resembles a moon.
View more images of Sun Moon Lake