Photo spot 1: Yosemite National Park – El Capitan Meadows
6 Comments
This is the first in a new series of postings. Each will feature one specific photographic location (sometimes referred to as "photo hot spot") in a different national park. I will describe the location, sometimes give tips, illustrate it with a few typical images, and, if warranted, provide links to all the images on www.terragalleria.com photographed at that location. If this is popular, I'll try to make it a weekly series, so it would run through 2010, since there are 58 National Parks.
Outstanding locations are plenty in Yosemite National Park, but if I'd have to name a favorite, this would be El Capitan Meadows. El Capitan Meadows is located next to the park loop road in the Valley, just at the base of El Capitan (2.5 miles west from Yosemite Lodge) but if you are not craning your neck, you might miss it from the road.
I often came there to catch the early sun rays and cook breakfast in the morning before starting a day of climbing. From there, you can look directly at the face of El Capitan, which is the tallest cliff in America. If you come during the climbing season, there are always a couple of parties scaling the cliff that you can follow with binoculars, and photograph with a super-tele lens. In the evening, the cliff is punctuated like a starry sky by the headlamps of climbers setting a bivy. The meadows is where you start an El Capitan climb. Some meadows may be more central, but to me El Capitan meadows is the heart of Yosemite Valley.
Besides El Capitan, the Meadows are bordered by the distinctive-looking Cathedral Rocks and the Merced River. From the bridge at the end of the meadows, reflexions can be photographed in both directions. Graceful black oak trees grace the meadow. They appear both on the cover of Ray McSavaney's Explorations and John Sexton's Recollections. Because the meadow is surrounded by all those high cliffs, the light there is often special, even in the middle of the day at some times of the year. The sun doesn't reach the meadow until around one hour after sunrise and until one hour before sunset. The trees go from fluorescent green in the spring to bright yellow in the fall. Ferns and wildflowers adorn the meadow. This is there that I took the first series of Yosemite images with which I was really pleased (several years and dozens of trips after my first visit to the Valley) after a snowstorm in the middle of winter.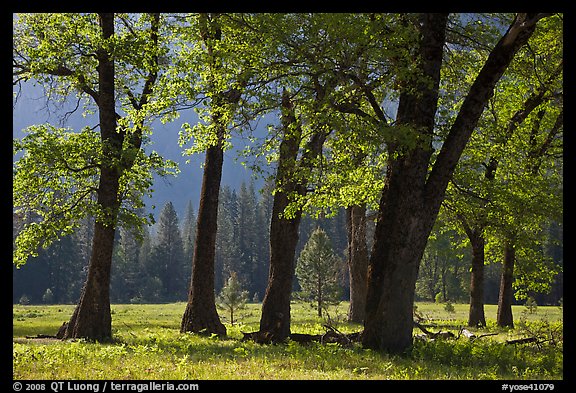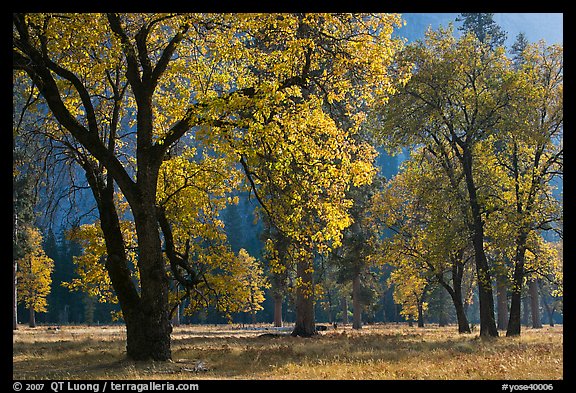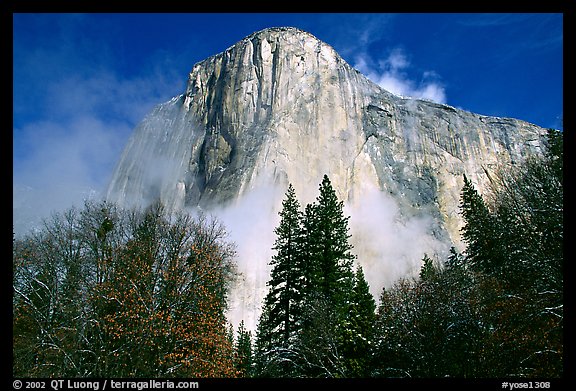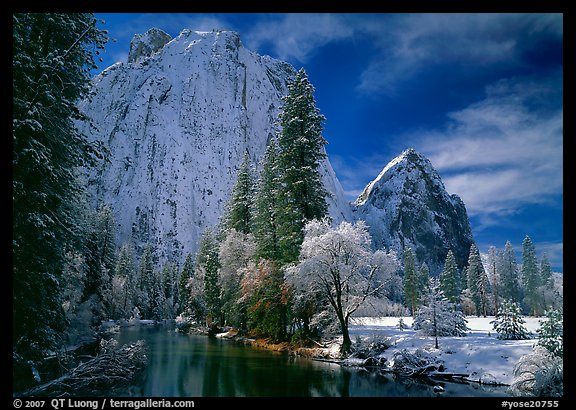 More images taken from El Cap Meadows. All images of Yosemite National Park.