Photo Spot 36: Biscayne National Park – Elliott Key inner shoreline
No Comments
Last week, we waded in the water in a Everglades cypress dome. We will continue walking in the water this week, although in a different environment.
The Florida Keys form a chain of barrier islands beginning offshore of Miami, and extending for more than 130 miles to Key West. While almost the entire chain of Key Islands south of Miami is developed and linked by the amazing Overseas Highway, the northernmost of those islands, Elliott Key, has been preserved from development by the establishment of Biscayne National Park. Elliott Key is reached by a daily short cruise starting from the Biscayne National Park visitor center on the mainland.
As a barrier island, Elliott Key separates the Atlantic Ocean from Biscayne Bay. The two shores of Elliott present a drastically different character. While only rugged plants grow on the wave-battered ocean side, the bay side is lined up by the longest mangrove shore on the East Coast.
Even in February – a month with low humidity, heat, and mosquitoes – as I stepped into the water from the landing beach, it felt warm and inviting. The soft sand continued under my feet, even as I turned a corner, and the pier quickly disappeared from view. I could now see an unbroken line of trees with their dark green leaves reaching almost to the water, a sight much more interesting than from the island interior, where the trail was rather unremarkable. The mysterious place reminded me of the jungles seen in old movies. As I got closer, I observed between the water and the leaves an impenetrable tangle of prop roots, arching from the tree's trunk to the water.
In order to be able to work easily, for a long time, with my full range of equipment, including my large format camera, I had brought a small inflatable boat. It was just the kind used by kids, but it was sufficient to hold my camera bag, providing me a platform from which to switch gear. As I towed it behind me, it glided effortlessly in the calm evening water. The setting sun illuminated the whole bay side shoreline. I set up my tripod in thigh-high water for one last long exposure, the camera just slightly above the water surface, then headed back to the beach around the impenetrable mangrove forest, as the light was fading.
As I retreated to the pleasant, grassy campsite close to the landing, I made sure to rinse thoroughly my carbon fiber tripod with freshwater, since I had been told at the Gitzo factory outside of Paris that my previous one had been ruined by that lack of maintenance. The lights of Miami began to shine across the bay. Yet the silent island felt like a world apart.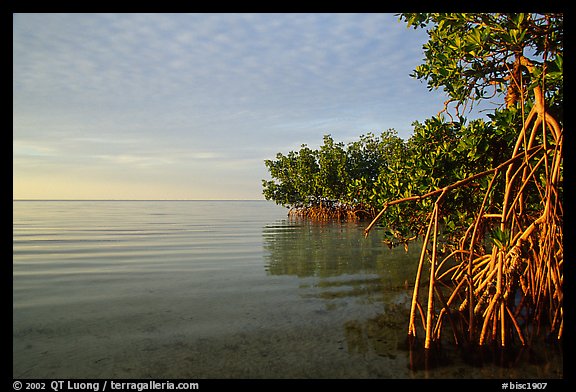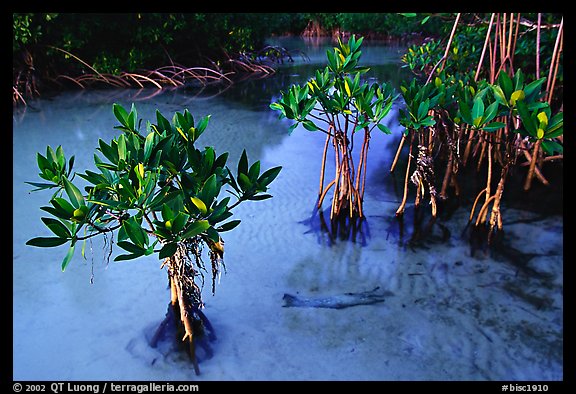 View more images of Biscayne National Park