Photo Spot 32: Hot Springs National Park – the Cascade
2 Comments
It is easy to dismiss at a first glance Hot Springs National Park. The smallest of the US National Parks (just over 5,500 acres) consists mostly of Central Avenue, the main street of Hot Springs, Arkansas, and seemingly undistinguished hills.
So why is it the oldest area in the National Park System, set aside as a special reservation in 1832, a full 40 years before Yellowstone became the first National Park ?
At that time, Hot Springs had already became famous as a heath spa where people "took the waters" that come from the 47 hot springs flowing in the surrounding hills. While the man-made nature of the row of well-preserved historic bathhouses is clear, it is less obvious that the hill above this row, Hot Springs Mountain, is a man-made landscape. Tufa once coated it, and waters ran over it. The waters were diverted in a plumbing system, and the slope covered with dirt and vegetated. The artificial landscape is interesting to observe, in its gradual transition from city to woodland, with the Grand Promenade bridging them. Fall brings spectacular colors to the woods, as bright as any other place in the southern Appalachian mountains.
In the early 80s, a spot was cleared of dirt so that a hot spring could be seen again. This spot, called the Cascade, past Bathhouse Row, near the intersection of Central Avenue and Fountain Street, remains the only place in the park to view hot water cascading over tufa terraces.
The cascade is most interesting to photograph early in the morning, when the cooler temperatures give rise to denser steam. At that time of the day, it is still in the shade, and therefore uniformly lighted. You can observe the whole cascade from the base, or walk up stairs to a point that offers close-ups views of the water, tufa, and blue-green algae.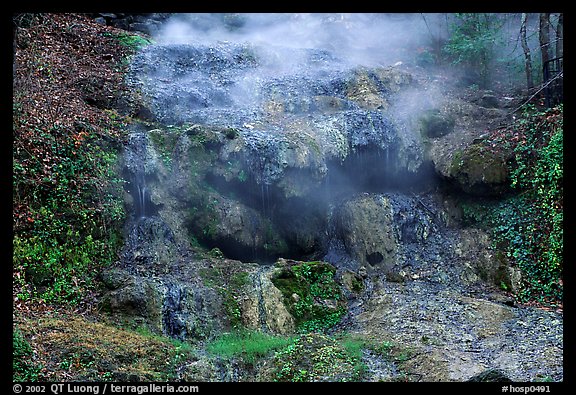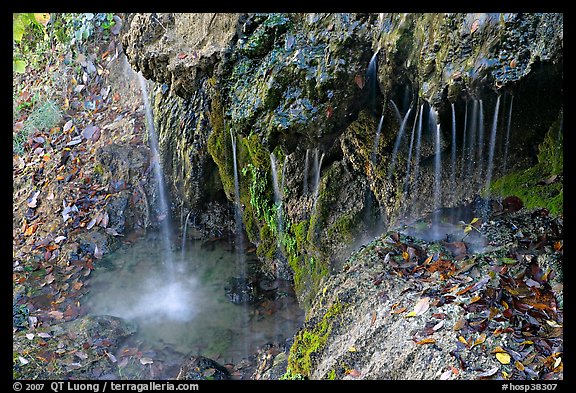 View all images of Hot Springs National Park