Photo spot 2: Denali National Park – Wonder Lake
4 Comments
Autumn comes to Denali National Park between the last week of August and the first week of September. During this time, the entire tundra floor (almost the whole landscape) turns shades of yellow and red. This is my favorite time to be in the Alaska interior (except for high-altitude mountaineering where conditions are better in the spring), with changing weather and the mosquitoes gone.
Denali National Park spreads over six million acres, with only one access road inside. At mile 87, where this road skirts Wonder Lake, you can get closer to Mount McKinley, the highest mountain in North America, than from any other place accessible by road. Although 27 miles away, the Mountain will seem close, within touching distance.
Reaching that particular spot at the right time is not as easy as it seems. It it were, everyone would be doing it, as this is one of the most spectacular locations in the world for landscape photography. You'll have to put some effort: Denali is a popular location with very restricted access. Beyond the park entrance (except for the Kantishna enclave), there are no commercial facilities in the park, such as food, gas, or lodging.
As of 2009, reservations for the next year (including bus and campgrounds) just opened on Dec 1st at http://www.reservedenali.com. If you plan to travel to Denali in 2010, after reading this article, you will understand why you should start planning now.
Although the road is 90 mile long, only the first 14 miles are paved and normally open to private vehicles. Special permits are issued for the unpaved section, but don't count on getting one. You'd need extensive credentials, and/or win a lottery. Even Galen Rowell didn't qualify. This means that you'll have to take a bus. You will need a reservation. There are only a fixed number of buses everyday, regardless of the demand. If you didn't purchase your ticket well in advance (2/3 of tickets are sold that way) you'll have to get on a 2-day waiting list for the remaining 1/3 of tickets. The journey by bus from the Park entrance to Wonder Lake takes 6 bumpy hours one-way, clearly not leaving time (nor good timing) for quality photography on a day trip. If you've come that far to Denali National Park, just going on day trips does not make sense.
To stay overnight in the park near Wonder Lake, you have three options. The first one is to camp at the Wonder Lake campground (mile 85). You will need a reservation. There are only 28 campsites there, and in general, they are booked many months in advance. The second is to stay in Kantishna, a private enclave at the end of the road (mile 90) featuring a number of resort lodges and cabins. The problem is that staying there a couple of nights will easily cost more than your airfare to Anchorage. With both options, a mountain bike would be useful for moving along the park road. Unlike motorized vehicles, bikes are not restricted.
If, like me, you didn't plan half-a-year in advance, there is still a third option, which is to get a backcountry permit. Such a permit lets you camp anywhere within a certain area, provided you are at least a mile and out of sight from the road. Those permits are issued on a first-come, first-served at the Park visitor center. Only a few parties are admitted at any given time in each area. Naturally, there is a high demand for the most scenic areas, such as the one around Wonder Lake. The trick is to first get a permit for a less popular area. Once you have a permit for one area, you can get on the waiting list for other areas, moving from unpopular areas to popular areas.
During my trip, I carried my full photography kit, since I in addition to large format landscapes, I was hoping to photograph wildlife. It would have been a lot of work to go backpacking with that kit, and all the gear and supplies necessary to survive in the park. I'll share with you my strategy: I travelled with two backpacks, one for photography, one for camping. Each evening, I would cook dinner near the road, in order not to have any bear-attracting food at my camp. Then I left the bear-resistant canister there, together with the photography pack before hiking into the wilderness just with my sleeping gear to find a spot for camping. The idea of leaving $15,000 of gear overnight on the tundra might appear hair-rising, but as there aren't many people around, the worse you have to worry about is actually rain or snow. I just tucked the pack, a Lowepro Super-Trekker, under its all-weather cover, and used my GPS to mark its location.
Staying nearby, I was able to catch the best light for this scene, which is late afternoon. Mount McKinley is so tall that it creates its own weather, often hiding behind clouds for days. I was lucky that during one of the three evenings when I was within sight of the Mountain, the clouds cleared for a few hours before sunset, as a half-moon was rising. As you can see in the second image, they moved back soon after sunset, and I didn't see the Mountain again during my stay.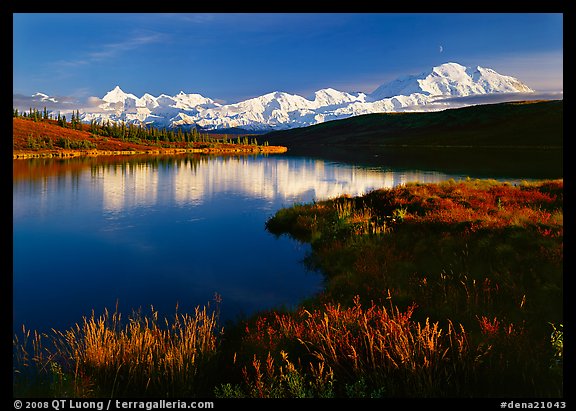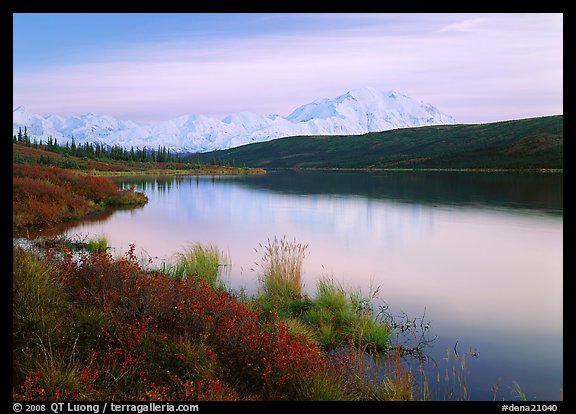 All images of Denali National Park