Sequoias and stars, Kings Canyon NP
11 Comments
Although they are not as tall as the coastal redwoods, the giant sequoia trees still reach impressively into the sky. I found it difficult to convey the sense of cosmic height in daylight images. The usually blue sky isn't visually that interesting, there are almost always harsh shadows or dappled light on a part of the trunks, and it is difficult to avoid visual clutter when trying to include the entire tree. I've come to prefer night photographs, because they do not suffer from those shortcomings. Do you agree ? Here are some variations on this theme, from two trips to Kings Canyon National Park last year. All images were photographed on Canon EOS 5D mk2 with 24/1.4 II lens, except last one.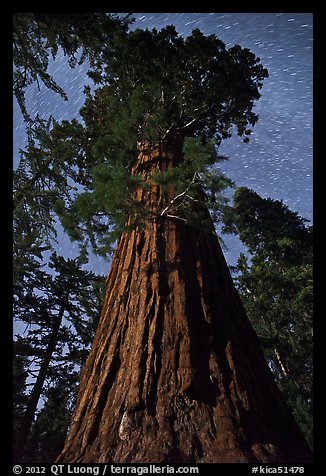 Image 1. Shot using only natural light from the moon, this required careful planning to find a well-lit tree, as a balanced exposure. ISO 800, f2.8 4min.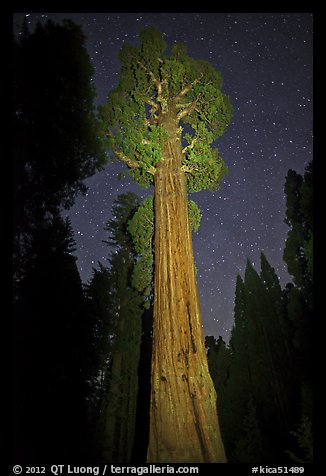 Image 2. Light painted with a flashlight. Thanks to the spot lighting, the tree (General Grant), which is depicted almost entirely, is better separated from the surrounding forest than in a daylight shot. Beyond ISO 1600 noise becomes objectionable to me on the 5Dmk2. Beyond 30s star streaking is more noticeable, so ISO 1600, f1.4 30s.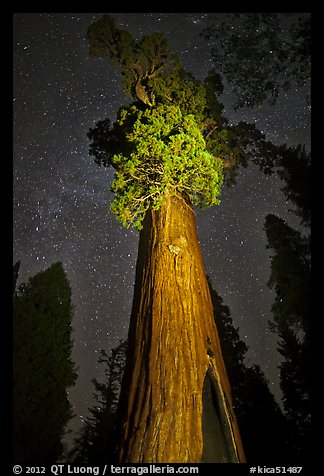 Image 3. This is a closer angle on the General Grant tree, pointing more upwards. I used less even lighting, shining the light on some areas more than others, and emphasized the leaves. ISO 1600, f1.4 30s.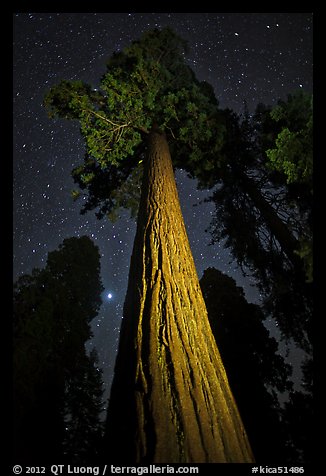 Image 4. This unnamed tree was lighted more laterally, providing more texture for the trunk. I lighted from the right so that the left side would be shaded in order to add contrast with the bright celestial body. ISO 1600, f1.4 30s.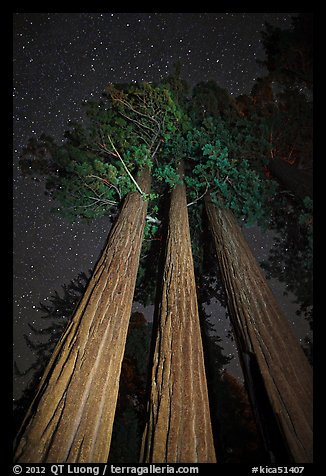 Image 5. Looking for a more complex subject, I included a group of three sequoia trees. More neutral filtration results here in colors closer to moonlight. ISO 1600, f1.4 30s.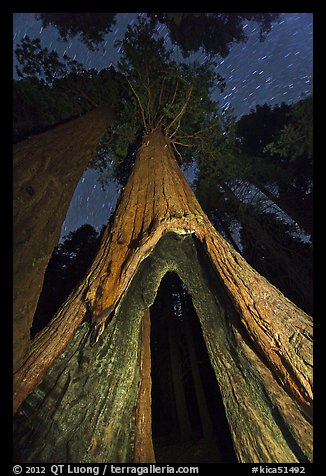 Image 6. I found a tree with an impressive opening (caused by fire) at the base. To make the opening more prominent, as well as including a sliver of sky in the opening, I had to get closer to the tree, therefore using a wider lens (zoom set at 19mm). Because the f1.4 aperture is not available on that lens, the exposure is much longer, resulting in short star streaks instead of point stars. ISO 1600. f4 4min.
(if you don't see the poll question, please vote here for your favorite)
Do you find the light-painted images artificial, or is using lighting in nature photography fair game, like in most other areas of photography ?