Varying the mood: ocean storm, Kipahulu
3 Comments
The weather system that produced interesting clouds over the crater summit continued to hang over the coast. I was hoping to do some night photography, but when I got up two hours before sunrise, it was pitch dark, with the stars totally obscured by dense cloud cover.
I crawled down to the beach and set up the camera. In contrast with my previous visit in more sunny conditions, the mood was definitively dark. Nature changed this for a few minutes, when the sun unexpectedly appeared through a tiny hole in the clouds. For this composition, I emphasized context by including the coastline and some rock ribs that echoed it.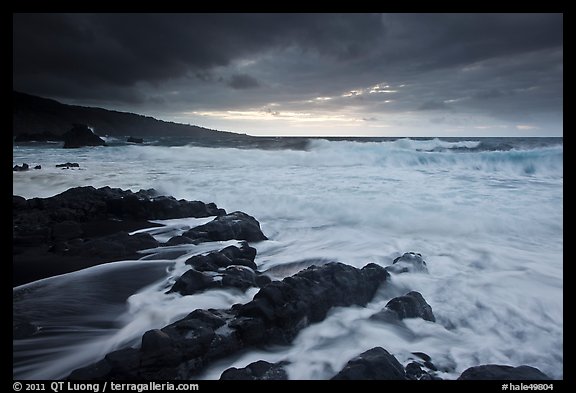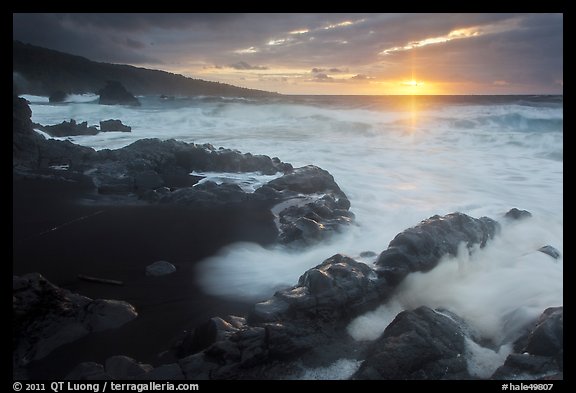 Independently from conditions, I was also able to change the mood just by varying the shutter speed with ND filters. A shutter speed of 20s (Lee Big Stopper 10 f-stop ND) transformed the powerful motion of ocean fury into a smooth surface, creating a dreamy and meditative image. The Lee also creates a blue color cast that I only partly correct, as I find a neutral color balance with a long exposure looks less natural. A shorter exposure time of 1/6s (Hi Tech 4 f-stop ND) creates a dynamic image more faithful to the awesome power of the ocean on that morning, with enough blurring to convey a sense of motion. The composition concentrates more on elements, the open ocean, rocks and pattern of receding water chosen for their symmetry.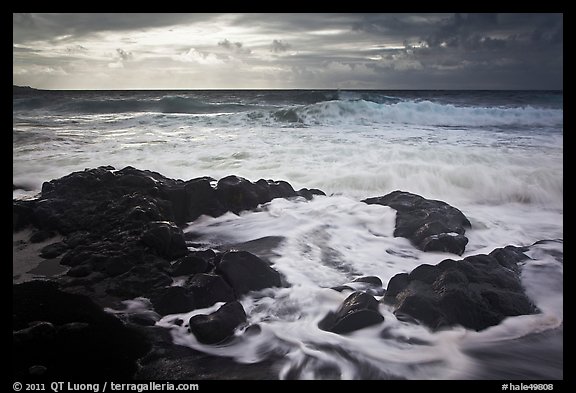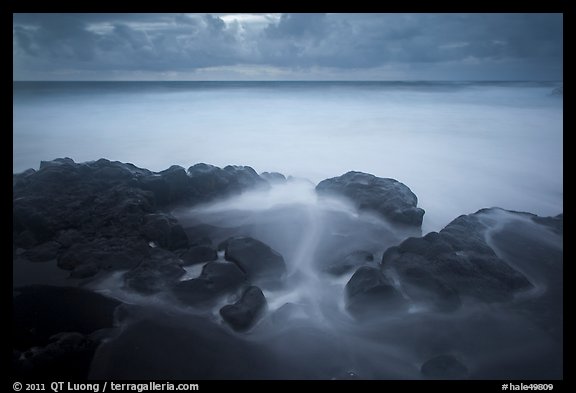 That's a lot of variation in character with just a few changes. Which of the two compositions do you prefer and why ? Which variations within each compositions ?
A side note of warning so that you won't make the same costly mistake that I did. Sleepy from the early rising, I had forgotten to take plastic bags to shield the Canon 5D mark2 from the constant spray of the waves, but assumed it would be OK. Subsequently, I noticed the autofocus loosing its reliability, and some controls getting a bit sticky, although the camera appeared to be working fine. After returning home, and sending the camera and lens (24-105) to CPS, I was shocked to receive a repair bill of $800 (after 30% discount). The 5D is definitively no 1D series when it comes to sealing.
More images of Haleakala National Park