Hiking in South Korea
No Comments
When I strolled the streets of
Daegu
(fourth largest city in South Korea), I saw a pedestrian street lined up with retail stores for many outdoor gear brands, including Millet and Lafuma, two French brands that I've hardly seen anywhere in the US.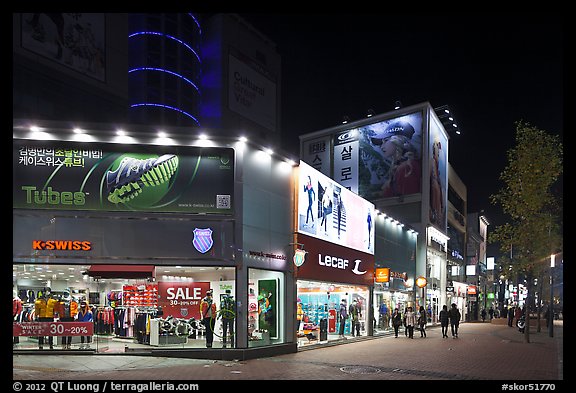 On the Namsam Mountain, near Gyeongju, there were as many hikers as on the Mist Trail – Yosemite's most popular – on a summer day. But it was a rainy mid-November week-end, and the shortest trail there required 3 hours of walking, more than the Mist Trail.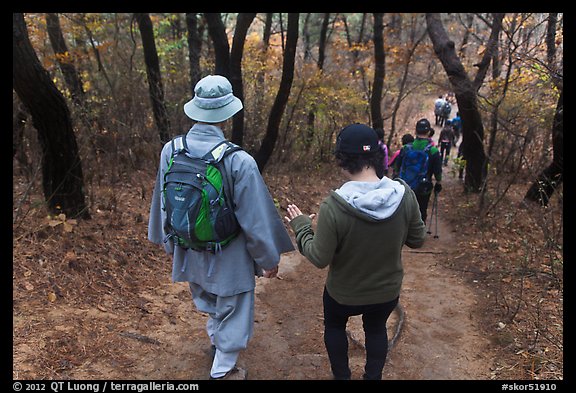 It was an interesting mix of hiking and pilgrimage. Namsam Mountain is dotted with shrines and other religious sites at which hikers stopped to make offerings and prayers. Above the Sangseonam hermitage, a woman offered some kind of sacred bread to every passing person.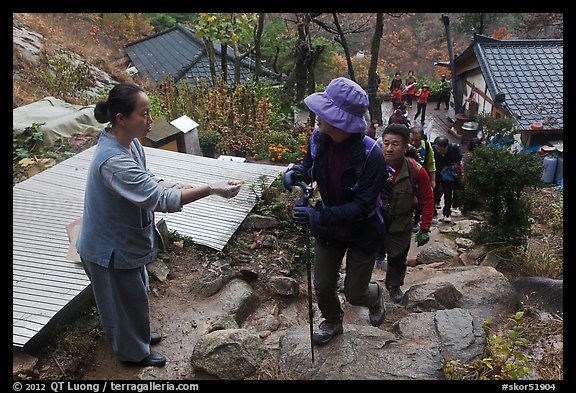 Since that was Asia, for most this was a social event rather than an individual pursuit. At the summit, groups proceeded to eat a picnic lunch, which didn't consist of granola bars !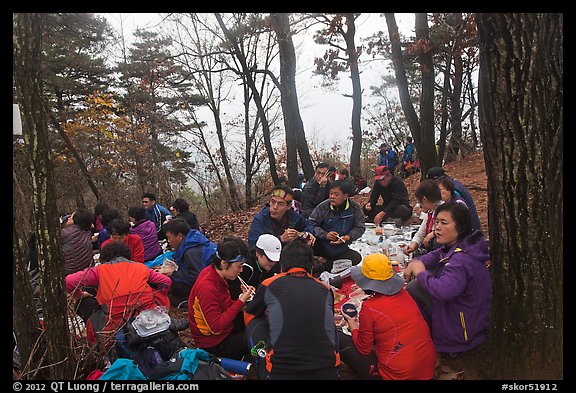 The next morning, I got up early to catch the first flight from Busan (second largest city in South Korea) to Jeju Island.
My goal for that day was to hike to the summit of Mt Hallasan, the highest mountain in South Korea at 1,950 metres (6,400 ft) high. The guidebook cautioned that one would need to start early. When I inquired at Jeju-si airport about public transportation to the trail head, I was told it was already too late for the day. To save time, rather than taking two buses, I hired a taxi.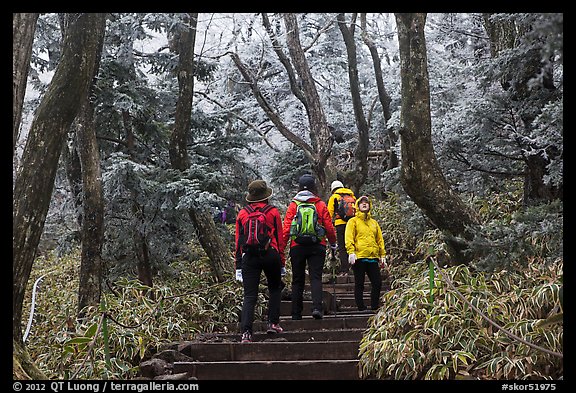 Although Jeju Island has been called Asia's Hawaii, it was already cold at sea level. When I got out of the taxi, I had to wear everything I had. I started on the Yeongsil trail, the first part of which consisted of a wooden staircase. After a steep climb, in a moment of great beauty, the forest above began to be turn to a rime ice-covered wonderland.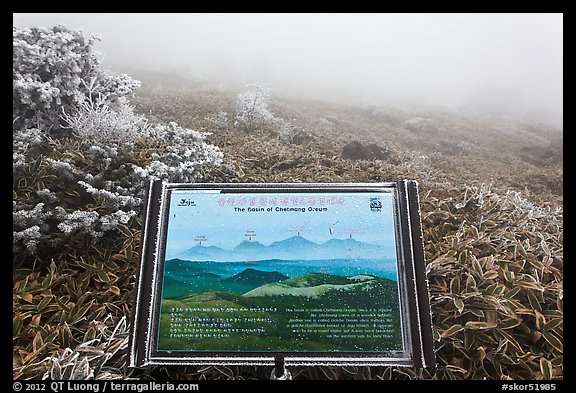 I stepped on a plateau with meadows which must have offered great views, except that everything was enshrouded in a white-out.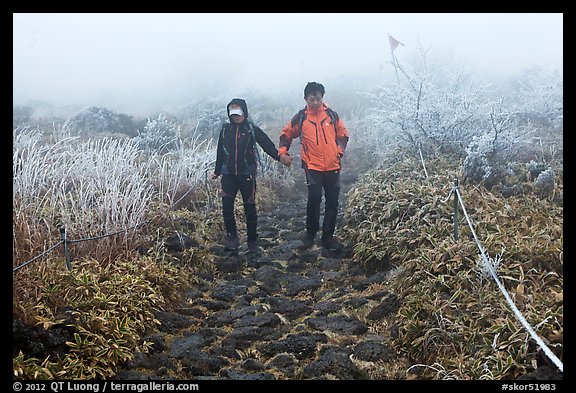 Such was the cold that I had to keep moving to stay warm. I couldn't stop for more than five minutes. Yet, I crossed plenty of other hikers of all ages.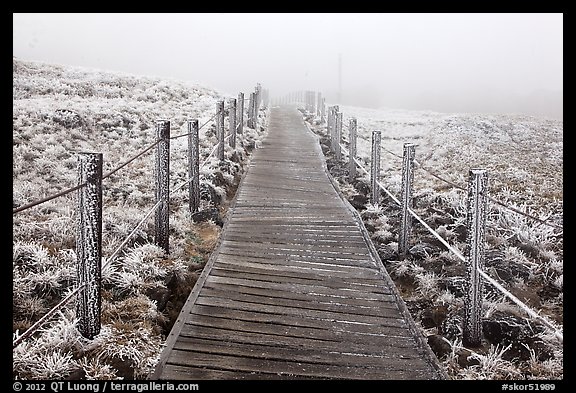 Boardwalks are supposed to make walking easier, but they turned out to be the most treacherous parts of the trail: once frozen, they were as slippery as an ice rink. In order to avoid tumbling like many others did in front of my eyes, I held onto the fence rails – which were frozen too.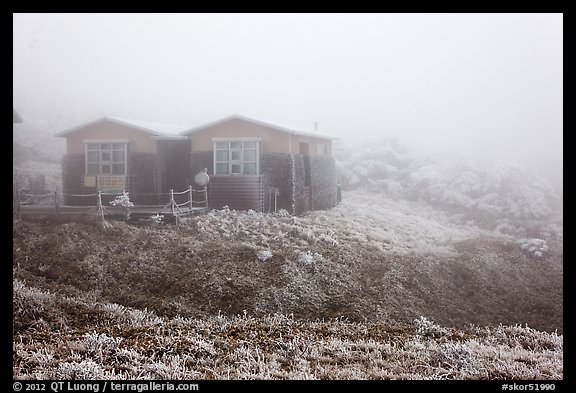 Because of the conditions, it was pointless to continue further, so I warmed up at the Witseoreum shelter (where they sell spicy noodles) before going down through the less popular Eorimok Trail.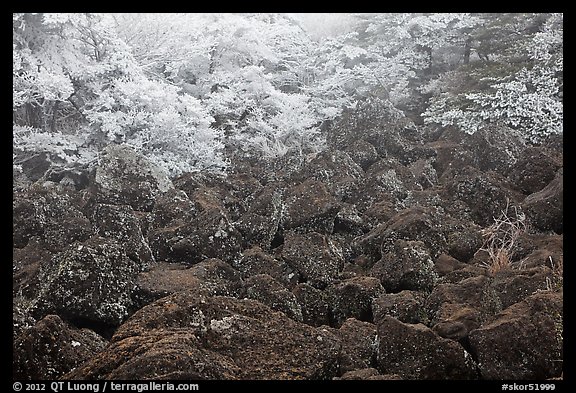 Fortunately the trail turned to lava rock, which because of its texture, was not slippery. It was curious to see the trees coated in ice and the ground dry. In the US West, during the winter bare trees stand above snow-covered ground.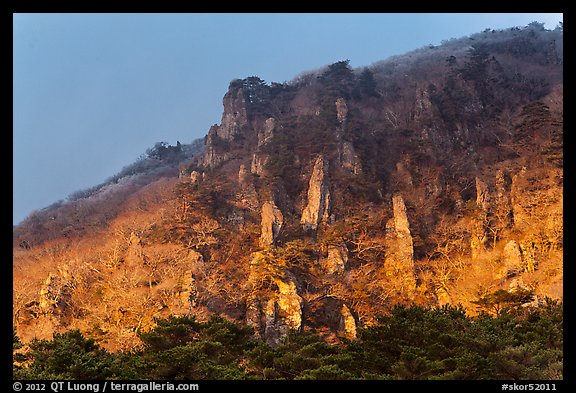 I exited the summit cloud-cap just in time to observe the last light of the day on volcanic pinnacles. At the smaller trailhead, the last bus had left long ago. Thankfully, a kind restaurant owner who was about to close shop called a taxi for me. In the while I'd have to wait – since the taxi had to come from the airport – he offered me tea. Using my guidebook, I tried to figure out how to use public transportation to go to Seongsang Ilchulbong, at the other end of the island, to try and catch a sunrise above the famed crater.