National Parks Week and publications
No Comments
While Earth Day has been internationally celebrated for more than forty years, National Parks Week is a relatively recent initiative from the US National Park Service.
It has been argued that the National Parks are "America's best idea" – recently in the Ken Burns film with that title. That idea first came to fruition with the creation of Yellowstone National Park (1872). Because at that time there was no state that could take care of such a vast land, Yellowstone National Park was placed in the custody of the U.S. Department of the Interior, which have continued to run the National Parks since, creating the National Park Service to that effect.
National Park Week (April 21-29) is a good time to visit, since the National Park Service is waiving all entrance fees. Personally, I always renew my annual National Parks and Federal Recreational Lands pass. Given the number of National Parks visit I do each year, it is a bargain at $80, but even if I did only a few annual visits, I'd still get it to support the system. Besides free entrance, this is a perfect time to consider how fortunate we are for the Park Service and for the nearly 400 lands and monuments that have been added since to the system.
This year, my images are associated with two products whose release coincides with National Park Week.
Fotopedia has just launched bersion 2.0 of Fotopedia National Parks app for iPad and iPhone with 3000+ of my images of the National Parks. Compared with version 1 (description here), there are notable improvements:
several hundred new images
high resolution images sized for the new iPad Retina display
thematic stories updated every day in magazine-like format
To celebrate National Park week, the App is free. Download it on
iTunes
. Here are a few mentions of the App in the press:
USA Today
,
LA Times
,
Forbes
.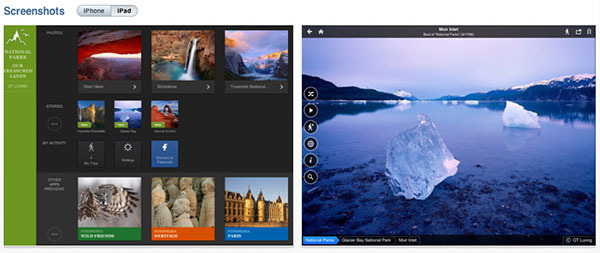 MapQuest has just launched MapQuest National Parks, a web-based guide with information on activities, wildlife and history, and some video commentary by park rangers. Each of the 58 entries opens with one of my panoramic images, and there is also an a series of posts featuring my comments on some favorite images. Here is a mention in Huffington Post.