Love at First Sight in Yosemite
3 Comments
After I finished school in France, I wanted to spend a couple years in the U.S. At that time,
I was an avid mountaineer and climber
. I didn't know much about the geography of the country, but one of the few places I kept hearing about from other climbers was Yosemite – because of its high cliffs. In January 1993, I took a visiting researcher job at the University of California, Berkeley, since of all the top U.S. research universities, it was the closest to Yosemite.
In February, one month after arriving in the U.S., I finally set foot in Yosemite, about 23 years to this day. At that time, I didn't own a car nor a California driver's license. So for the outing, I joined a group from a student club of UC Berkeley, the Cal Hiking And Outdoor Society (CHAOS). They had planned a backcountry ski trip with snow-camping at Dewey Point, on the south rim. I had absolutely no idea of the precise destination, nor of what was actually involved in the outing, but as long as it was Yosemite, I was game. Fortunately, I had packed in my luggage some of my mountaineering gear. My apartment was only a few blocks from REI, which I was told could rent me cross-country skis for the weekend.
We left after school on Friday evening, and arrived in the valley at night, staying at an almost empty Camp 4. On Saturday morning, I awoke to see the base of cliffs that looked impressive and mysterious because their tops were hidden by clouds, but the grey sky wasn't too inspiring. We spent no time in the Valley. Instead, we promptly drove to Badger Pass to start the trip in rather iffy weather. Because we were in the fog, the visibility was limited to a few hundred yards. We started skiing. I felt awkward because of my heavy backpack, loaded with camping gear – almost everybody stays in mountain huts in the Alps, but fortunately for me, the others were quite slow as well. Shortly before nightfall, the trip leader selected a seemingly arbitrary spot to pitch the tents in the deep snow. Since it was still lightly snowing, I was happy to cook dinner in the tent's vestibule and then crawl into my sleeping bag. The morning was cloudy, but after we had broken camp, the weather cleared just in time for our short jaunt to the valley rim. I exposed my first landscape photograph of Yosemite, made more precious by the quick return of bad weather.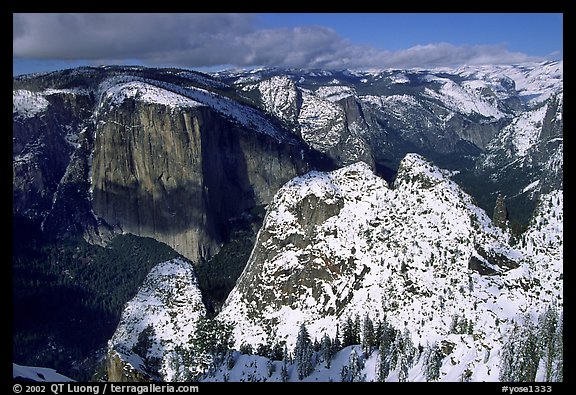 Upon returning to Badger Pass, we drove back to the Valley, passing again through the Wawona Tunnel. As we exited the tunnel, a faint rainbow appeared over the Valley. That rainbow caused my companions, who probably had been at that spot multiple times, to stop and take in the scenery at Tunnel View. Having seen the Valley from its floor, and then from the rim, I instantly understood that here was the view that epitomizes the essence of the park. I also realized that, due to flat light, the photograph I made there didn't visually capture the wonder of the location. I never published that image. However, no matter how well-trodden the location, this was the moment that made me feel in love with Yosemite, rather than the wild view from the snowy rim. I suppose I am lucky that I had no prior knowledge of Yosemite and of that particular location, allowing me to experience as a discovery. Memories of that moment would prompt me to return to this spot time and time again, until I photographed a decade later the one that did justice to this first impression.
One of the questions I am asked most frequently at my lectures and gallery openings is "What is your favorite National Park ?". Based on their merits alone, it would be difficult to say, because they are so different. However, for sentimental reasons, I reply "Yosemite" without hesitation. What makes it special to me is that it was the first National Park I had heard of and visited, and the time I have spent there on repeated visits. Before I went to the park specifically for photography, I had made dozens of trips there to try and scale the big walls that drew me to California in the first place.