Grinnell: Hiking to Glacier National Park's only accessible glacier
4 Comments
Glacier National Park, which celebrated its anniversary this week (established May 11, 1910) pays homage in its name to glaciation. However, although the work of past glaciers can be seen everywhere in a landscape that owes its shape to ice, its present glaciers are quite elusive. Follow me on the trail that is by far the best option to see one of them at a close distance.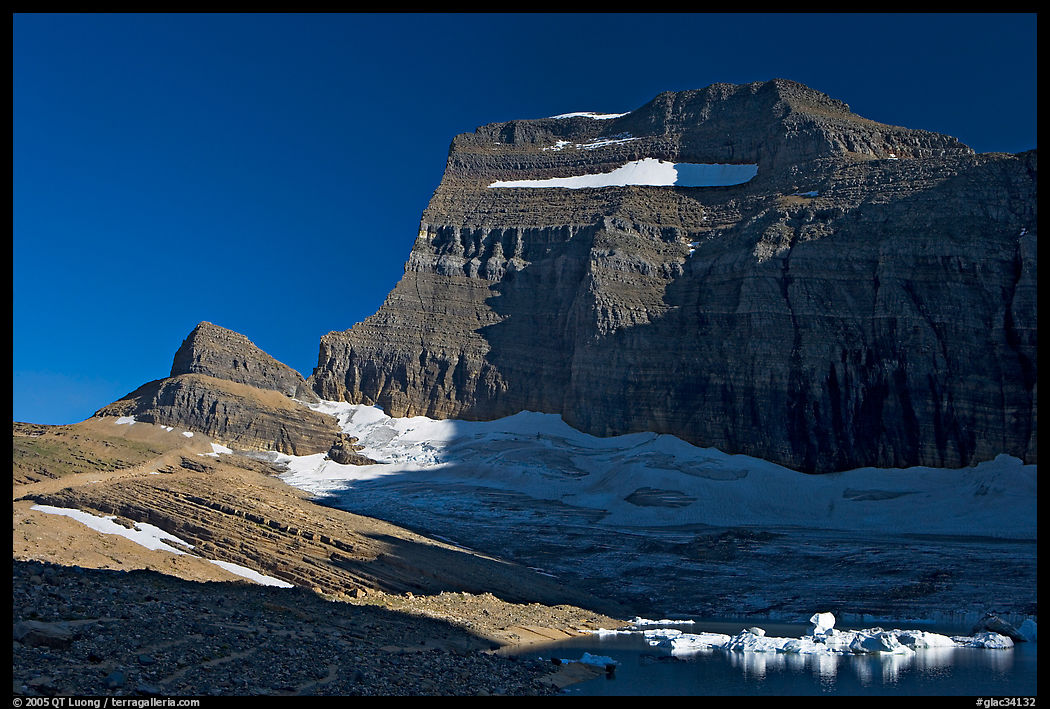 The park's glaciers are quickly vanishing due to climate change. In 1850, there were 150 glaciers; today, there are 25. Glaciologists have predicted that if current climate trends continue, all the glaciers in the park may disappear by the year 2030, so you may want to see them while you can!
Ironically for a park named that way, Glacier National Park isn't the easiest place to see a glacier. Places further north such as Alaska and the Canadian Rockies, especially the Columbia Ice Fields in Banff/Jasper not that far away, offer massive glaciers at low elevations. In the continental United States, Mount Rainier National Park, Olympic National Park, and North Cascades National Park have more prominent glaciers. In Glacier National Park, if you know what to look for, you can view a few glaciers from the road with binoculars, the easiest to spot being Jackson Glacier from Jackson Glacier Overlook on the east side of Going-to-the-Sun Road, 5 miles east of Logan Pass.
Looking for a closer view? Over a century ago, when the park was first established, glaciers were much more accessible. They have since retreated dramatically, and only three in the park remain readily accessible to the day hiker: Grinnell Glacier, Jackson Glacier, and Sperry Glacier. The latter two are tough hikes (16 miles and 20 miles round-trip respectively). To get as close to the glaciers as possible, Grinnell Glacier is by far your best bet. Relatively strenuous, but still accessible to many, it is my favorite trail in the park, offering much more than the glacier: lakes, waterfalls, wildlife.
The trail gains 1,600 feet over 11.6 miles round-trip, but during the months of July and August, you can cross Swiftcurrent Lake via shuttle boat, walk a short, paved path to Lake Josephine and board another boat to its western end, saving you 4 miles round-trip. The higher portions of the trail remain snow-covered until the end of June and usually are clear of snow in mid-July. However, on years of high snowpack, the trail may not be entirely clear of snow until the end of July.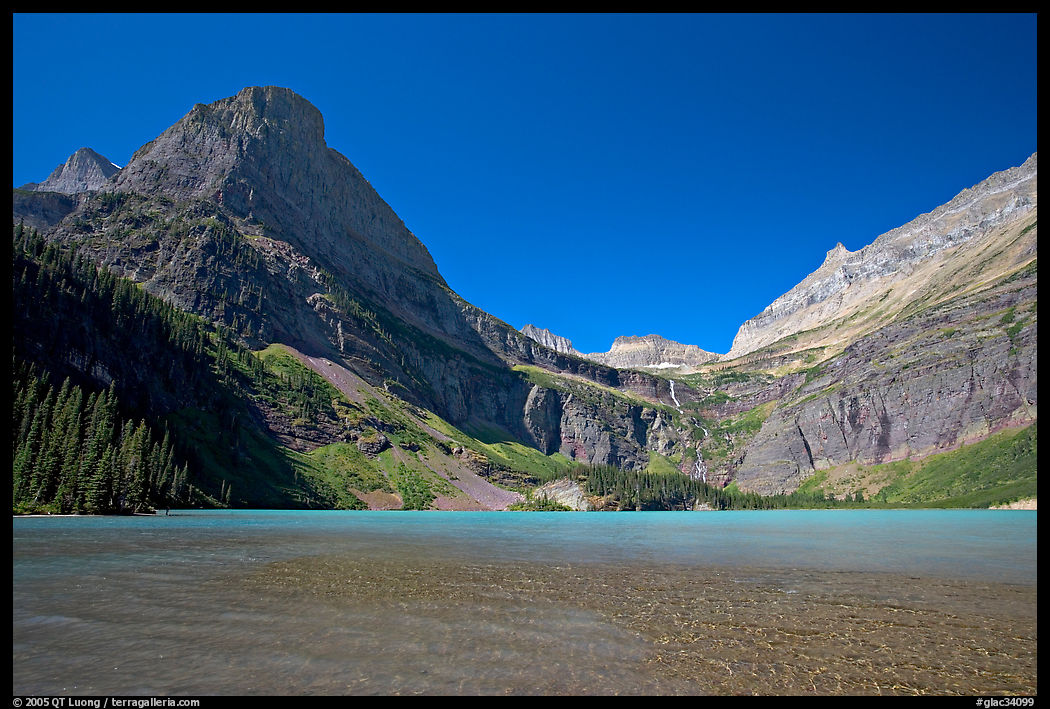 From Lake Josephine, I made a 2.6-mile round-trip detour on a flat trail to check out Grinnell Lake. I thought the view I would get later from above would be more special if I had dipped my toes in the lake. From its shore, its turquoise hue is visible in the distance, whereas in the clear water the color of the pebbles typical of the park's lakes dominate. After making wide-angle photographs, I looked at details.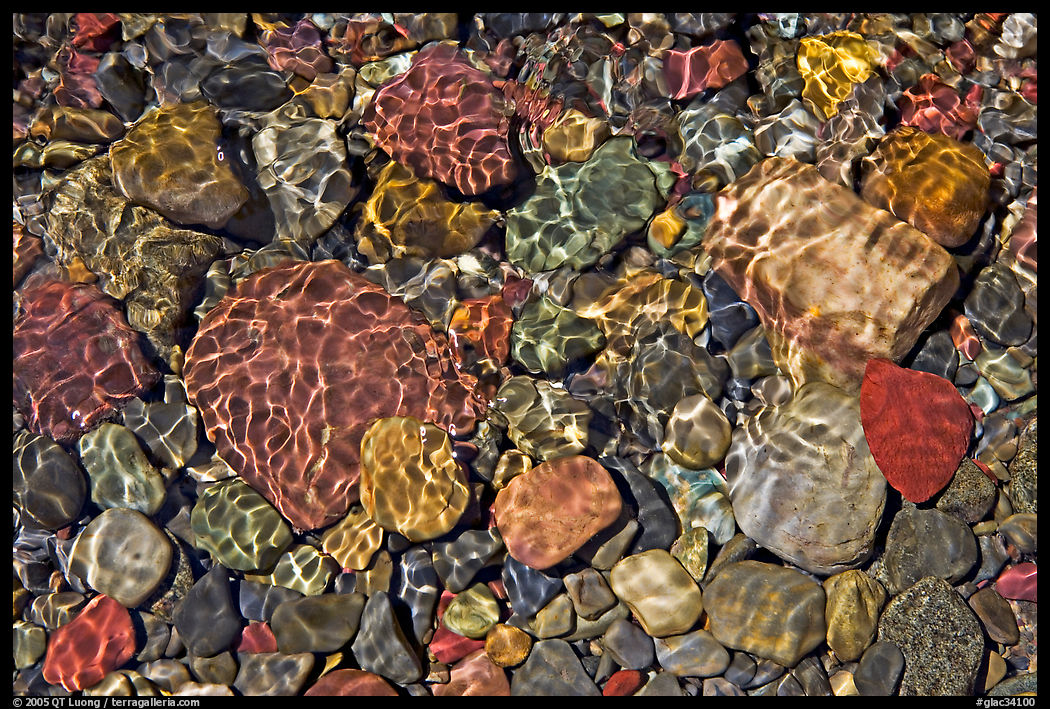 Along the trail, there are great views from above of Grinnell Lake, and the higher perspective and distance reveals the turquoise jewel that it is. For that, direct sunlight has to reach the water's surface. I was glad that knowing that the hours close to midday can work better for some subjects, I did not wait until later. On my way back, during the supposed "golden hour", the water lacked that striking color. If you pass something that you think you might want to photograph and say to yourself "I'll do it later", stop now and photograph it because when you get back, it won't be the same.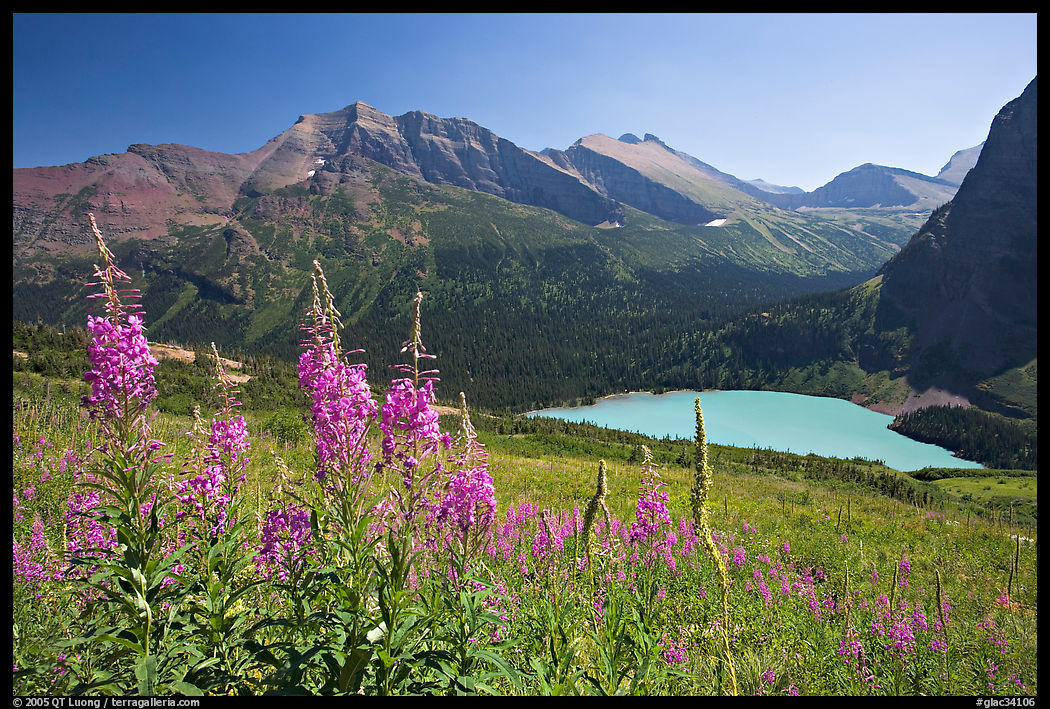 Grinnell Glacier used to cover the point where the trail ends, but as I stood at the trail's end, the glacier, which was quite a distance away, appeared tiny, and a new lake, Upper Grinnell Lake, was taking its place. It was as if the glacier was melting before my eyes. Since 1966, it lost almost half of its surface area.
Walking unroped on a snow-covered glacier is dangerous because a snow bridge may collapse, leading to a deadly fall into a crevasse beneath. I didn't attempt to go further, not that reaching the glacier appeared straighforward. Up until half a decade prior to my hike, in the early 2000s, park rangers led hikes onto the glacier, but one year, a person hiking independently died from a fall into a crevasse. Since then, no guided hikes have taken place.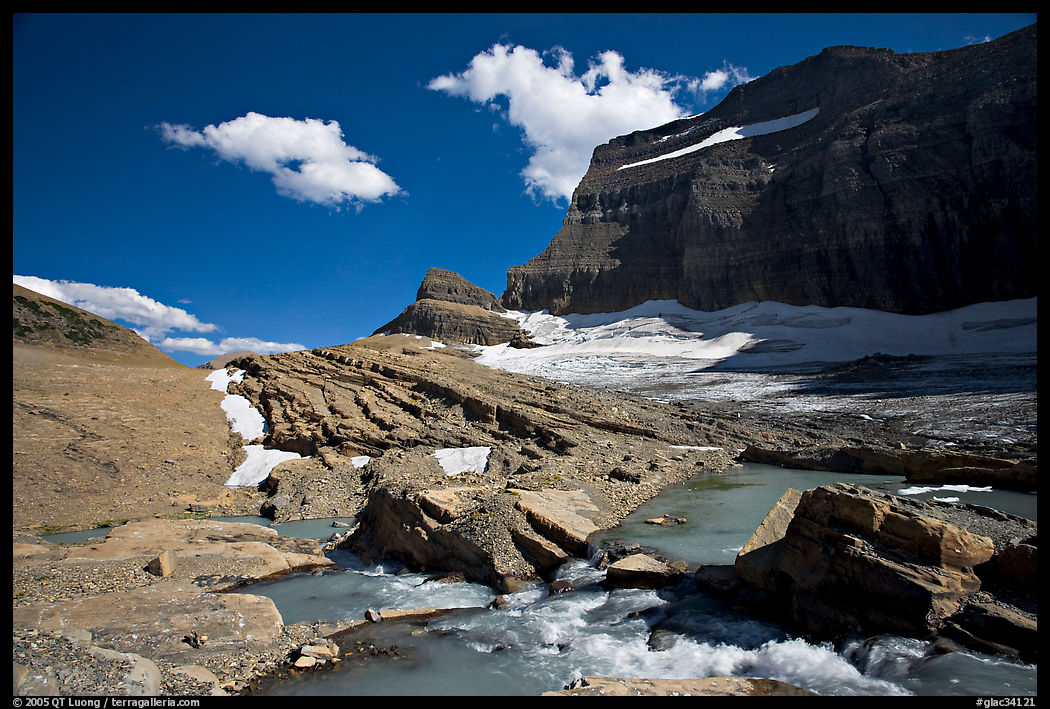 Resting on a northeast face, the light on the glacier and mountain face is tricky most of the day for a photograph of the whole scene. They are well lit only from sunrise to early morning, but you'd have to start hiking very early (well before the 8:30 AM first boat departure) to be there in time. After that time, the mountain face is partly lit, and the shadows break the shape. I framed a wide view in a way that minimized the shaded area, then for a stark play of light and shadow, timed a moment when icebergs stood out against the shadow (opening photograph). But for much of my time, I concentrated on smaller scenes where it is always easier to find favorable light. Framing the icebergs released by the glacier into the lake, I used the contrast of the partly sunlit walls and lake in the shade to my advantage, as sunlit water would not have given rise to those reflections.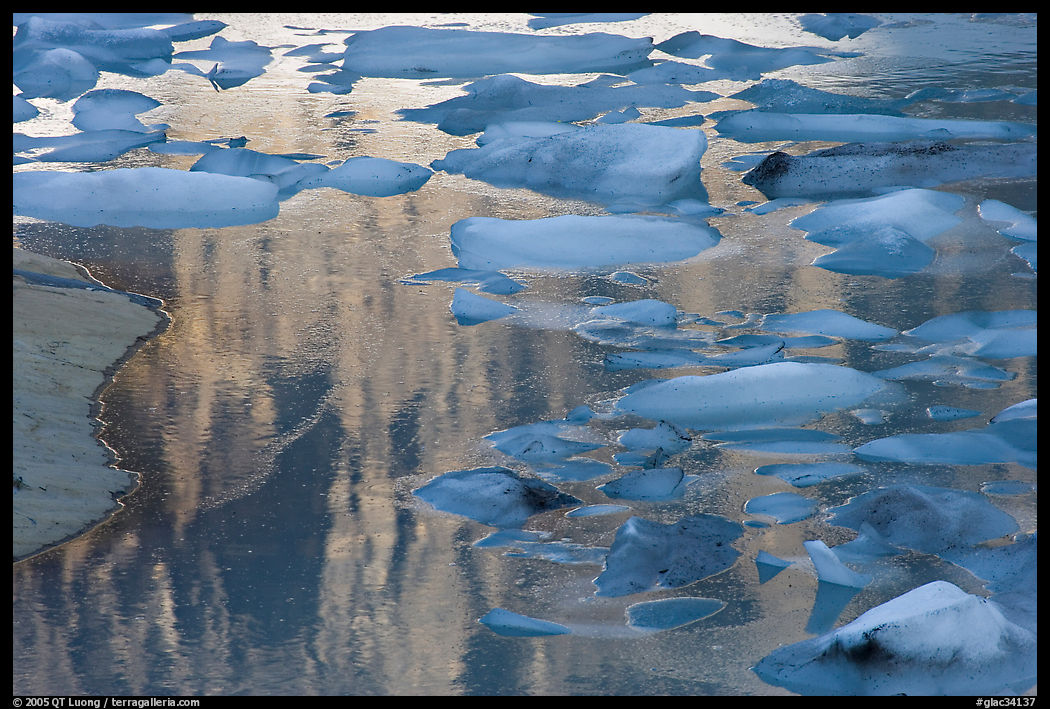 In the afternoon, the best bet for a wide view would be a moment when clouds would reduce the contrast, but the day was mostly clear. I still wanted to create a more complex picture including all the components of the scene: the glacier, waterfall, lake, icebergs, and wildflowers. I waited for the sunlight to disappear from a larger portion of the scene, large enough to include all those elements in the unified light of open shade.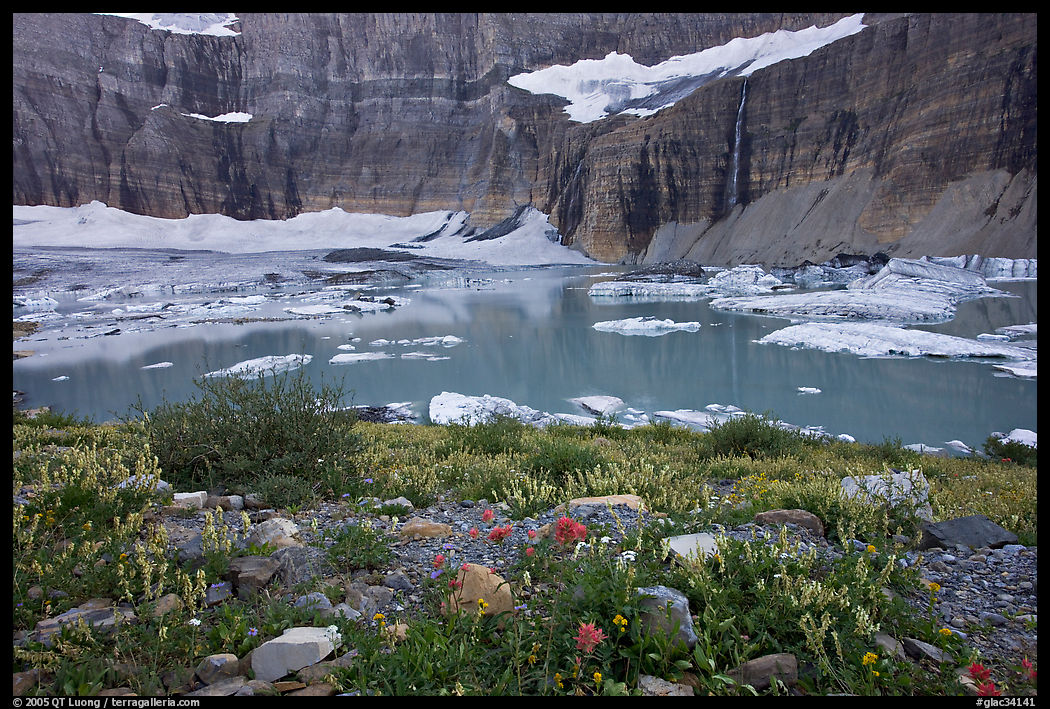 Although the light might have improved further by sunset with lower contrast, enabling me to photograph an even larger scene, I did not feel like waiting because I had read that many grizzly bears frequent the area, and I was hiking alone. I was worried about surprising one at each bend in the trail, but instead, I saw several bighorn sheep.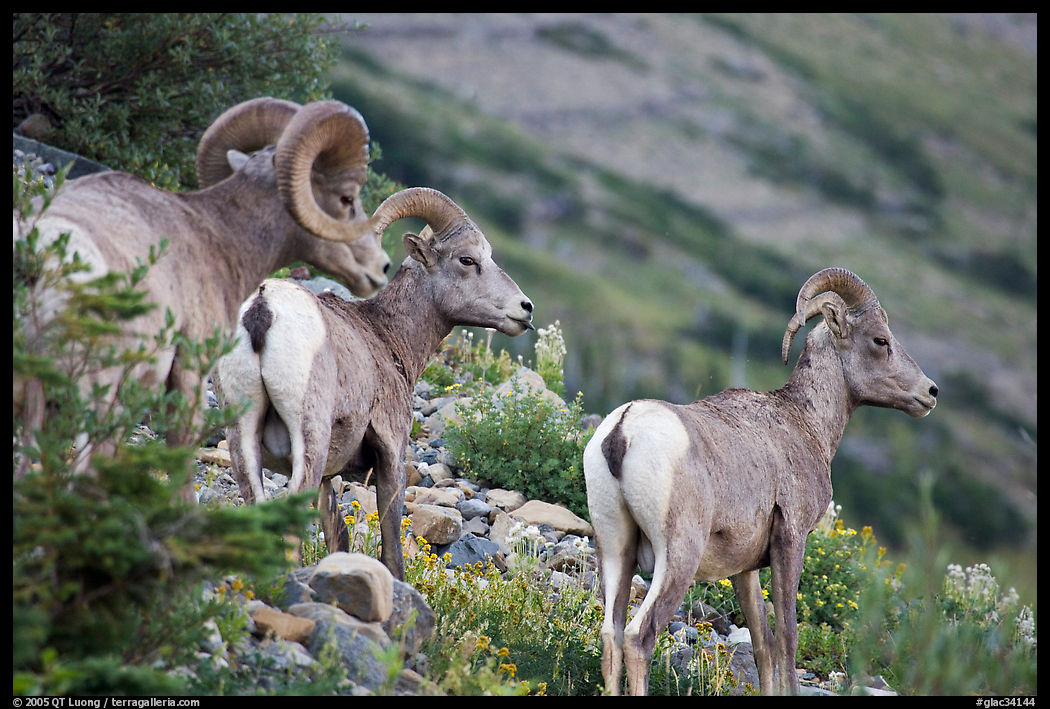 As much as I would have loved to spend more time with the sheep, I needed to minimize my time hiking in the dark. Still, I could not avoid hiking in the thick forest around Josephine and Grinnell Lakes in pitch-black darkness. I talked loudly to myself so that any bears would hear and avoid me. I had rarely felt as much relief when I reached the trailhead parking!