Canon Wide Angle Zooms comparison/review: 16-35/f2.8 L II v. 17-40/f4 L
14 Comments
Canon makes two wide-angle zooms for full-frame cameras. Both are L-lenses, reasonably well-built, with fast USM autofocusing, a non-rotating front element, and an environmental rubber seal. The 17-40/f4L was introduced in 2003. The 16-35/f2.8 L II, released in 2007, replaced the 16-35/f2.8L of 2001, which itself replaced the 17-35/f2.8L of 1996. I have not used the 2001 lens, but I can say that both current lenses are a significant improvement over the 1996 lens.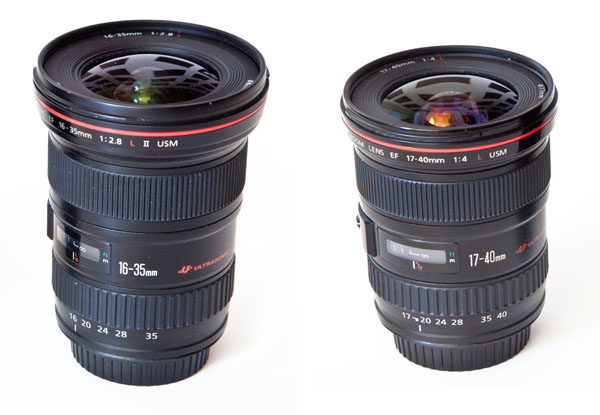 The 16-35/f2.8 is twice the price as the 17-40/f4, and the weight difference, although small, is noticeable on a body such as the Canon 5D. The 16-25/f2.8 also requires uncommon 82mm filters, while the 77mm filters for the 17-40/f4 can be shared with the 24-105, 24-70, 100-400, 70-200/f2.8, amongst others. Is there any benefit, besides the faster maximum aperture, and what is it useful for ?
Based on Imatest testing on a full-frame 5D mk2 (one of the most reliable methods to measure lens performance, see this post for details) both lenses yield comparable image quality, with no lens besting the other consistently across the focal range. Contrarily to what has been reported by others (whom I suspect got sub-par copies of the 17-40) I did not find any definitive advantage for the 16-35. Please note that I have tested 3 different samples of the 16-35, finding the sample-to-sample variation to be, for once, quite small. Full results for focals 17mm, 20mm, 24mm, 28mm, and 35mm are below. Click on any graph to enlarge.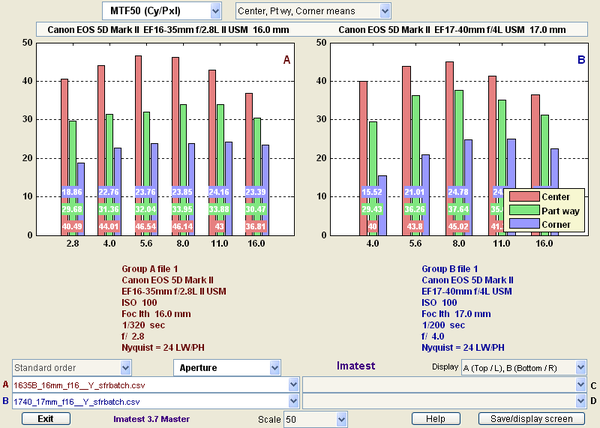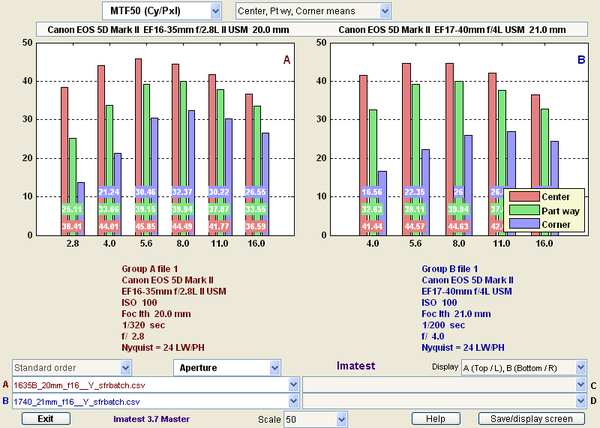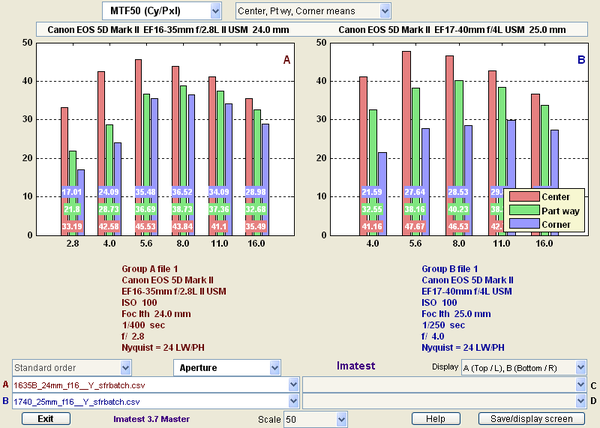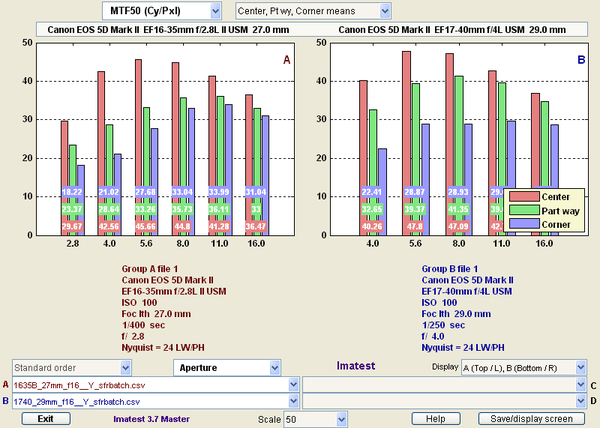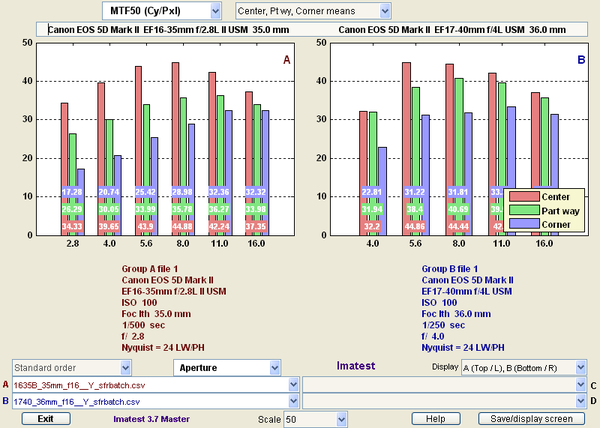 The 16-35 has a slight advantage at short focal lengths, mostly in terms of edge sharpness, while at the longer focal lengths, the 17-40 has a slight advantage. I do not consider those differences to be that significant. Both those lenses yield good center sharpness, but are not so good near the edges, in particular when used at f2.8-f4.
Because in the past I have almost always used the lens stopped down to at least f8 for depth of field and better sharpness, the f2.8 aperture wasn't that useful for me. Even if what you are after is out-of-focus blur, not much is generated by the additional f-stop, since the focals are so wide. Therefore, I think that for the majority of photographers and situations, the 17-40/f4 will do just as fine.
One specialized situation has came up recently, as I got more interested in night photography with star fields. In photographing stars, one is almost always using the highest acceptable ISO, as stars are faint light sources. Shutter speeds are limited by the movement of the earth. A shutter speed longer than 30s will cause stars to be renders as streaks rather than points. This leaves no choice but using the widest aperture available, and one f-stops makes a big difference here. If point stars are not involved, the 17-40/f4 might otherwise be the better choice for night photography, because its simpler construction make it more resistant to flare.
The results at f2.8 are sufficiently poor to warrant using a fixed focal length instead. I have tested, amongst others, the Canon 24/f1.4 II and the famed Zeiss Distagon 21/f2.8, which are both better at wide apertures, but this will be the subject for a different post. If one is carrying such a lens, the f2.8 aperture of the zoom becomes kind of useless, and therefore the 17-40/f4 would be a better choice.
There are situations (such as backpacking or light travel), where one would not wish to carry a separate lens just for a few night shots. Some photographers also do not want to own several wide-angle lenses. In my opinion, the 16-35/f2.8 is mostly useful for those situations when a single fast and versatile lens is required. In other words, get the 16-35/f2.8 if you plan to shoot wide-open, and it will be your only wide-angle lens, otherwise get the 17-40/f4.
Summary:
16-35mm f/2.8 II
17-40mm f4
Maximum aperture
f2.8 extra stop mostly useful for night astro photography, brighter view, easier to focus in live view, faster AF
f4.0 adequate for most applications, since lens is likely to be used stopped down for DOF and optical performance
Focal range
16mm slightly, but noticeably shorter than 17mm
35mm-40mm likely covered by other lenses
Close Focus
0.9 ft./0.28m, 0.22x magnification
0.9 ft./0.28m, 0.24x magnification
Sharpness
Slight edge < 24mm, see graphs
Slight edge > 28mm , see graphs
Distortion
16mm: 3% (barrel)
20mm: 0.5% (barrel)
24mm: 0.6% (pincushion)
28mm: 1.2% (pincushion)
35mm: 1.4% (pincushion)

16mm: 2.8% (barrel)
20mm: 1.5% (barrel)
24mm: 0.3% (pincushion)
28mm: 0.5% (pincushion)
35mm: 1.1% (pincushion)

Chromatic Aberation
comparable (0.06/0.05/0.06/0.04/0.02)
comparable (0.06/0.05/0.04/0.03/0.02)
Other
More resistant to flare
Lens construction
16 elements, 12 groups
12 elements, 9 groups
Filter size
82mm
77mm
Size DxL
3.5 x 4.4 in/88 x 111mm
3.3 x 3.8 in/83 x 96mm
Weight
1.4 lb / 635g
1 lb / 475g
Price (08/2010)
$1520 @ BH
$1518 @ amazon
$750 @ BH
$730 @ amazon