Best ISO for low noise on Canon 5D mk2
14 Comments
What ISO should you use for lowest noise ? Everybody knows that low ISO will result in lower noise and high ISO will result in higher noise.
But is it a continuum, as one would intuitively think, or are some ISOs better than others ? In the past, I had seen advise to use only whole f-stop ISOs (100,200,400,800,1600,…) because intermediate ISOs were presumably "interpolated" and therefore worse.
I recently watched part of a DSLR Video online class given by Vincent Laforet for creativeLIVE. There was plenty to learn on the video side. As a still photographer what surprised me the most was his statement that with Canon cameras (his experience was with 1D4, 5Dmk2, and 7D), one should shoot at multiples of ISO 160 for lowest noise. For example he mentioned that there was less noise at ISO 1600 than at ISO 1250.
This piqued my interest enough that I decided to conduct a "scientific" test myself. Instead of just relying on visual estimation, I would make actual measurements using Imatest software. As readers of this blog know, in the past, I had extensively used Imatest to assess lens quality, but the software has many modules that can assess any aspect of image quality.
I photographed a Kodak Q13 greyscale with a Canon 5Dmk2, using ISO values from 50 to 6400. The images were shot in RAW, and then converted to JPG with all settings zeroed, and resized down to 2600 pixels wide. Since noise is problematic only in the shadow areas, I restricted the analysis to the 10 darkest patches of the chart, using the Imatest Stepchart module.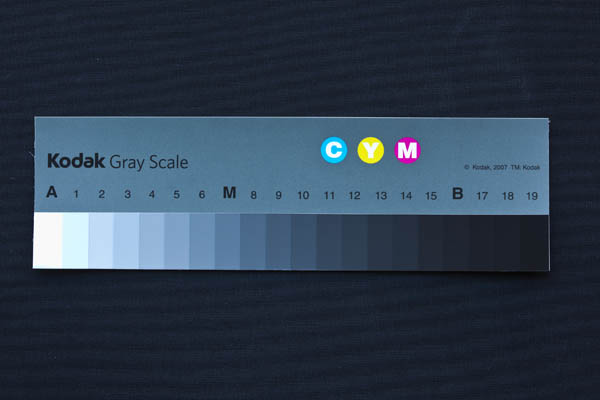 The following graph attempts to summarize the results with a single number, the luminance (Y) noise in pixels. For an explanation of this measurement and how it is computed, please refer to the Stepchart manual page.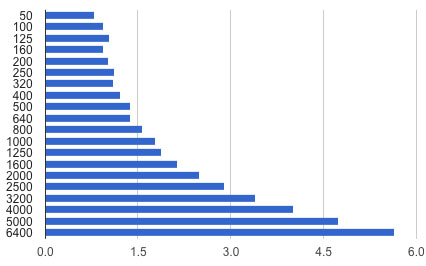 Here are what we can read from the graph:
Lowest noise is at ISO 50, then ISO 100
ISO 160 is better than ISO 125, and the same (*) as ISO 100
ISO 320 is better than ISO 250
ISO 640 is the same (*) as ISO 500
Above ISO 640, noise increases as ISO increases
(*) a difference of 0.01% is not significant.
Conclusion: While at high ISOs (above 640) noise behaves as expected, at lower ISOs 160 multiples do provide the best results. More precisely, compared with the 1/3 lower ISO value, 160 multiples provide less noise and 1/3 higher speed. 160 may even be a better choice than 100, since it provides 2/3 higher speed and essentially the same noise. The exception is the special ISO setting of 50, which provides the less noise of all, but at the expense of less dynamic range.
What do you think ? Consistent with your observations ? (Scroll down past graphs to see comments)

---
For reference, I am providing below the numeral values, and then complete output of the calculations. Again please refer to the
Stepchart manual page
for explanations.

ISO  Noise
50   0.80
100  0.94
125  1.04
160  0.95
200  1.03
250  1.13
320  1.11
400  1.22
500  1.38
640  1.39
800  1.57
1000 1.78
1250 1.89
1600 2.14
2000 2.50
2500 2.91
3200 3.41
4000 4.02
5000 4.75
6400 5.65