Photo spot 54: Lake Clark National Park – Turquoise Lake
Lake Clark National Park, situated on the Alaska Peninsula, does not include the superlatives of the other Alaskan parks such as highest or northernmost mountains, largest icefield or glaciers. Instead, the park preserves a supremely varied wilderness where all the geographical features of Alaska can be found in a relatively small area.
Maybe because the lack of famous features, Lake Clark National Park is one of the three least visited National Parks, with less than 6,000 visits in the year 2008. The other factor contributing to this low visitation is certainly the lack of road access, which makes travel relatively expensive, since one needs to fly with small planes. But isn't it the case of most of Alaska ? As we will see soon, accessing a place that at first seems so remote and un-travelled is not that expensive nor difficult.
For my trip there, I was accompanied by my fiancee and her sister. While both of them are experienced backpackers, they had not traveled in demanding wilderness conditions before. I thought that Lake Clark National Park would provide us with an easy adventure – for an Alaskan park. This series may sometimes give the impression that many of the most interesting places are accessible only to experienced outdoorpersons. In fact, while I go the extra mile to capture a photograph (for instance climbing a mountain), places that provide a relatively similar experience (the foot of the mountain) can often be reached with only a moderate amount of skill and effort.
For our first spot in the park, I had chosen the head of Lake Turquoise, based largely on the inclusion of a photograph of that lake in the "National Geographic guide to the National Parks". I'd like to think that my own photographs would similarly inspire others to explore. Speaking with the Park service rangers, as well as the air taxi, confirmed that the area provided pleasant hiking. We would be able to explore two alpine valleys as day hikes, and then traverse to Twin Lakes on the high tundra, which is open and free of the dreaded tussocks found in wet areas. Arriving in June, we would enjoy the best stretch of weather on the Alaska Peninsula, as well 20 hours of sunlight. The alpine flowers on the tundra would be in bloom. The only problem would be that mosquitoes peak as the same time as wildflowers !
There are plenty of flights to Anchorage, as the northern location of the city has made it an international air hub. From there, the four of us boarded a commuter plane for a one-hour, regularly scheduled, flight to the small (pop 100) community of Port Alsworth, located inside the park. In 2001, the round trip cost was $300 per person with Lake Clark Air, which we found to be friendly and reliable. Upon arrival at Port Alsworth, we all piled up on the "airport shuttle", a ATV pulling a wooden trailer in which we sat, our backpacks providing the cushioning. This took us the short distance from the dirt airstrip to the shore of Lake Clark, where we loaded our backpacks onto a floatplane.
Backcountry air charters are expensive because to get you to your destination, and then pick you up days later, the pilot has to fly a total of four flight segments. Yet, the total price of chartering a plane for four people from Port Alworth to Turquoise Lake, and then from Twin Lakes back to Port Alworth, was less than $800. This meant that the cost of the trip from Anchorage was less than $500 per person – the same as a single night in some of the park lodges. When you get there, you don't spend any more money, since there are no facilities !
After a scenic flight, the plane dropped us at the head of Turquoise Lake. One by one, we stepped onto the plane floats, and jumped onto the beach. The pilot, wearing waders, helped us unload our backpacks on the shore, and then quickly took off. We were on our own, in a wild place, with no other party in sight for days, and this was less than two hours from Anchorage by small plane.
We moved away from the lake shore, settling for a grassy flat spot next to a clear stream where we pitched our tents. We had walked with our backpacks less than five minutes to our base camp location. And what a location it was, looking towards the lake colored turquoise by glacial silt, below the tall and jagged Telaquana Mountains. I could imagine that some people might enjoy not doing anything for a couple of days there. Our program for the next three days was to explore Telaquana valleys with light day packs and return to the camp every night. However, even the immediate vicinity of the camp presented a myriad of photographic possibilities.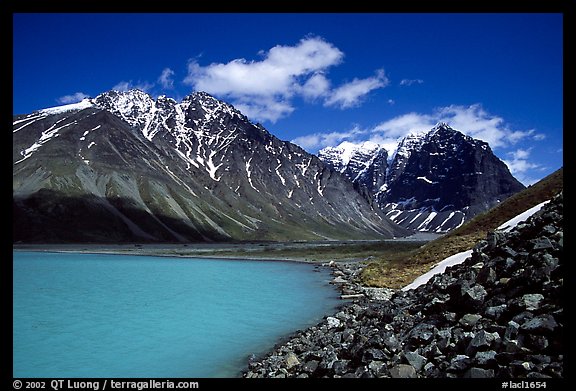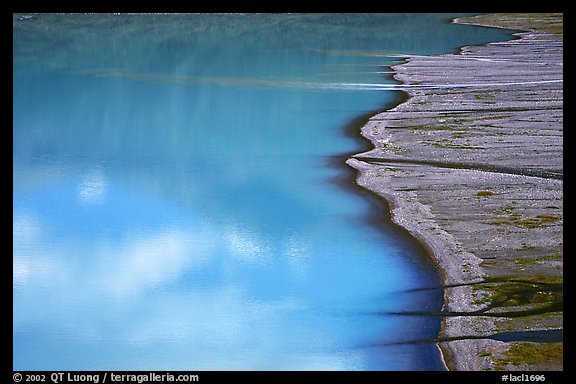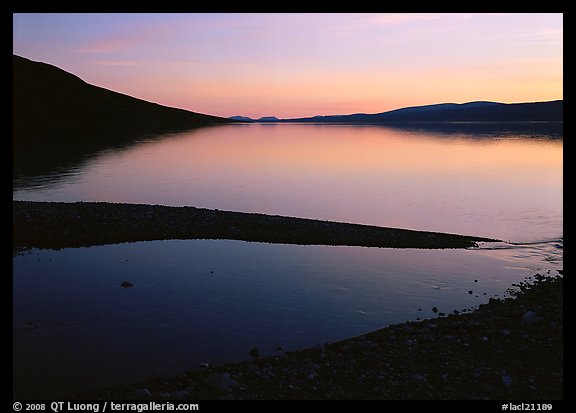 View more images of Lake Clark National Park
View more images of Turquoise Lake