Treasured Lands Book is Released
No Comments
Treasured Lands
was published on October 1st. I am grateful to all of you for making this release a success.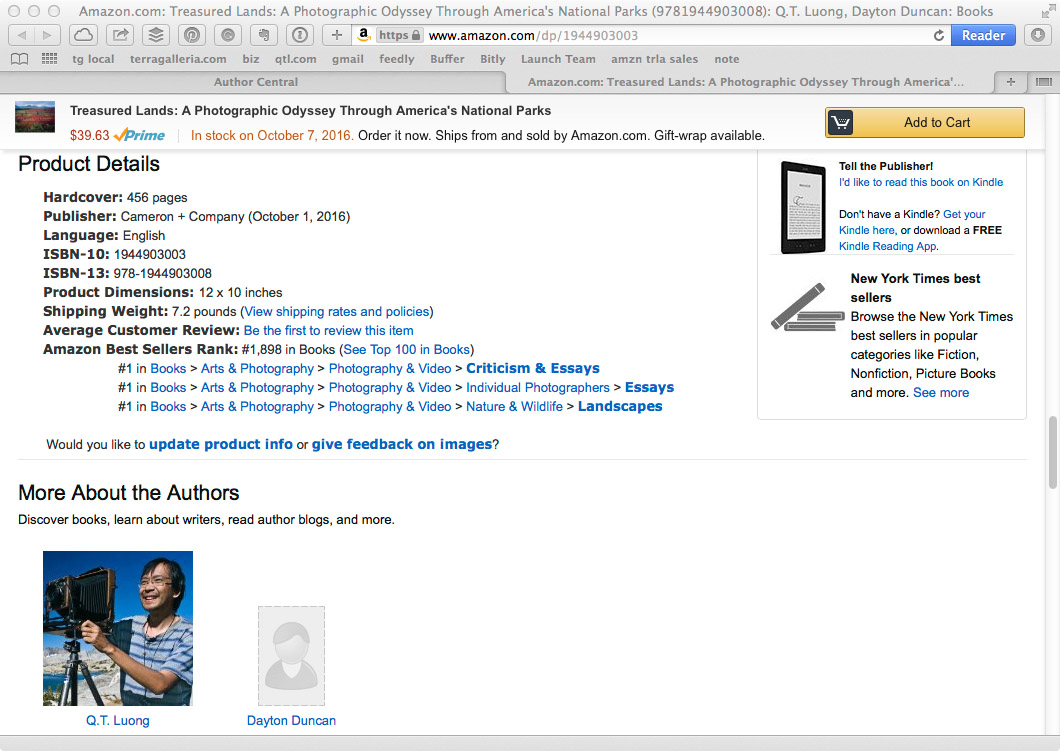 As can be seen above, on its release day, Treasured Lands broke into the top 2,000 best-selling books on Amazon, out of 8 million books. Not bad for a $65 book, a price that puts its out of most "books sold v. book price" charts. Treasured Lands was also the best-seller in all its categories. "Criticism and Essays" is irrelevant and has now been removed thanks to Amazon Author Central, which is a great service where authors can speak to a real person.
Combined with the pre-orders, the volume of orders caused Amazon to run of stock on the first day. They have since have been able to replenish it, but I do not expect them to be able to do so for long since the first printing is already sold out from the publisher. If you are looking for discounted copies, Barnes & Nobles and BAM! (links) appear to have the book in stock.
Because Treasured Lands was just published, editorial reviews are coming only from publishing industry publications so far. The most rewarding is from Independent Publisher: "This year a geyser of commemorative books has burst onto the market to coincide with the U.S. National Park Service's 100th anniversary, and this is the best of them all . . . If you're a fan of our National Parks and want the best book about them yet to be published, I recommend you beat a path to your bookstore and buy it."
I received my copies last week, at about the same as the customers who pre-ordered on Amazon, only more of them, and proceeded to sign them.
I was hoping to ship everything this week, unfortunately, I ran out of custom-sized bubble wrap so I was able to send out only about 100 books yesterday. Amazon shipping is hit-or-miss. Books are sometimes packaged correctly with air cushions, but sometimes they are just thrown in a box, which can cause damage. As a book collector myself, I prefer to be a bit more careful, especially for a 7+ lbs book! So the rest of the books will be sent out when I return from my trip to Las Vegas and Colorado Plateau National Parks. Sorry about that, and thank you for your patience!
That trip to Las Vegas is for the Vegas Valley Book Festival where I will speak on Oct 15th at 3PM, in conjunction with a display of Treasured Lands (the exhibit) at the Major's Gallery, Historic Fifth Street School, 401 S. Fourth St. from Oct 6 through Nov 22. This serves as the book launch event and is free to attend, so if you are in the area, I hope to see you!