An expedition on Mt McKinley, Alaska
Part 4: Towards the summit
Posted on the ranger tent, was the weather forecast we were all after (view it) : at least some stable weather.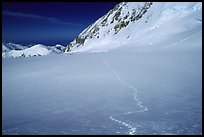 This time, I had to painfully break the trail, which was swept by the recent storm. It is hard work when you are by yourself. Note that as usual, the West Buttress route is quite crowed. Can you count the climbers ?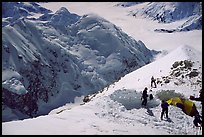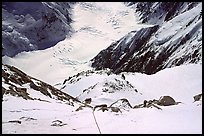 Being acclimatized thanks to my extended waiting at 14300ft, I skip the 16000 camp, which is occupied by a guided team comming from the bottom of the ridge. There were a couple of fixed ropes, but the one which is seen in the right picture is my own rope which I trail. On the right picture, you can see the extremely crevassed Northeast fork of the Kahilna Glacier.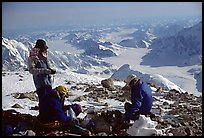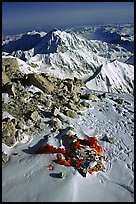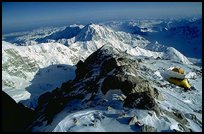 The Balcony camp really deserves its name. Panoramic view over 180 degrees. Note in the foreground of the second picture the remains of a tent which burned years ago from stove flare-up. Who said that the MSR was the way to go ?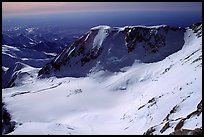 On this picture, the three tracks starting from the 14300 camp are very visible: to Windy Corner, the West Buttress, and the West Rib (although these were only my tracks). The 14300 camp would soon be in the shade.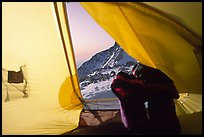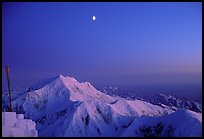 That day, I enjoyed the sun until after 11pm, and a most beautiful sunset on Mt Foraker.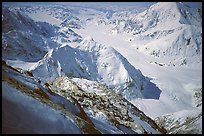 The next day, unlike the other party which is making a round-a-trip summit day and leave their tent, I pack everything, since I plan to traverse the mountain and go down by the West Buttress.


The West Rib has 45 degrees inclination, with some steeper mixed parts. This means that unlike the West Buttress, it is a somewhat technical route, where you have to do some sort of climbing, and be careful not to fall.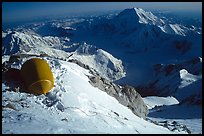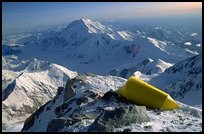 Being late on my schedule, due to the unexpected effect of altitude, I am lucky to find a ledge large enough for my Stephenson tent.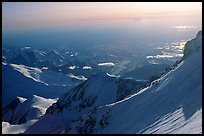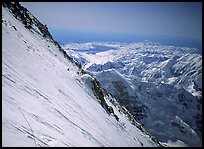 The next day, I would cross the gully and climb the ridge... from which you can see my last camp spot.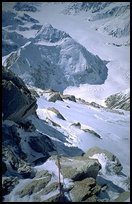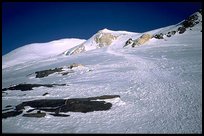 After the last technical steps, I got to the junction with the West Buttress route (see the numerous crampon marks) on the summit plateau, and can relax a bit.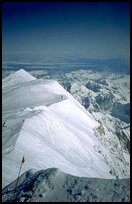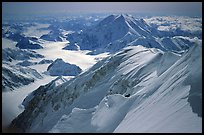 This is the summit ridge and a view from the top of North America (20320ft, 6200m). Now it is time to think about getting down...



All photos and text Copyright &copy QT Luong