An expedition on Mt McKinley, Alaska
Part 5: The descent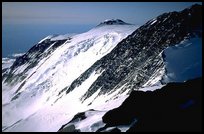 The North Summit was reached by the Sourdough at the turn of the century in a one-day push, an incredible feat. Unfortunately for them, i t is slightly lower than the true (South) Summit.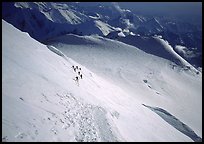 The treacherous Denali Pass, scene of numerous accidents. The descending traverse is somewhat delicate for tired climbers. Moreover some take only ski poles and therefore cannot self-arrest.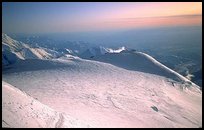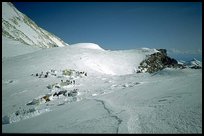 The camp 17000, the "last camp" on West Buttress, quite exposed to the winds.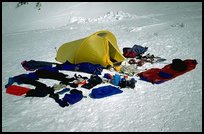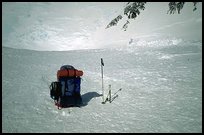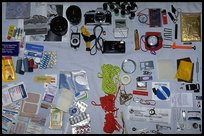 Time to repack my summit gear. Yes, it all goes into a Lowe Cerro Torre II ! The last picture (taken at home) shows my smaller stuff.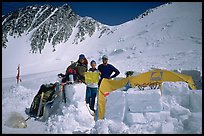 Joan Phelps, a blind woman from Anchorage summited a few hours after me, guided by her twin sons Marty and Mike. The most remarkable ascent of this year.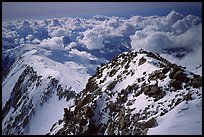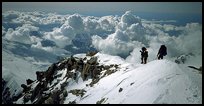 The West Buttress is easy but very airy. You cannot travel it if there are high winds. Climbers have been blown away there.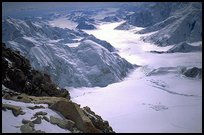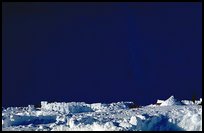 Back to the 14300 camp, "Mc Kinley City".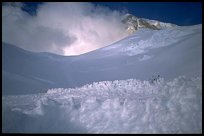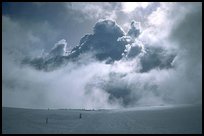 To the 11000 camp, where I retrieved my gear.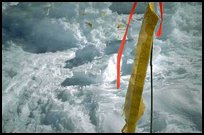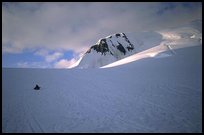 Among the folks sledding back was a rec.climber which identified me. Sking down with a sled is not as efficient. I travelled by myself this time because I was confident that the thaw and freeze cycle was strong enough so that snow bridges would be solid.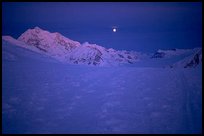 At begining June, there is no more night at these latitudes, just a very pure lingering light.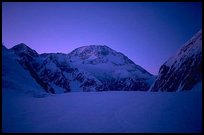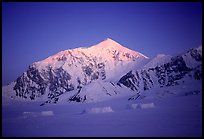 At the left is my last vision of the mountain (through the East Fork of the Kahilna Glacier) before I reached the base camp right at sunrise, after 18 days.



All photos and text Copyright &copy QT Luong