An expedition on Mt McKinley, Alaska
Part 3: The first attempt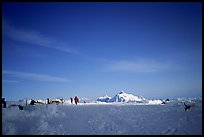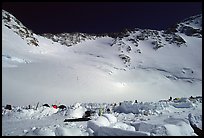 The day when we arrived, the weather was great, and as you can see on the right picture, there is a large numbers of climbers going for it. Unfortunately I was not feeling that great, because of our relatively fast climb, and decided to wait a couple of days.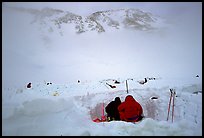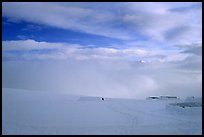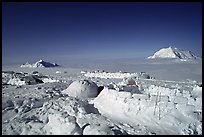 The weather then worsened, and I had to wait a couple of more days.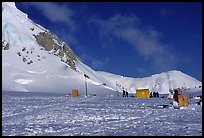 This is the ranger tent. They perform rescues and operate a medical camp, but also give tickets for littering. The two lattrines help keep the snow good for drinking. As a matter of fact, the mountain is quite clean, considering the large traffic.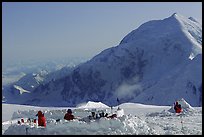 The low-profile tents have to be protected against the wind (which can reach 100mph). Climbers dig a hole and built thick snow-walls by sawing off large chunks of frozen snow.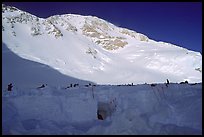 The ridge visible on the skyline is the West Rib, which was my planned itinerary. My companions had settled for the West Buttress, so I would do the second part of the climb solo.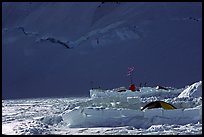 The temparatures during the day were pleasant, but within fifteen minutes after the sun has disappeared, they would drop down to subzero (F). This was a warm year, with minimum temperatures of -20F.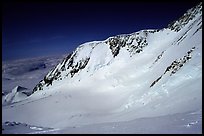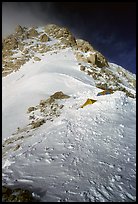 I leave by myself the camp for a summit attempt, taking a cut-off to the West Rib. The West Buttress route goes to the pass, through the steep wall, and is quite crowded, whereas at the 16000 narrow camp on the Rib, there is just another party.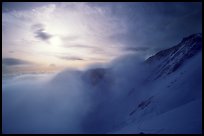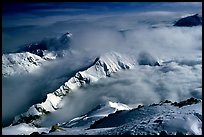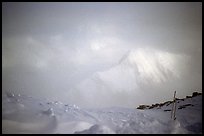 The weather forecast was not that accurate: the three-day window turns out to be only a one-day window. Here you can see the clouds taking over the scenery. After a stormy night, the next morning I decide to get down.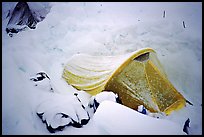 It turned out to be a good idea, and more days are spent at the 14300, which is relatively sheltered.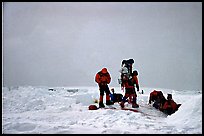 I received this email from Duane Chase:
One of your pic's (the one showing the typical "alaskan" packs) i believe is of my friends and me. we were there in early may of 1993. between the red hands (my red fingerless gloves), the 40-below boots on one of the guys (along w/ the red north face pants) and the wands that look like they have reflective tape on them, it sure looks like our group of three. also, the snow wall in back looks familar. we flew into the kahiltna base at 7k about may 7, took three days to 11k, spent 4-5(?) days there during the storm, a few more days at 14k, and then a two day trip to 17k, the summit, and back to 14k. it's very strange finding pictures of oneself on the web.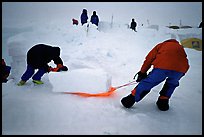 Some built a igloo, which offers a very good weather protection. They were from France, and since they had to leave earlier than me, promised to send email news from me to my friends.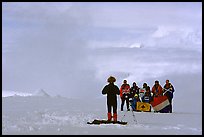 The 14300 camp has a very social, and international atmosphere. One could argue that it is hardly a wilderness experience since there are in permanence dozens of tents there during the short (May-June) climbing season.

I received this email from Ron Enzler:
A mate of mine (Mike Timar) pointed me to your Website. He mentioned that I should take a closer look at one of your photos. That group was the "Denali International 93" team. Comprising of 8 people 8 nations: Mike Timar (Scotland), Greg Simpson (Australia), Kris Rodwell (Australia) Gary Motyer (Ireland), Rob Jourdain (South Africa/England), Peter Boylen (Australia), Wendy van den Berg (The Netherlands) and myself Ron Enzler (New Zealand/Switzerland). We had a successful climb, with Wendy being the first Dutch female to successfully climb Denali.





All photos and text Copyright &copy QT Luong