An expedition on Mt McKinley, Alaska
Part 2: from the base camp to the main (14300ft) camp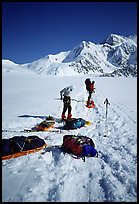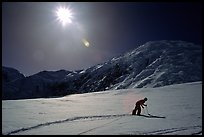 The first days are spent hauling heavy loads (80 lbs for me) including mostly food and fuel for three weeks and polar-grade gear. The climb takes a dozen days round trip (including acclimatization time) but there are normally some downtime spent waiting in storms. Each of us had a big backpack and a big sled.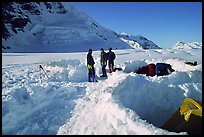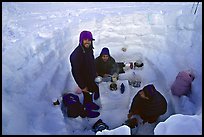 Snow camping luxury. The first night, we found a nice abandoned site. They are rather common, due to the large frequentation of the route. My partners for this part of the trip are three Canadians. I prefered to join a team to travel the lower glaciers because of the crevasse falls danger, and was glad to be accepted by them.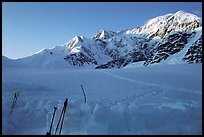 The West Buttress route goes behind the ridge above the Kahilna pass. Totally invisible from the land, it has been discovered in the 50s by Bradford Washburn thanks to his large format aerial photographic surveys. This discovery would revolutionize Mt Mc Kinley climbing.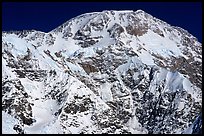 Here is the mighty West face of Mc Kinley. The West Buttress is the ridge on the left on the skyline, the Cassin the ridge on the right.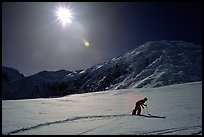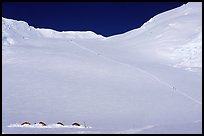 The terrain is not steep, and therefore, you can camp anywhere. The second night, we probe a circle for crevasses, before unroping. Alaskan glaciers are among the biggest in the world, and have very deep crevasses, which are difficult to spot. Note on the right picture the two parties on the track which reaches Kahilna Pass.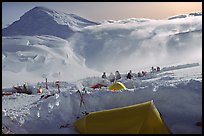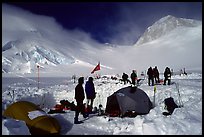 The first important camp, where people gather at a same spot, is found at 11000. Above, the route becomes steeper, making sleding or sking unpractical.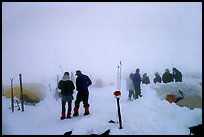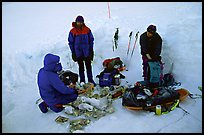 This evening fog is nothing to worry about, since the 7pm weather forecast is optimistic. Like most people, we leave our snowshoes and sleds here, and organize ourselves to do a double carry the next morning.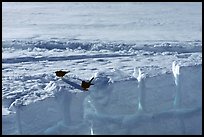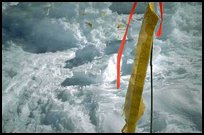 Everything which is left is buried under the snow, to prevent the ravens from destroying your cache. They can rip open a backpack if you don't bury it deep enought. To find it, you leave a wand, and you write your name on a sticker.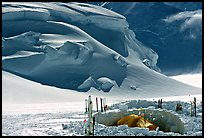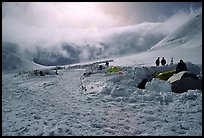 Since everybody does this, there is a forest of wands and skis at this camp.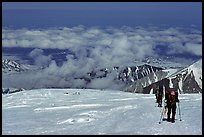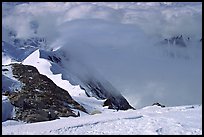 Our first carry day, up to the 14300 camp, down to 11000. It was a rather hard day, but the next day we would have to do the 3300 push again.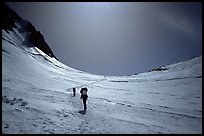 Up again the next day. This place is the Windy Corner. There is a secondary summit which creates a funnel with the West Buttress, generating incredibly high winds there during storms. You can notice that the texture of the snow is different from other pictures, because it is so wind-blown...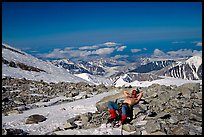 ... although it was not that windy this day. An example of the exeptionnal conditions that I met during the climb.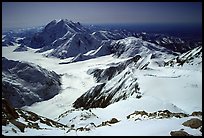 This picture shows the route so far (outlined in red): the Kahilna glacier in front of Mt Foraker, Windy Corner, and the camp 14300 which is nested in a snow bowl.



All photos and text Copyright &copy QT Luong