Waterfall ice climbing: the Canadian Rockies (part 2)
The landscape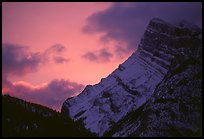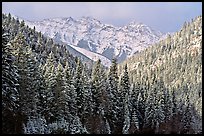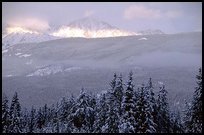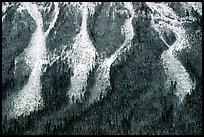 ---
Back to the Icefields Parkway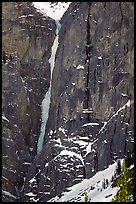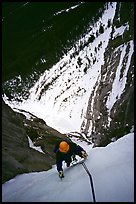 Kitty Hawk: the classic of the David Thompson highway, reminiscent of Polar Circus but shorter. The two dots on the left picture are Larry and me.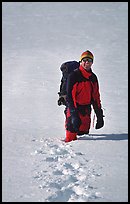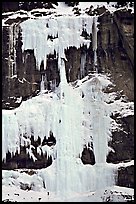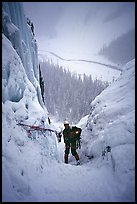 Because of the post-holing we started Curtain Calls too late, and were only able to climb one (long) pitch. The next day, however, we were back from the lower Weeping wall well before lunch time. (middle picture by Larry Thurnman)


---
Sea of Vapors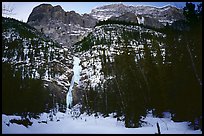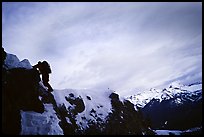 Very high above the Transcanadian highway, the whole "Terminator wall", as seen from the base of Professor's falls looks tiny. It is a long and circuitous approach to get there.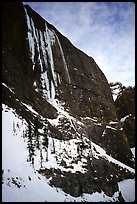 Terminator is the (uncomplete) line on the left. Sea of Vapors is the line on the right. Climbed in 1993 by Joe Josephson and Bruce Hendricks, this line is the only one in the Rockies that has received a rating of WI 7+, because of the sustained thin ice. We had heard of recent repeats and "easy" conditions, so we came in for a try.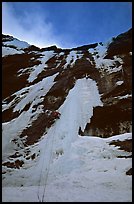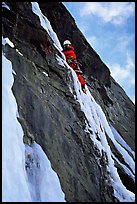 After a WI 5 pillar (left), the crux pitch, led by Bob Cordery-Cotter whom I just met at the Canadian Alpine Club house, is a rock traverse followed by thin and steep ice. (left picture by Bob)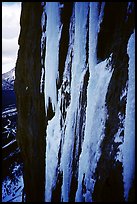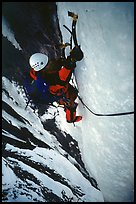 We found the two final pitches in nice ice. The left picture shows a view of the Terminator and Replicant which are about the same steepness.

All photos and text Copyright &copy QT Luong