Aiguille du Midi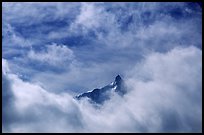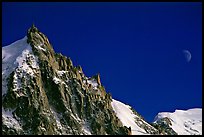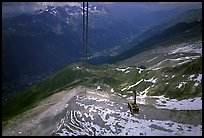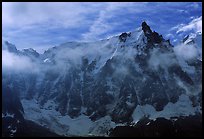 Aiguille du Midi is the most easy gateway to the Mont-Blanc range for alpinists and tourists alike. The cable car takes you in half an hour from a town at 1000m to a remarkable peak at the heart of the range, at 3800m. Or you can scale the 1000m-high North face...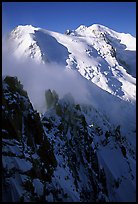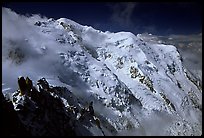 From the observation plaform, there are great views of the Mont-Blanc range. Here is the Mont-Blanc itself, check the images below for views in other directions.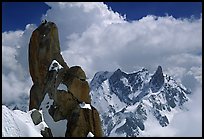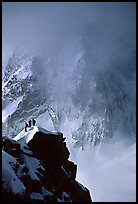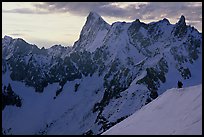 Besides the North Face, a long and committed climb, there is a variety of routes leading to the summit, including the steep rock pilar of the South Face, the moderately steep Cosmiques arete of snow and rocks, and the easy but impressive snow arete on the opposite side.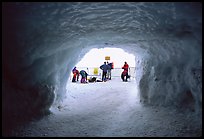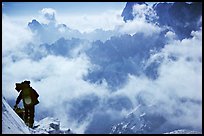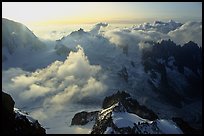 Aiguille du Midi overlooks the top of Mer de Glace, which flows towards the right. Although the alpinist is just exiting the cable-car station, after crossing a dark tunnel covered in ice, he is already suspended in the sky, in front of a backdrop of high summits.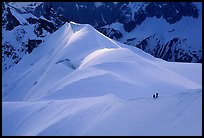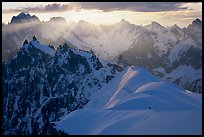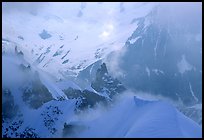 The snow arete exiting from Aiguille du Midi can be followed up to the next mountain of the chain, Aiguille du Plan, for an airy outing at the border of two worlds.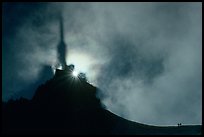 You can see in this picture one example of the magic of high mountains: a very unusual optical/atmospherical phenomenon, where the shadow of the cable car tower is projected on clouds. Note the two climbers walking away from the station, in the bottom right.



All photos and text Copyright &copy QT Luong