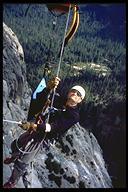 The middle passage, and beyond
---
As I stood in El Capitan meadow in 1958 watching the first ascent of the big stone take place, I felt a very strong desire to emulate this bold act. The fact that I had contracted bulbar and paralytic Polio in 1953, at nine months of age, and walked awkwardly as a result, and then only with the assistance of a heavy metal leg brace, as well as crutches for any kind of distance, made this desire one that I kept to myself for many years.
However, by the time I started technical climbing nearly twenty years later, I did begin to speak of this ambition, in spite of the fact that few of those who listened actually believed that I would ever achieve this goal. I had met the same type of resistance and skepticism frequently in my previous athletic endeavors. So I figured my success in regard to this was merely a foregone conclusion. By applying the same work ethic, determination and creativity that had allowed me to excel in competive swimming, water polo, and basketball, (against able athletes), I knew that I was a lock to be making frequent trips to the summit of El Cap. Fate had a few more twists and turns in store for me before I would be able to prove this however.
A motor vehicle accident in 1980 led to the reconstruction of the better of my two legs (my left) and a fall while recovering predicated the neccessity of a second reconstructive surgery. Complications made my path to healing a more circuituous one than I would have chosen had I been offered any say in the matter, but I persevered, and by the fall of 82 was looking at finally getting my big wall career in gear the following spring. Part of my training included riding a bicycle, which was purely a labor of love. One day while out cranking on what ended up being my last great ride I was struck by a sports car. This exacerbated the effects of Post Polio Syndrome, (which had been a most formidable nemisis since two invasive surgeries in the early seventies), essentially ruined the knee that I had worked so hard to bring back, as well as causing serious injuries to my back and wrist. Yet again I began the long road back from pain and limitation. No small amount of of faith, and a hell of a lot of hard work, resulted in a storm interupted1990 ascent of The Zodiac on El Capitan with an old friend from my early days in the Valley, Larry Zulim, and a new friend, Sheldon Wilcox. This long looked forward to and hard fought for accomomplishment only made me hungry for more, and enthusiatic plans for other ascents were made for the spring, and well beyond.
Most unfortunately, before any of this could come to pass, a dark hearted relative malisciously pushed me over the arm of a couch and into a wall. Both of my knees and my left ankle were suddenly as worthless as a headlamp dropped from The Great Roof. My back suffered serious nerve, ligament, disc and vertebral damage, and the effects of the Post Polio Syndrome became such that many of my long terms hopes and dreams were shattered. Milimeter by milimeter I began to attempt to crawl out of the deepest darkest hole I had ever imagined in my worst nightmare.
Seventeen months later I had improved enough to attempt another ascent, and with Sheldon leading as I cleaned we made it over two thousand feet up the face of Glacier Point in Yosemite to the Oasis. This in spite of the fact that my left knee popped out of place each time I attempted to stand up in my etrier, and my back repeatedly screamed out to me its objections to this formerly familiar activity. It was made quite clear to me on this ascent that much more progress and healing would have to come about in order for me to continue without going through more of the same. I embraced this challenge wholeheartedly, and did everything possible to propel myself forward. This effort resulted in a 1994 ascent of D1 on The Diamond in Colorado. Another old friend from Yosemite, Michael O'Donnell pulled together the logistics, led and hauled much of the route, and along with our partner Bill Whitt, and a group of volunteers, helped to carry me (with haul bags on their backs) much of the six plus miles in, as well as back out. We endured a waterfall that came from melting ice above, 100 mile an hour gusts of wind, snow, sleet, rain and hail, but had the time of our lives. As I stood up on the summit for a brief moment before being blown over, the smile on my face couldn't have been knocked off with a shovel.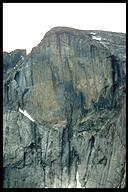 The Diamond, with my team on D1, photo by Pat O'Donnell
I carried the success and enthusiasm that this ascent provided back to the Valley with me, and an old friend, Steve Schneider, and myself sent Lurking Fear on El Cap in two and a half days. I cleaned all but two traverses, and Steve led every pitch clean. A week later I hooked up with Michael O'Donnell and Chris Koulish in Canyonlands for an ascent of Primrose Dihedrals on the Moses tower. This inspired me to pick up an already demanding workout schedule in anticipation of more of the same. Unfortunately, poor choice in partners for my next route caused them to give up just below the headwall of El Cap. Bilateral muscle tears in my lower back were my reward for complaining about this decision, (I was yanked up without warning by my lower ascender, which was connected directly to my harness). In the three months that it took me to heal from this I lost all of my hard fought for conditioning, endured major new problems related to my lower back, and the Post Polio Syndrome, and discovered several levels of new meaning for the phrase, 'dark nights of the soul.'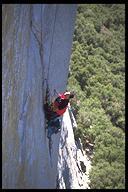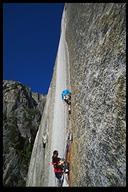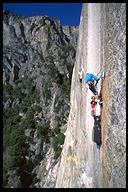 Lurking Fear (photos by Chris Falkenstein): me belaying, Steve Schneider and myself cleaning a pitch, at the belay.
By the summer of 96 I had recovered sufficently to set my sights on a straight push up Half Dome. I survived the104 degree temperature of the approach up the notorious 'Death Slabs,' and by my partners accounts did 'exceptionally well' on the pitches that I did get to climb. However, my partners were not quite as hungry to reach the summit as myself. During the retreat I was lowered much too quickly, (I can no longer rappell), which seriously reinjured my left knee, and made the twelve hour walk back to the valley floor the next day quite interesting. Another fourteen months would pass before I was able to climb again. But as I had done so many times in the past, I saw this setback as a challenge to be overcome, and I dedicated myself anew to my training as well as my long term long sought after goals. The fall of 97 found me doing many traverses along the base of El Cap as part of this training, and in the process I made a number of new friends, many of whom who quickly became partners. Two of them, Erik Sloan and Jason 'Singer' Smith set in motion the plans to do Lunar Eclipse with me within ten minutes of our first encounter. Jason's work schedule precluded him from doing the route with us, but Chris Mac Namara was psyched to fill in, and he, Erik and I had a fine time indeed, replacing at least one bolt at each belay station along the way.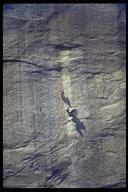 Todd Offenbach, Chris Mac Namara and I on Native Son, (photo Tom Evans)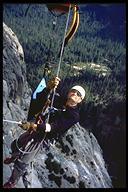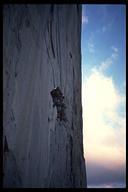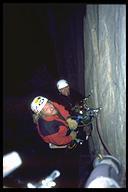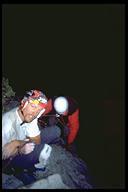 Bad Seed: me being lowered out (photo Brian McCray), me doing a free hanging jumar (photo Hans Florine), Near the top of Bad Seed, Brian and Wayne (photo Hans), Hans waiting for me at the summit (photo Brian)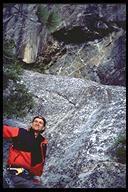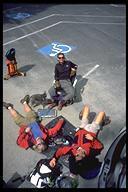 After Bad Seed: me near the East Ledges descent (photo Brian) In the manure pile buttress parking lot after Bad Seed, Hans, Brian, myself and Nate (photo Roxanna Brock)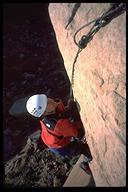 On the West Face of the Three Gossips, Arches Utah (photo Ben Folsom)


Walking with the assistance of ski poles in the forest around our home, about 40 miles from the valley, as well as continuing with my weights, sit ups and pullups throughout the winter, was good preparation for even greater challenges. And this past May, Ben Folsom of Salt Lake, (a friend I had met the summer before at the base of El Cap), and Pat O'Donnell of Denver, (who had helped organize, and helped to carry me on the approach and descent our 94 ascent of the Diamond) and myself did Spaceshot in Zion in Ten and a half hours. Not close to the record, but nothing that I was embarrassed about either. I then returned to Yosemite and in a fifteen day period in July sent Tangerine Trip, and Native Son on El Cap (with Kevin Thaw, Russell Mitrovich and Chad Garner, and Chris MacNamara and Todd Offenbach respectively). My wife and I then traveled to Washington and British Columbia in August, and while in B.C. Mark Ballard, of Fernie, and myself sent the West Wall of The Squamish Chief in a push, followed by a walk down that took me nearly as long as the climb. Upon my return to the Valley my friends Hans Florine, Brian McCray and myself did the fifth ascent of Bad Seed on El Cap in a new record time of 19 hours and twelve minutes. October found me back in the Utah desert with my friends Ben Folsom and Ryan Nichols, where we made quick work of the West Face of The Three Gossips in Arches National Park. A storm that blew in that night ended our climbing for that trip, but I will be back in the spring, and the fall, for many years to come. In many ways I feel like one of the luckiest people on this earth. I have survived much more than I'd have chosen had I been able to have some say in the matter, but with that said, have learned so much about what really matters as a result. This poem, which I wrote the day after our ascent of Bad Seed, expresses some of the philosophy that has worked for me, and that I attempt to live by.
As I get stronger in many ways,
Life only gets better day by day.
And though much in this world does make me want to cry,
With a little help from my friends I know that I will get by.
Love and honor and beauty and truth,
Mean far more to me than finding wealth or the proof,
That will allow others to accept me, to hell with that crap.
I don't want to be honored, or admired or respected,
I want to revel in wonder and joy each step of the way.
Life can be a revelation, a magical dream,
A three year old's Easter egg hunt, that Spirit will make you free,
Of the entanglements and traps that wait to snare us in this life,
Keep searching for beauty, avoid consumer driven strife.
P.S. In order to be able to maintain any strenuous activity one must work on aerobic conditioning. This I accomplish by walking with ski poles most days for at least 90 minutes, doing pull ups and sit ups, and lifting weights about three days a week, as well as climbing, bouldering and scrambling for many hours on a regular basis. Though there are many areas in regard to my arms, legs and lower back, where there is little or no muscle, I have worked very hard to maximize what I do have. By using a chest harness, with my lower jug connected between it and my sit harness, I only have to move my upper jug, and am able to keep myself cinched in close to the rope. By using a single etrier for the better of my two legs, on overhanging pitches in particular, this leg assists in my forward progress. On vertical pitches I am able to lean on my knee pads with both legs to balance myself as I move my upper jug, and pull myself up, again and again. This is a glimpse into the physical part of how this all works. The mental and Spiritual parts are far more complex, and a much more important part of the equation.