Tangerine Trip (VI, 5.9, A2/C2+)
El Capitan, Yosemite, CA
<![if !supportEmptyParas]> <![endif]>
<![if !vml]>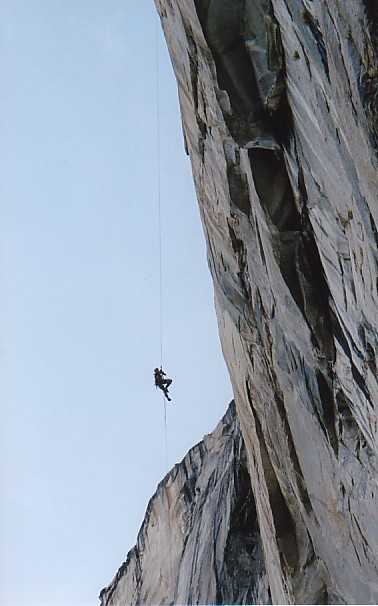 <![endif]>
<![if !supportEmptyParas]> <![endif]>
<![if !supportEmptyParas]> <![endif]>
Trip report by Henry Wurzer
16. – 18.9.2002
<![if !supportEmptyParas]> <![endif]>
Part 2 – gear and route information
Part 3 – gallery (38 pictures)
<![if !supportEmptyParas]> <![endif]>
Here I am again – in my beloved climbing place on planet Earth, in Yosemite, and look up the granite walls on El Cap on both sides of the Nose. My eyes search for the line of Tangerine Trip on the steep east face of the big stone and focus on the grand rock features on this wall side and then wander to the left to Dihedral wall, our 2nd choice. No one climbing there. At Tangerine Trip a party is half way up and we can see them moving slowly but steadily, I look down on Chris' supertopo and try to imagine what the guys up there are facing at the moment on pitch #11. Hell, it looks great - there must be a reason why pitch #5 of TT is the cover page of Supertopo. My wife Natallia stands nearby and does not want to hand over the binoculars. Only 2 parties on Zodiac and 1 party on the POW – what a peaceful and sunny day today. Nice rememberings to our mutual climb on Zodiac last year cross my mind. We just arrived in the valley and here we stand again on the El Cap meadows and comfort down to the El Cap layback to have a better view to the blank sunlit and fascinating walls of the Big Stone. Only God knows why this Big Rock attracts me so much – are this the climbers on it in their luring slow motion action proving me that every route is manageable with patience and will or are this the beautiful and varied rock features and long blank sections which let the walls appear to be untouchable or is there some inner light focusing my attraction to the climbing's general aim: to move higher. I have no answer. And to my opinion only few adventures have been left for men nowadays (i.e. big wall climbing, earthround sailing): once you started you depend on your equipment, your skills and your personal strength in mind and body – the ruler are the elements (stone, water, weather) only, no constitution nor any law nor any other person will influence you and no one is there to tell you what you have to do or to let. It is a place where no lawman, no secret agent and no priest show up. Adventure – the last freedom for man in a crowded and overruled world? Big wall climbing means exactly this for me. Apparently not for the Hollywood guys – otherwise we surely had a movie with A. Schwarzenegger or T. Cruise titled "crack blaster" or "cch alien predator" or "excalibur & camelot" or "native son conan". Well – let's start with the rock adventure we have dreamed all the year 2002 long and here is my story to a true adventure which many of us climbers experience and live for.
<![if !supportEmptyParas]> <![endif]>
The Actors (name, age, city) :
<![if !supportLists]>· <![endif]>Natallia Wurzer, 34, Munich, Germany
<![if !supportLists]>· <![endif]>Peter Goerttler, 29, Freiburg, Germany
<![if !supportLists]>· <![endif]>Henry Wurzer alias Heinz57 alias OldHenry, 56, Munich, Germany
Email: h.wurzer@web.de
<![if !supportEmptyParas]> <![endif]>
Photos by Henry Wurzer, groundshots by courtesy of William Zittrich 2002
è See also trip reports Zodiac, LT westface
<![if !supportEmptyParas]> <![endif]>
Trip report
<![if !supportEmptyParas]> <![endif]>
Getting started (fixing)
<![if !supportEmptyParas]> <![endif]>
Day 1: Natallia, my wife, and me take the ascent to the base of TT along the walls and watch a party fixing Mescalito. It is late afternoon and after 40 minutes we reached the shade of the trees where TT starts. I do the first pitch, Natallia cleans and then we rappel – we are not in a hurry. All climbing gear we deposit on belay of pitch #1. Tomorrow we shall be back.
Day 2: Natallia and I return to the base after a luxury breakfast in the Lodge. We bring along 10 litres water and 10 litres Gatorade. Soon we are on pitch #2, it is now noon and the sun is hot, very hot. The heat makes me going slowly but after a while I clip into the anchors of belay 2, after some hooking and C2+. Yeeppeee – the aliens work well. Natallia wears a hat but the sun is beating on her and she does not feel fine. Anyway I start for pitch #3 (free-climbing sections) and midway up I discover I forgot the zipline (a light 6 mm cordelette) and had to climb back. I hate this kind of unnecessary work. After the midway bolts the rock steepens up again and a wet crack in a shady dihedral leads to a nice exposed belay. Natallia cleans the pitch and I start pitch #4, which steepens up under the big long horizontal roof. This pitch (C3F) is more demanding as pitch #2 (some hybrid aliens). After some time I reach the bolts from whereon the pitch goes down again along the roof. Natallia is meanwhile fully exposed to the sun and has a hard time there, apparently she's got some sunstroke and vomits now and then and complaints about severe headache. I decide to finish the downward bound pitch and backclean it. After reaching the anchor bolts I see a haulbag coming down from nowhere. A few minutes later a solo Japanese is down aiding pitch #5. I watch him with interest. Natallia vomites again and I hurry to set up the ropes for a tyrolian traverse from belay 3 to belay 4 and start backcleaning pitch #4. I reach the bolts under the roof where to the left Aurora separates off. I hear scratching noises and look to the left and see a party coming down Aurora along the big roof by backaiding. Later I was informed one of them experienced a painful shoulder luxation. They were Mexicans, they did not ask for help and managed to come home safely. Hey what a day – I thought. Good or bad omens? My wife is sunstruck and 1 party retreats from Aurora and 1 soloist retreats from TT. Natallia lowers me down from the bolt under the roof – I backclean and join her. She really does not look good and I take care of here. We do the tyrolian traverse, to leave the lead rope still running via the bolt under the roof made us feel good. It is now late afternoon – I pull Natallia over the traverse and she docks in the belay. I put two 60 m ropes together and lower them down to the ground. Meanwhile the Japanese soloist came down thru the air to this belay and unfortunately he spoke very bad english. All I could understand he retreats due to little water and food. I could not see a portaledge. While I organized our gear on this belay, Natallia started rappelling down. I was worried that in such a condition she might have problems to move over the knots on the ropes. It was an airy rappel, I enjoyed it but not Natallia. After a while she reached ground and lay flat on the ground in the shade and recovered after a while. The prospect of a good "all you can eat buffet at Curry village" brought her back on feet and down we went.
Day 3: resting, Natallia recovers
Day 4: resting, Natallia feels herself fit for the route. We go to Oakhurst in order to refill our supplies.
Day 5: We hoof the rest of our needs to the base, repack our 2 haulbags and set up all the stuff ready for hauling. Our plan was to do this in the late afternoon by jugging up the lines to belay #4, to haul up our stuff and set up the portaledge for the 1st night on the wall in order to start off next morning refreshed and as early as possible. Here we met "Piton Pete" (Pete Zabrok) and he assured me to use the "cavemen jugging system" in order to have a fine long jumar ascent. Pete attempted to climb Scorched Earth (5th or 6th ascent) and I was pleased to meet him personally  since I only know him from the internet and his wall pictures (www.climbing.com).
Day 6: Our first day on the wall. Our minds were ready to push for the summit. At about 8h in the morning I started the famous 5th pitch. First a few bolts and then the neverending, left leading thin crack system, which caused me some troubles after 20 feet. I rarely used the hammer before – so I first was looking and looking and looking for.placements (aliens, micronuts, lowe balls etc. whatever might work). No way. You need to hammer – finally flashed into my mind. Natallia passed me on the zipline some blades and other stuff. Well – it worked, after placing 1 knifeblade and 1 baby angle I came across this C3 section and reached the copperhead section and followed them to the midway bolts. 2 ½ hours gone ! But the second part of the 5th pitch is cool and a fest for my smaller aliens. Blue, green and yellow colours interchanged and after 170 feet I reached the anchors. Way cool and way long says the topo – what a truth and what a great exposed belay above the long roof! When my command came: "off belay – lead rope fixed" – 4 hours gone and high noon. Natallia was quiet all the time – not a good sign. Whooowww the bags flew thru the air below the roof after beeing lowered out. Natallia removed the belay and started cleaning. Now she complained again about the heat and her headache. She was not able to hammer out the 2 pegs and at this point I decided that by no way I shall continue the climb with her in this physical condition. During her cleaning I hauled the pigs and prepared for a long lower-down and a long rappel. I knew 3 x 60m ropes will bring us to ground (in fact into the trees). We shall leave our ropes hanging and I shall come back with some other (male) partner to finish the route. With the Grigri we lowered our bags and all our gear to the ground and then we began an airy journey down, 100 feet and more away from the wall, changing twice the knots on jumars and finally landed in the branches and in the lower boulders at the base. One bag with all the water and the gear we left at the base in the shade. The second bag I took down.
Day 7: Looking for a partner. At my campsite in Camp 4 there were some German guys too, they just climbed Astroman. They looked strong and competent. I started a talk and one of them, Peter, showed great interest in doing an aid big wall climb. He never stayed before in a portaledge and was keen to sleep one or more days on a wall. Quick we shared our own interest and soon we handshaked and agreed to team up for the TT. Natallia was sad that she could not do a big wall with me, but she was happy to see me finding a good, strong and reliable partner. And Peter was just like that.
<![if !supportEmptyParas]> <![endif]>
On the wall
<![if !supportEmptyParas]> <![endif]>
Day 8: Peter and me start for the final push. Early in the morning we bring our packs up. Natallia helps us hoofing loads. By 8h in the morning Peter starts the first monster jumar up to belay #5. It takes him 45 minutes. Meanwhile I prepared all the bags and the portaledge ready for the haul. Now I start the monster jumar and it takes me almost 1 hour to reach the anchor. On the way up we greeted Piton Pete and his partner for good morning. Furnished with a 2 l Gatorade bottle and some powerbars we conditioned our bodies and started for the big haul job. Peter was the counterweight and I helped by pulling and controlling the traxion and the haul lines. It took us another 90 minutes to bring the pigs up – including the decoding of spaghettied ropes because wind came up and twisted them. However – we are on the climb. Yooohooo – yeeepeee – we were on the trip. It took us another hour until one of us was on lead for the next, the 6th pitch. This pitch was also mine, bolt ladder and hooking. 7th pitch done by Peter in fast mode, he freeclimbed most. It was now about 5:15h p.m. when I started for the 8th pitch. Bolts lead up to a tension traverse, on the end waited 5.7 / 5.8 terrain. I tried to freeclimb with my wallboots – not so fine, I tried to trick with a hook – but this was wrong doing. I fell (better shrabbed along the rock) and finally grabbed the long sling of the cam, which I placed at the lower end of the traverse. Punished by my hastily moving (it was getting dark) I moved up more cautiously to a bolt higher up and finished with the last light. At the anchors of pitch 8 we set up portaledge. Avoid this, if possible, because this is the only place with sloping rock on the TT and the portaledge is not hanging properly there. Anyway we had our first night on the TT, set up our hanging stove (fine stuff) and enjoyed our hot noodle soup and hot tea together with other delis.
Day 9: We had slept well and refreshed we had hot coffee and ate bagels with marmelade. When the sun showed up over the sierra and warmed us, we prepared for the day's climb. Peter lead the 9th pitch, which is a C3F traverse along some flaky features above a broad 40 degree ledge.  We wondered why the route does not follow this easy ledge to the end and then moves straight up (perhaps 2 bolts necessary) to the belay. This would go much faster and easier – instead of having fear to hit this ledge below. The lower-out has to be done carefully here – the bags shred left for more than 80 ft. Here the swivels paid off. Next pitch, pitch #10 leads up a wider crack into overhanging rock. Peter wanted to lead, it looked for freeclimbing. And he freeclimbed up to the point where the crack gets thin and required aiding. Higher up waits a little roof or bulge 15 feet before the belay station. It took some time to aid up (offset nuts and small gear). From this pitch on the rock is constantly steep – the bags always shoot out in the air and getting off the belay is always a nice experience for the cleaner. Pitch #11 and 12 could be combined. This long pitch was mine. I started on thin flakes (blue and green aliens) and came to a bolt ladder. And to the right the belay came into reach which I passed. From here on you move on new rivets. The first rivet I could reach, but the next rivets where so far apart – I could no reach them to place a rivet hanger. Damn ! What have the ASCA boys done here ? Replacing old rivets, but adding some reach difficulties ?! I was hanging there on the 2nd rivet and by no way reached the next new rivet – shining in the afternoon sun. I looked for the nut with the most long cable. I put a biner in, duct taped it to avoid turning, reversed it and tried to fiddle it around the next rivet. I topstepped in the aider – hell this makes me sweating – and I don't know how but suddenly it bent around. Yoohoo – I got it. The next 4 rivets same again. Then normal bolts show up, moving over some copperheads and the anchor bolts were reached. A long pitch ! Peter came up and since it was already 6h p.m. we put up the portaledge and me laying down on it was pure joy. Peter prepared for the next pitch, he was not tired yet. The 13th pitch  follows a small but steep dihedral (camhooking, nuts, rivets and bolts) and ends up after 100 ft in a little roof, after that a move over a block leads to the anchors. The daylight was already gone when Peter passed the roof, I could see his headlamps beaming around in search for the way. He set up the anchor, rappelled and cleaned the pitch. He was very happy to land on the portaledge, after I pulled him in. The rock was perfect for the portaledge and we had a great evening with good cooking and a deep sleep and having fixed the next pitch let us feel good.
Day 10: This is actually now our 3rd day on the wall. We did not hurry in the morning since the rope was fixed up to pitch #13. After reorganizing the belay we jumared up to the next anchors. Far to the right we saw a water bottled fixed to a Zenyatta Mondatta belay and also could spot some pitons from Lost in America leading their way to the Zenyatta junction. Next pitch, #14, says loose rock and freeclimbing. Peter had the freeclimbing job on our trip. Pitch 14 starts with an akward steep, but short dihedral and enters then the loose rock and block section, which is more a steep ramp. Here the rock is darkred and brown coloured. That meant the rock got so hot, that it was pain to touch him with our sensitive and worn fingertips. Peter did a good job and freeclimbed after the initial dihedral. When following on cleaning my wallboots loosened small rockparts in this rotten section, I could not avoid this. The belay of pitch #14 ist good and a small ledge for the feet gives you a good feeling. From here pitch #15 leads up to a wide crack (or better hole) and follows a right leaning bulge. Here on this bulge starts a 120 ft long bolt ladder. Nice new bolts. Without any problems I reached the anchors on steep rock, from here I could see down the whole route until pitch #8, the lowest part was not visible anymore due to its very steepness. This grand view is comparable to the view down on the Shield. It did not take long until Peter cleaned the bolt ladder. Knowing that we have only 3 pitches to go, Peter prepared for the next pitch and speeded off along the initial bolt ladder. Pitch #16 follows first 45 feet a bolt ladder then changes to aid by nuts and smaller cams (many blue, green, yellow and red aliens and 2 or 3 bigger ones). This section has at the beginning some sandy parts and I don't know what happened, but all of a sudden I felt a tension on my Grigri and seconds later I could see Peter hanging in the rope higher up. He took a fall – some piece on this sandy section came out. He shrubbed with the back of his right hand along the granite wall and this did not good. His whole hand was cut off longside, the bone was visible and all blood around. First I did not hear anything – I was just looking up and watching him. He fainted first but regained soon his voice and the usual 4-letter words were heard. I lowered him down, pulled him in to the belay. Thanks god he's working in the medicine business, so we took out his first aid kit and made a thick bandage around this hand according to his knowledge. He still could move all his fingers and no nerves appeared to be cut. All this took one hour. He still could use his thumb and the upper 2 fingers, so jumaring was still possible. As a dedicated climber and being successful in this sport he was now very worried about what happened. We changed the belay and I jugged up to the last bolt and started leading. The first 15 feet I moved really slow because I was now a bit scared – I did not want to have a fall too. We could not afford 2 handicapped climbers. After I passed the section where Peter took the fall I regained confidence and moved on, the pitch now followed an arch-type crack ending horizontally on a piton, some camhooking is necessary to get there. Another hook and a cam brought me to the belay. As fast as possible I set up the belay and started to haul. It was 5:45 p.m. now. I definitely did not like to set up the portaledge here, 2 pitches below the summit. Thanks god, Peter could clean – but he had to put all his guts together. 30 minutes later he arrived at the belay – well done. I hauled the 2 bags at separate ropes as fast as I could and prepared to lead the next pitch. At about 6:30 I moved off. Bolts lead up the slabs and a few hook moves brought me left and to the beginning of a ramp. Freeclimbing was now possible. It darkened already and the ramp changed to a crack leading up to a tree. I did not have much aliens with me, but they were right size. I move this crack up (actually a dihedral) and backcleaned leaving only 1 good cam for protection midway. To the end of this crack there was no light anymore and I could not distinguish between a black, a blue or green alien anymore. I just tried and fell twice in the lower piece. However, I saw 10 feet higher the small ledge with the 2nd last belay and to the right the terrace with the tree – some more attempts and one of theses cams bit in and I could reach up, placed a hook and up and away – yoohoo. I clipped in the anchors which I found by tapping on the wall since there was no light and the moon was not yet out. Peter must have been very glad to hear me shouting "lead-line fixed". I fixed the traxion for hauling and soon Peter released the haulbags – now I relaxed and looked around. What a relief - I could see headlamps on Mescalito and at the El Cap tower. Nice not to be alone. Peter was already on the way up when I started hauling. He was quite fast – the rock was not steep anymore. He arrived at the belay while I was still hauling the 2nd bag. I showed him the penthouse terrace right to me, guarded by a tree and some manzanita. He was utmost happy to see the opportunity to sleep on flat ground and having enough space to place things around. We took what we needed out of the bags and arranged a comfortable bivy, 120 ft below the rim. We took out the stove, cooked noodle-soup, smashed potatoe and ate of all the goodies (salmon, salami, m+m's, assorted nuts etc.) we spared for the last day. This was a perfect adventure-night. The moon now stood higher and threw shades and the stars were bright and numerous now. We watched the flickering headlamps of parties on the dawn wall and joined their "yeepee – yaahoo", which floated criss-cross the complete east wall (from Reticent to Bad to the Bone). Peter was very relaxed, so me, and his hand felt now better being inactive and we both were confident to be tomorrow at noon down at the Ranger Rock parking lot.
Day 11: No words to our fine breakfast (coffee etc.) We repacked our haulbags and at 8h I started the last pitch. The climbing wanders up, right and left, right and left and so on to the rim. Here you go back left to a from ground spottable lone tree. After 30 minutes we both were out. Hauling up here was not bad. We enjoyed the warming morning sun on top, put all the climbing gear together and repacked the bags. Gosh – they were still heavy, so we only took 3 l waters down the East Ledges, left the Gatorade on top where other stuff was already stored by previous parties. At 9:30 h we started descending and at 13h we were welcomed by my wife Natallia at the parking lot. Heey-hoooh, heey-hoooh – as Peter used to shout when coming closer to the belay. 3 days and 3 nights on the wall, after fixing to pitch #5, made us feel good and proud. The first action down on ground was to get the car and to deliver Peter to the Medical Center, they worked on him for 3 hours. Here Peter became familiar with the nurse Susy - hmm - but this is another story.
<![if !supportEmptyParas]> <![endif]>
Back on ground
<![if !supportEmptyParas]> <![endif]>
Next day my wife and me walked up the trail to Zodiac in order to recover some gear and met 2 young Japanese doing at TT the 1st pitch and a french couple, who already had fixed to pitch 3 and just prepared for jumaring and to start the route, their bags ready for hauling. We watched them for another 8 days. In the afternoon of the 9th day they topped out and we were really concerned about their water and food supplies (Charlie Porter spent 7 days on his FA). The Japanese we did not see anymore on the wall after pitch #2.
About 7 days later my wife, Peter and me climbed The Prow on W.C. The topo says straight, steep climbing – well, during our 2 days climb on The Prow I was always searching for steep sections – compared to TT there are no steep sections at all – only straight forward climbing. But we all enjoyed this grand climb created by Royal Robbins. On the 2nd day we experienced a storm, lightning, rain, hail and temperatures near zero. The gully descent from W.C. under these conditions is a nightmare and surely we paid off lots of our sins.
<![if !supportEmptyParas]> <![endif]>
<![if !supportEmptyParas]> <![endif]>
Part 2: gear and route information
<![if !supportLists]>· <![endif]>No manky bolt ladders anymore ! ASCA has done a great job !
<![if !supportLists]>· <![endif]>2 new anchor bolts on each belay ! – beefy
<![if !supportLists]>· <![endif]>On pitch #12 still rivets – renewed but very, very reachy !
<![if !supportEmptyParas]> <![endif]>
Gear, what we used (we carried more):
1 set normal nuts
3 sets micro + small HB offset nuts (black, red, darkred, yellow, orange)
2 sets HB offset nuts (green, blue, darkred)
2 camhooks midsize
2 hooks (not the big ones)
6 cinching rivet-hangers
1 knifeblade
1 baby angle
12 tie-off slings, 5 remained on the wall (replaced some rotten ones for lower-out for cleaner)
1 lowe-ball small
2 micro aliens (black)
4 blue aliens
2 blue-green alien (hybrid)
4 green aliens
1 green-yellow alien (hybrid)
4 yellow aliens
4 red aliens
2 orange aliens
2 violet aliens
2 black aliens
2 x 2.0 camelot
2 x 2.5 camelot
2 x 3.0 camelot
1 x 3.5 camelot
1 x 4.0 camelot
no 4.5 cam needed
1 A5 double portaledge
2 haulbags + 2 traxion + 2 swivel + 2 x 12m lowerout-lines 9mm
1 gear bag
1 zipline, 6 mm, 75 m
2 static ropes 60 m, 1 x 8mm, 1 x 9mm
1 lead line 60 m, 10.5mm (Mammut – supersafe)
1 MSR hanging stove (titanium set)
15 screwers
30 Kong lightweight biners
20 normal biners (keylock)
12 shoulder runners, no quick-draws
2 anchor sling (like webolette from mtntools)
2 daisy chain for belay organisation
<![if !supportEmptyParas]> <![endif]>