Skull Queen (V, 5.8, C2+), Washington Column
2nd - 3rd May 2001
Ian Hetingbothan (the young one), Manchester, England
Henry Wurzer (the old one), Munich, Germany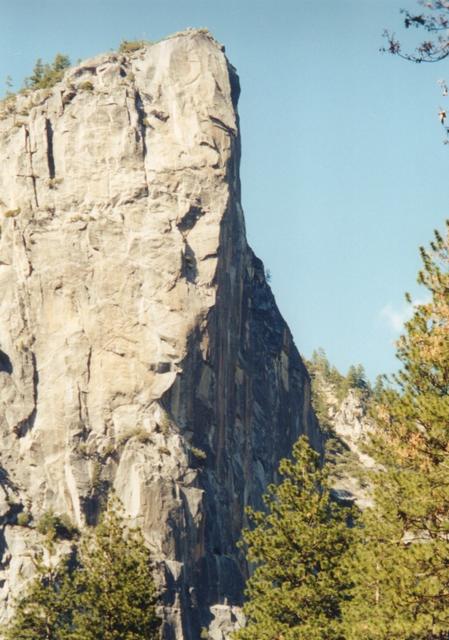 W.C. seen from the stables at Curry Village
Two days after coming home from LT west face, Ian and me had fully recovered, our batteries were recharged and we were eager to climb another grade V wall. I had to leave the Valley on Sunday morning for SFO to fly home, so we could not attempt another wall like Tangerine Trip on El Cap. Last year I climbed with my wife W.C. south face and we saw there a party climbing off the south route after the Kor roof into a good looking rock to the right. Later I knew this was Skull Queen. A skurill name. The supertopo of McNamara showed it as a route a little bit harder than the prow or LT west face. So I thougth this would be a nice challenge.
On the 1st of May we headed afternoon towards W.C. with all our climbing gear. We hiked up to the trees were the 1st pitch of the South Face starts. It was hot - man, thanks God there were trees and some water bottles left. We climbed up to the dinner ledge, it was now 5:00 p.m. and watched a party on Re-Animator, which is a very lonely route. No one on the prow and no one on South Face - gusshhh we were lucky today. The whole rock just for us - unbelievable.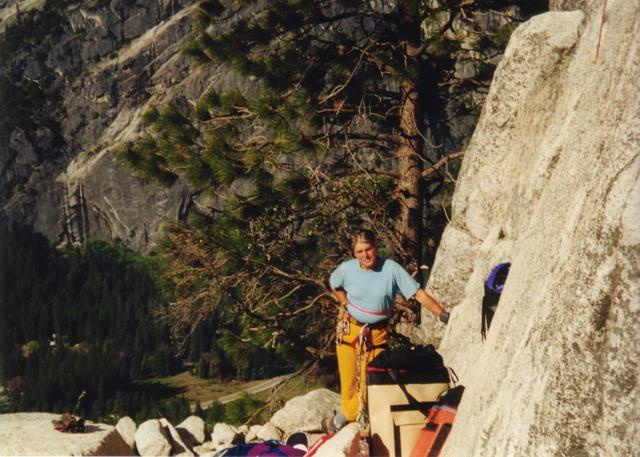 picture 2: Henry on dinner ledge (view down in the valley)
Ian looked up to the Kor roof and asked for the lead. I climbed the South Face already twice, so it was his lead. He stopped at the intermediate belay above the Kor roof, fixed the lead rope there and cleaned while rappelling. We found 3 gallons of water there and this saved us from bringing all of our water up. From Dinner ledge down we fixed down to the trees. We made it back to the Valley for about 8:00 p.m., just right before the Mountain Buffet closed. As far as I remember I drank more than 1 gallon Coke light - this was the sun's work.
We had prepared in the morning our haulbags with all the stuff necessary for 3 days on a wall. Next day, 2nd May, we started very early at 5:00 a.m. and hiked with our haulbags to the route. Ohhhh god - today this pigs were heavy and I do not know why. We only had 6 l Gatorade, the rest was already on dinner ledge. At 9:00 a.m. we had ferried our haulbags to Dinner ledge. The sun stood over half dome and it was beautiful. No noise yet from the valley, no people here around and good temperatures, just fine for a wall. I jugged up to the intermediate belay and finished the long pitch up to the belay were Skull Queen actually starts. The belay is under a roof, the South Face goes left up and Skull Queen follows the blank rock up on the right side.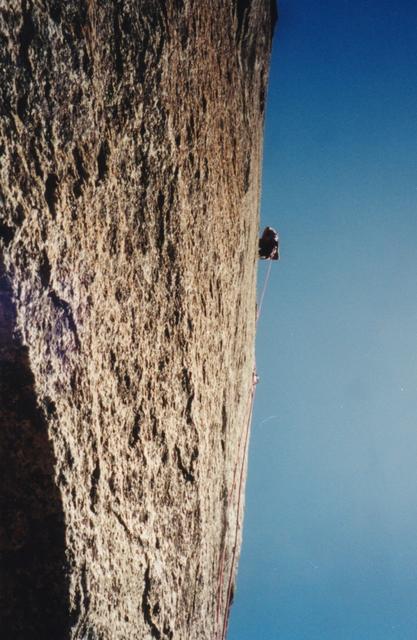 picture 3: Ian leading off pitch#1 on skull queen
Ptich#1 starts with some nuts and then follows a rivet ladder up to a sling belay. From here pitch#2 continues with the rivet ladder, then changes to tricky placements (green and yellow aliens) up to a mantle, than traverses 3 m to the right and goes up the wall again ending in a big tree hanging down. Belay 2 is above this tree. To do the mantle, 5.7 free-climbing is required. I was on lead and only had big-wall-aid-shoes - hell I could not climb up this little passage. First my feet slipped within the shoes, then the shoe itself slipped. I had to go down to the belay and Ian, who had climbing shoes in his haulbag, had to get over. And he did. This manoever was unfortunately a little bit time-consuming. Pitch#3 (short) follows an ackward off-width. It was my lead again and I used many bad 4 letter words to get over this by climbing half free and half french-free. Eventually the crack became friendly and putting cams in was easy. I reached a pin-pointed pillar-top and saw the belay bolts down to the left. I had no long sling to püt around and swing to the bolts, so I had to ride over (hurts). We made a little rest and refilled our body with tasty Gatorade. It was now afternoon 5:00 p.m. Meanwhile strong wind was coming up and despite of the sunshine we had to put on more clothing.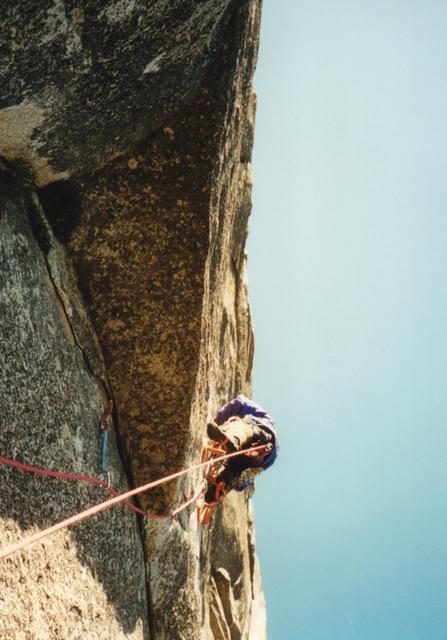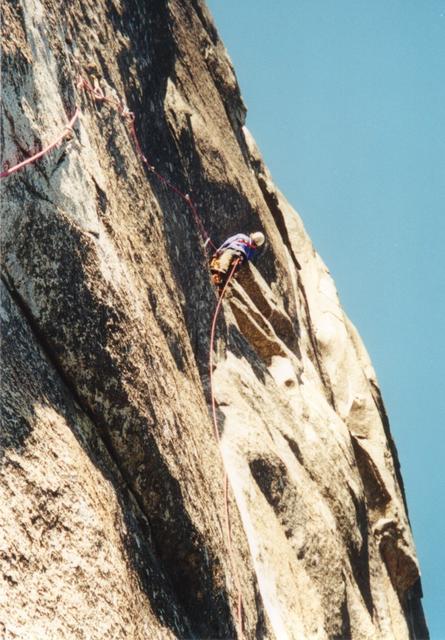 picture 3 and 4: Ian leading tricky pitch#4. The belay is equally levelled to the end of the famous nut-pitch of South Face.
The next pitch, pitch#4, was tricky again, following hollow features and thin cracks (off-set nuts useful). It took quite a while. The belay was not good to set up a portaledge (bulgy rock), so Ian fixed here the haul line too and rapped down. Now the wind ceased and eventually stopped. We set up the fly and the portaledge. At about 7:00 p.m. we sat on the portaledge, took off our shoes and relaxed. We fired our stove and prepared deli instant soup, followed by instant potatoes and other goodies. We had a superb view from there high up. To the left the half dome, to the far right we saw El Caps profile and just down the cars in the valley with lights on. But soon our nice position on the portaledge changed as strong winds, really gusty winds, came up and made us feel like sitting in a sailing boat. The wind came from below uplifting our fly like a full sail and then just to follow by a rapid downfall which pressed the fly in our faces. We got into the sleeping bags, but due to the wind inside, I still had cold in the night. I took out my downee west, which I brought fortunately with me - thanks god. Ian's sleeping bag was better but heavier. So we managed the temperatures but not the wind. Sometimes it was so strong, that the portaledge was bouncing like a cradle. And the the wind also made sand-particles fall from the top. First I thougth it rains now. But when looking out the fly, the sky was blank and the stars bright. However, it was a skull queen night. We did not sleep, but dozed the night away. Only in the morning the wind ceased and we could sleep better. At 7:00 we got up and the new day promised to be good. No wind, no storm. Later we heard from the camp4 people, that down in the valley is was a stormy night too.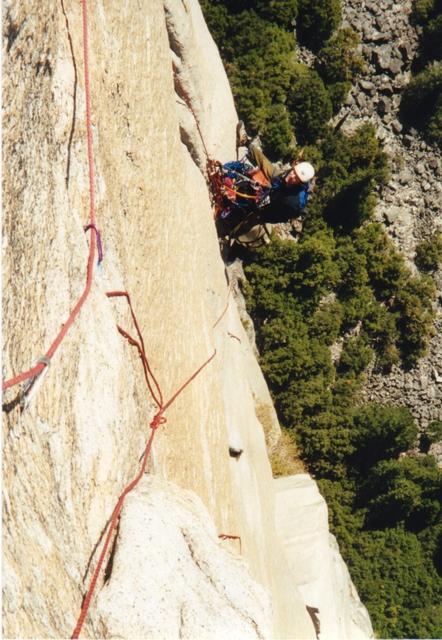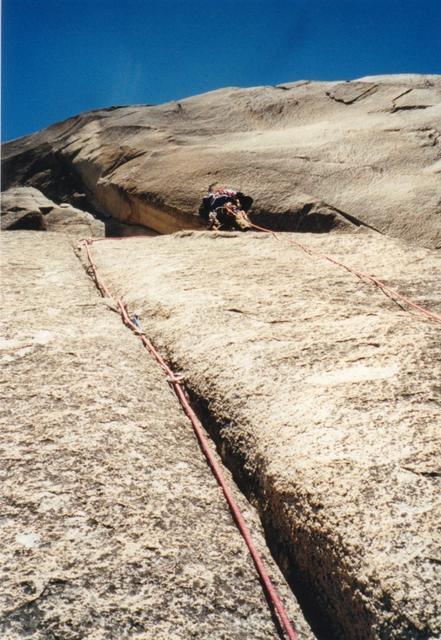 picture 5: looking down to Ian from belay after pitch#5
picture 6: looking up pitch#6 (Ian leading)
After using the no-wind-time-window and a really good breakfast (coffee and instand muesli) we jugged up and hauled our bags. At this point we decided to rappel to route from top, therefore we left our stuff here and headed on for the last 4 pitches. Pitch#5 is nice and short, mixed with some rivets. Pitch#6 is a beauty with nuts and aliens, midst is a traverse to the right, then up again to a nice belay with 4 rivets but no bolt. From here starts an intersting pitch up, the rock gets steeper and you have to look and watch where to put the placements. About 20 m up, I stood in a nut and had to look around a flake to the right. I bent more over and by this I pulled the nut out. And on the way down I was - huuuhhh. After some 20 ft I came to halt by a well-places nut. Ian was doozing in the sun, woke up and asked "what happened Henry ?". I climbed up this section a second time. This time I stretched and put an offset nut higher, which was good. The pitch goes on like this (C2+), higher up you find some copperheads. This pitch is comparable to pitch#1 of Zodiac. After a free move to rivets I reached the belay.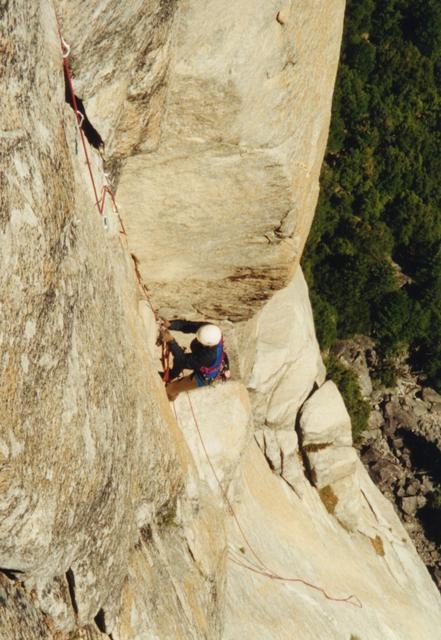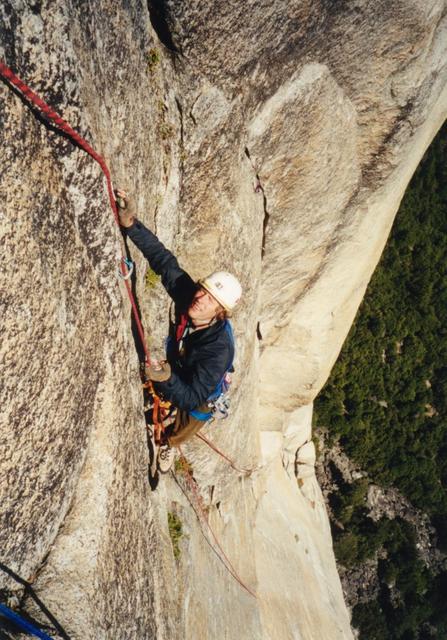 picture 7 + 8: Ian clening pitch#6
From the belay after pitch#5 to the left you can almost touch the Sout Face exit pitch and grab the slings around a tree. From here a beautiful crack leads up leftside. From the belay it goes up with 2 big cams (camelot #3 and #3.5), then a step left (5.9) into the crack. This crack is pure fun, both for aid or free (5.10). It eats medium nuts and aliens (blue, green and yellow). After 25 m the rock easies and Ian reached after slab climbing the belay on bolts.
From here you can walk left to the top finish of South Face. At 3:00 p.m. we reached this point, unfortunately my film in the camera run out and the new one was down in the bags. We drank up our Gatorade we had in our nest bag (gear bag) and prepared for rappelling. After 3 long raps we reached our bags and continued to rap with them.
The next rappel lead us to the tree-belay. From here Ian rapelled thru the woods down and disappeared. After 30 minutes the ropes had no tension anymore and I started the rap. This rap was great - it goes along the long rivet ladder and with the last meter of our 60 m ropes we reached the belay where South Face and Skull Queen separates, leaving a biner to avoid drifting off to the right. Meanwhile we saw 6-8 people coming up to the dinner ledge and another party was higher up on the South Face (nut pitch). My God - I thought - so many people on one route. Imagine the queueing time! The climbers there looked and wondered where we come off from. But no one asked - most propably they thought this is the South Face route. On the last rappel to the ground we met another 3-man party. Most probably a real party was going on on Dinner ledge. We quickly reorganized our gear and stuffed the bags and made it back to the mountain buffet just before closing. Ehhhh - man, the Coke tasted heavenly.
During the rappel we left 2 biners on belays where no rap-ring was installed. Please leave them for other parties to have a smooth journey down.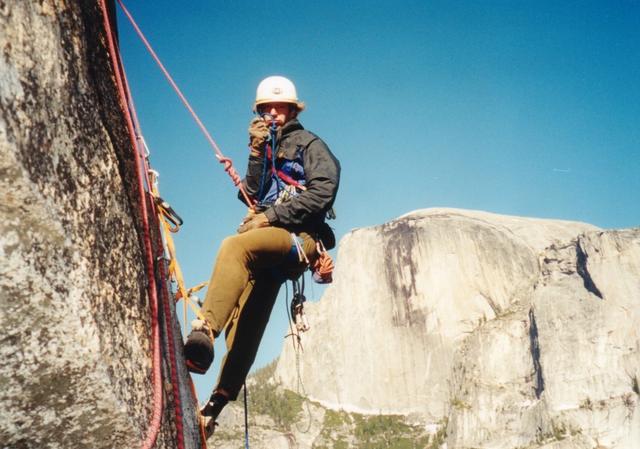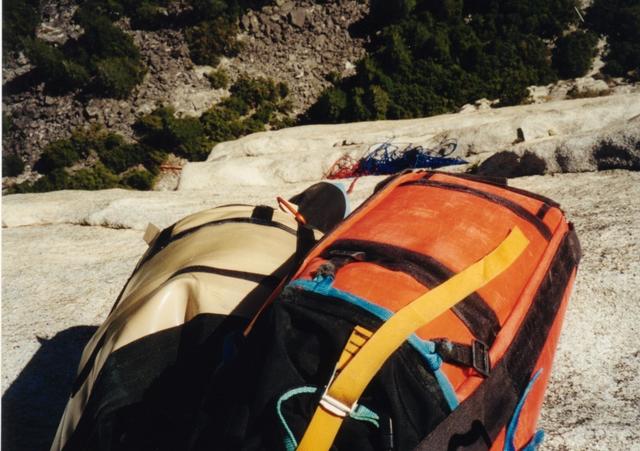 picture 9: Ian joking during the rappels (60 m above Dinner ledge)
picture 10: our haulbags waiting to go home
Summary:
Interesting route on W.C. Skull Queen has some tricky sections what makes the route attractive. Not to be recommended to beginners. Technically more demanding than LT west face, but no real steep sections (except Kor roof of South Face) and many sling belays. Good Straight forward down-rappel, you can do also in night - if you don't want to descent North Dome Gully. No bad hauling.
Rack (what we had):
1 lead line, 60m
1 static line, 60 m, + swivel
1 zip line, 60m 6mm
2 haulbags (see picture 10)
1 gas stove for coffee, tea & instant soups (deli)
1 double portaledge (necessary)
20 aliens (2 blue, 4 green, 4 yellow, 3 red, 3 orange, 2 violet, 2 black)
6 camelots: 2 #2.5, 2 #3, 1 #3,5, 1 #4
2 nutsets
1 brass offset nutset (small, medium)
15 rivet hangers, 3 doublons
copperheads (not used), 2 ea #1, #2, #3, #4